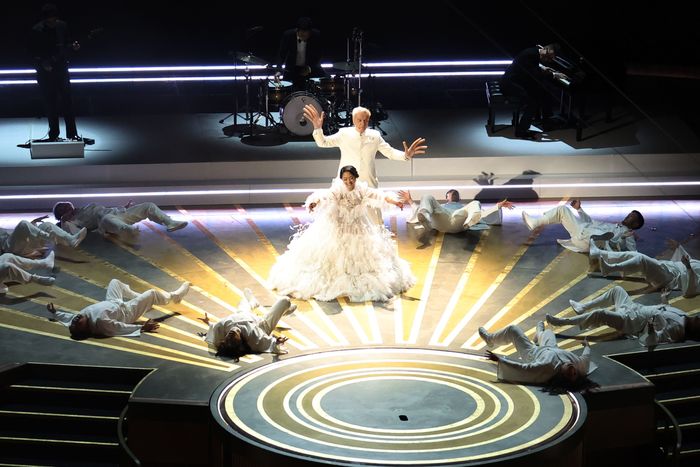 Photo: Rich Polk/Variety via Getty Images
Everything Everywhere All at Once cleaned up at the 2023 Oscars. It won more above-the-line awards than any film in the history of the awards, including trophies for Michelle Yeoh, Ke Huy Quan, Jamie Lee Curtis, and multiple for writer-director duo the Daniels. Watching the A24 film's omnipresence onstage Sunday night, it was easy to forget how tonally odd the film is, especially in comparison to the average Oscar bait, with its maximalist mish-mash of tones and large sections of both action and comedy (often at the same time). Luckily, there was one moment included in the ceremony to remind the audience just how strange the big winner was.
One of the film's 11 nominations was for Best Original Song, "This Is a Life," with lyrics by Ryan Lott and David Byrne, music by Lott, Byrne and Mitski, and performed by Son Lux (an indie band made up of three men, Lott, Rafiq Bhatia, and Ian Chang, who also wrote the Oscar-nominated score). The song plays over the film's credits and serves as a capstone to the emotions in the film rather than the wackiness; the performance, meanwhile, married the two together. Performed by Son Lux, David Byrne, and with EEAAO star and Oscar nominee Stephanie Hsu taking over for Mitski, the performance was as off-kilter as the film — filled with jerky movements from dancers choreographed and directed by Ryan Heffington, intentional vocal oddities, and hot-dog fingers. "Our production manager said he spoke with someone backstage who has worked on the Oscars for 23 years and he said, 'This is by far the weirdest thing that's ever been on the Oscar stage,'" Lott said. To discover how this performance made it onto film's biggest stage, we talked with Hsu, Byrne, Bhatia, Chang, and Lott to trace it from the song's conception to Oscar glory.
The Song
Well before the Oscars were considered a possibility to anyone involved in the production, Son Lux was working on the score. "We were in the midst of a storm of music," Lott says. "There were over a hundred cues of music to create for the score." But they knew the credits song had to be something special: "This movie deserved its own song and, selfishly, because we were so madly in love with the movie, we wanted to be the ones to do it even though it's not often the case that the composer gets to make the end-credit song." The group had started searching for collaborators when director Daniel Kwan noted that Mitski was one of his top artists of the year. And it turned out Mitski was "really enthusiastic about being involved."
When it came time to actually write the song, the group realized it needed to be a duet, and their manager Michael Kaufman suggested Byrne. "Michael reached out to me and said, 'Hey, I'm working with Son Lux on the score for this movie with the Daniels. Would you like to do a song at the end?'" Byrne says. "At that time, they had Mitski on board already, and with that combination and the Daniels, I said 'Yeah. It sounds great.'"
Once Byrne came on, the song itself shifted. The band had envisioned "celebratory end-credits — like a party. The end-credits song in prior drafts of the film was one of our more upbeat, fun tracks," Lott remembers. Byrne had another idea. "I realized this has a real emotional core to it. I suggested it might be good if the song put a pin in that rather than try to translate into audio terms all the wackiness we've seen for the last couple of hours." Byrne wanted to "accent the emotional core that people may not have entirely absorbed when the movie's done."
"I envisioned a song comprised of two songs where at specific moments they came together," Lott says of combining Byrne and Mitski's voices. "By the end they wind up singing the same song together, abandoning the standard verse-chorus binary form of song and leaning hard into that duality." In line with the film itself, the group calls the structure "multiversal."
Hsu, meanwhile, was far from the song process — the first time she heard it was when she watched the movie for the first time. "It was the perfect last note to end on for our movie," she says. She counts one of the last lyrics in the song — when "This is a life" is changed to "This is our life" — among her favorites. "That's the thread of ambiguity of our film — there is no happy ending," she says. "This is both ours and only a life."
Rehearsals
Rehearsals moved quickly. There were a few rehearsals with Son Lux, Byrne, and Hsu, which took place in a "music commercial place out in the valley," Byrne recalls. Hsu had the job of slotting her Broadway-trained voice into a song developed for Mitski's softer voice. "It was important for me as a performer to not necessarily make it my own," Hsu says. "But I wasn't doing a karaoke version of a Mitski and David Byrne song." That vocal developed throughout the process. "We played with different sounds in the rehearsal room, and the nature of us staying together and being who we were, it became different," she says. "I thought Stephanie did an incredible job letting the Mitski vocal approach flow through her," Byrne adds. "I've heard other things that Stephanie has sung, and that's not her typical vocal style. Her style is a little broader and outwardly emotional, whereas with Mitski, the emotion is very restrained and the tension is between the restraint and the material that she's doing. Stephanie embodied that."
They only had a few brief run-throughs on the awards stage. Toward the end of one, the Academy added poster-board versions of all the attendees to the seats. "So you look out, and there's a big picture of Cate Blanchett right in the front row and then Angela Bassett," Byrne says. "The psychology of seeing life-size Jessica Chastain in front of you is probably important for a lot of people to mentally prepare for who you're locking eyes with," Lott adds. "I could be in front of my piano, and I could look out and I could see Michelle, and that was really cool. We knew where the Everything Everywhere family was gonna be."
Oscar Nominations and Early Planning
EEAAO premiered in March 2022 to great reviews and ecstatic audiences and a strong Oscar campaign followed. First the song was included on the December 21 Oscar shortlist of 20 songs that could be nominated — a list that included Lady Gaga, Rihanna, and Taylor Swift. "We don't stand a chance," Byrne thought. "Look at this list. Look at these people."
But on nominations morning, "This Is a Life" was, in fact, one of the five final nominees among 11 other nominations for the film, giving Son Lux two nominations including Best Score. Despite the nomination, it was not a guarantee they would perform. "Every nominated song is usually invited to perform," Lott remembers. "But because the last couple years have been anomalous, and the format was different, and now they're reintroducing every category to the televised event, there was a question about whether or not we wanted to. Or would."
But they did get the offer, like all the nominated songs did, and so planning began. Pretty early on, it was clear that Mitski would not be a part of the performance. She did, however, present ideas about what it should be. "I can't remember if she independently suggested Stephanie, or if we were both thinking the same thing, or if someone put that bug in her ear," Chang says, and so the offer went out to Hsu with Mitski's blessing.
Hsu had just gotten off a plane from Australia when she saw the email asking her to perform. The culmination of the last year for Hsu — the film taking off, receiving an Oscar nomination, being asked to perform at the Oscars alongside David Byrne — was so intense, she needed some time. "I actively ignored the email for 24 hours," Hsu remembers. When she did reply, her email included a question: "Is this actually happening?"
One thing became clear from the earliest stages of planning: David Byrne would wear hot-dog fingers. "The first email thread we were all on, David was like, 'I want to wear hot-dog fingers,'" Hsu recalls. "So that kind of set the tone of, This is the spirit of what we wanna capture — not only the song, but actually also this movie." "That was from the outset," Bhatia remembers. "We got the email about maybe performing at the Oscars, and he was like, 'Oh, cool. I'm gonna wear hot-dog fingers."' Byrne, meanwhile, feels lucky he got them at all. "There was only one pair left. Those were Michelle's hot-dog fingers." And so David Byrne got what he wanted and wore Michelle Yeoh's hot-dog fingers onstage at the Oscars.
The Performance (and the Afters)
Finally, on Sunday, March 12, it came time to perform. The response, almost universally, was that it was one of the "weirdest" things the Oscars had ever seen. With Son Lux accompanying, Hsu and Byrne sang their strange, multifaceted song, while Byrne wore hot-dog fingers, dancers performed jerky, martial-arts-inspired movements, and the projections displayed hallucinogenic visions of Raccacoonie. Hsu got a text from a friend saying: "'I'm weeping because that was the most experimental thing I've ever seen on an Oscar stage, and it feels so right for you to be doing that.'"
That weirdness, though, was kind of the point. "The response has been divisive," Son Lux says. "There's definitely a lot of people who are just like, 'That was terrible,' and then there were a lot of people who were like, 'That was great.' I'd prefer that to everyone being like, 'That was okay.'"
Later in the night, the song would go on to lose the Oscar to RRR's "Naatu Naatu," whose performance marked the first Indian song to win an Oscar.
Everybody in the group had a good time after the ceremony. David Byrne recalls dancing with his partner and Karen O. of Yeah Yeah Yeahs. Hsu shook Beyoncé and Jay-Z's hands at their party (and confirmed that they had both seen EEAAO and knew who she was). And Son Lux met Pedro Pascal in the elevator. When Lott told him his 6-year-old kid wasn't old enough to watch The Mandalorian yet, Pascal responded, "Let him watch it." Lott went home and told his 6-year-old the Mandalorian himself said he could watch the show.
But the goal wasn't to please everybody or meet the Mandalorian. "We weren't thinking about the mass audience of the Oscars in terms of who's tuning in at home," Hsu says. "For people who have seen the movie, for people who love it, it was a celebration of that."