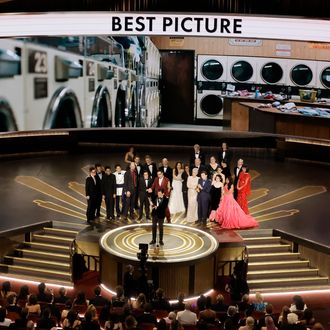 No butt-plug-shaped trophies, unfortunately.
Photo: Kevin Winter/Getty Images
Everything Everywhere All at Once did what no movie has ever done: It got Beyoncé's backup dancers and David Byrne to wear hot-dog finger prosthetics live onstage. (Separate occasions). It also won Best Picture, Best Director (the Daniels), Best Actress (Michelle Yeoh), Best Supporting Actress (Jamie Lee Curtis), and Best Actor (Ke Huy Quan) at the 2023 Academy Awards, more above-the-line Oscars than any movie in the show's 95-year history. Yeoh is the first Malaysian Best Actress winner, and Yeoh and Quan are the first Asian actors to win in the same year. "For all the little boys and girls who look like me watching tonight, this is a beacon of hope and possibilities," Yeoh said in her acceptance speech. "This is proof that dreams come true. And, ladies, never let anybody tell you that you are past your prime."
The multiverse action dramedy also took home awards for Best Original Screenplay and Best Film Editing, winning a whopping seven Academy Awards. "We wanna dedicate this to the mommies, all the mommies of the world," director Daniel Scheinert said. "Specifically, my mom and dad, Ken and Becky, thank you for not squashing my creativity when I was making really disturbing horror films or really perverted comedy films or dressing in drag as a kid, which is a threat to nobody." Thank you, mommies.