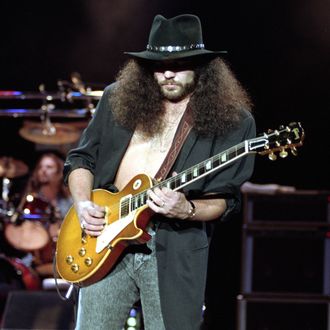 Photo: Tim Mosenfelder/Getty Images
The last living original member of Lynyrd Skynyrd, Gary Rossington, died on March 5. He was 71. The band made the announcement on Facebook, writing, "Gary is now with his Skynyrd brothers and family in heaven and playing it pretty, like he always does." The band did not specify a cause of death, but Rossington's last years in Skynyrd were plagued by heart issues, after he had quintuple-bypass surgery in 2003, a heart attack in 2015, and an emergency heart surgery in 2021 that led him to take time away from the band. Rossington's history of survival in the band went back even further, to an infamous 1977 plane crash that killed three of Skynyrd's members, including singer Ronnie Van Zant. Rossington broke two arms and a leg and punctured multiple organs in the crash, and was left to carry on his band's legacy when they reformed in 1987, as one of the only pre-crash members and the only original one. (As part of a settlement with the widows of two original members, Rossington was required to be a member of any future iterations of Skynyrd.) Since reuniting, Skynyrd has continued to record and tour through today.
Rossington, a guitarist, went through a number of pre-Skynyrd bands in the 1960s in Jacksonville, Florida, before settling on a lineup and band name in 1969. After being signed by Blood, Sweat & Tears' Al Kooper in 1972, Skynyrd released their debut, (Pronounced 'Leh-'nérd 'Skin-'nérd), in 1973, cementing their legacy as one of southern rock's biggest bands with hits like "Simple Man" and "Gimme Three Steps." Most notably, that album featured their enduring and oft-requested hit "Free Bird," on which Rossington played slide guitar.