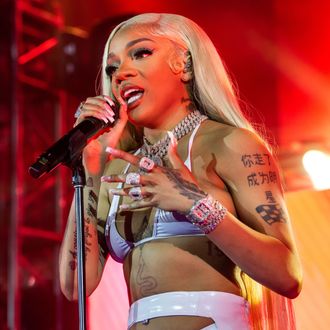 GloRilla.
Photo: Kyle Gustafson/The Washington Post via Getty Images
The death toll from a stampede at a GloRilla and Finesse2tymes concert in Rochester, New York has now risen to three people, according to the Associated Press. "This is a tragedy of epic proportions," said Rochester mayor Malik Evans on March 5. The stampede occurred a little after 11 p.m. ET, when the crowd, fearing a shooting, was exiting the Main Street Armory, AP News reports. "We do not have any evidence of gunshots being fired or of anyone being shot or stabbed at the scene," police chief David M. Smith said at a news briefing on Monday. Rhondesia M. Belton, 33, died in the hospital, and two others were taken to the hospital in critical condition — 35-year-old Brandy Miller died on Monday night, while 35-year-old Aisha Stephens died on Wednesday night. Police told local CNN affiliate WHAM that Stephens was the last remaining hospitalized victim, and that seven others had suffered non-life-threatening injuries.
Belton worked for the City of Buffalo Traffic Violations Agency, Buffalo mayor Byron Brown tweeted on March 6, saying: "Her family, friends, and colleagues are devastated and left to mourn this tragic loss." Miller was a certified nursing assistant, and her sister told Rochester First that the family decided to approve her as an organ donor so that "her compassion won't die." Haskins was a teacher and cheerleading coach. She attended the concert with Latisha Hare, who wrote on Facebook, "March 5th will always be the worst day of my life! Going to a concert then leaving without my best friend has forever changed my life!"
"I'm just now hearing about what happened," GloRilla tweeted at around midnight the night of the concert. "wtf praying everybody is ok." She followed that with another midnight tweet on March 6. "I am devastated & heartbroken over the tragic deaths that happened after Sunday's show," she added. "My fans mean the world to me praying for their families & for a speedy recovery of everyone affected."
A planned A Boogie wit da Hoodie concert at the venue to be held on March 11 no longer appears on the Main Street Armory website. Tickets for the show, however, are still available on Ticketmaster. Vulture has reached for confirmation and will update accordingly.
The police are now investigating what the cause of the stampede was, citing "crowd size, shots fired, pepper spray and other contributing factors" as among the potential causes. "When you go to a concert you do not expect to be trampled," Evans said, according to Democrat and Chronicle, a Rochester-based newspaper. "Your loved ones expect you to be able to come home and talk about the experience you had at that great concert." Evans also promised to "hold people accountable for what happened last night, period."
This is a developing story.