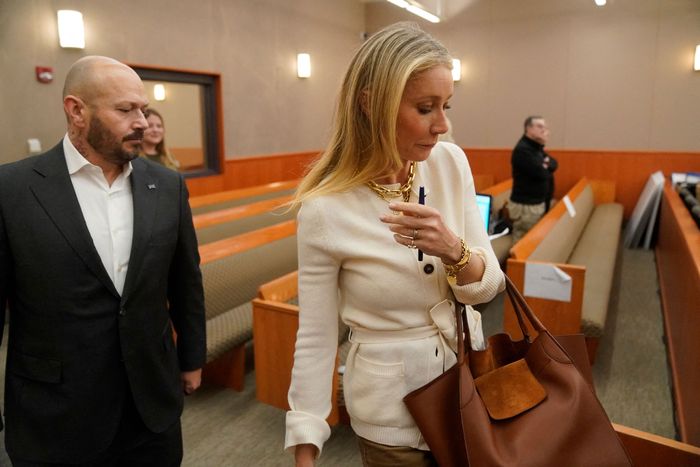 Photo: Rick Bowmer/Pool/AFP via Getty Images
Gwynnocent (adj.): Not gwylty of a crime or an offensive.
Joan of Arc. Lorena Bobbitt. Gwyneth Paltrow. Those coven girlies from the Salem witch trials. What do they all have in common? They are women who were persecuted and put on trial for the crime of being glamorous, empowered icons whose vibe was just living life. For the past week, many of us (and Kelly Bensimon) have watched our close personal friend Gwyneth Paltrow stand trial for a ski-collision incident from seven years ago. In a Park City, Utah, courtroom, after testimony from private ski instructors and a couple of math lessons, Paltrow was cleared of any wrongdoing and awarded $1 from her countersuit against Terry Sanderson. Yes, it felt a little ridiculous watching two well-off white people arguing about who hit whom, but in Paltrow's defense, the whole thing was so very Goop of her and was, in fact, one of the Goopiest moments since releasing candles that smell like, um, "geranium, citrusy bergamot, and cedar."
Goopiness is a measurement beyond the metric or imperial. It cannot be measured by volume, distance — neither space nor time. The Goop, the whole Goop, and nothing but the Goop can be measured only by its out-of-touch ridiculousness and complete absurdity on a scale that I just made up that ranges from Conscious Uncoupling (three Goops) to publicly professing your love for Bone Broth (11 Goops). Below, the Goopiest things that happened during the trial. You may want the Goop, but can you handle the Goop?
Who is she?
There's just nothing like meeting someone you don't care to remember half a dozen times and asking their name each time. It's so petty, so rewarding, so Goopy. So I can't imagine the incredible amount of joy Madame Goop got when she asked Sanderson's counsel, Kristin VanOrman, "What was your name again? Kristin?"
4/10 Goops
Treat yo'self
God forbid a woman do something nice these days. Paltrow and her security team were admonished for simply asking about bringing in treats for the bailiffs.
5/10 Goops
An iconic reference
Fashion is a big part of the Goop brand, so obviously it was going to be a big part of Paltrow's Gwynnocence. In a Goopy goth getup, she referenced The Crucible's own Elizabeth "Goody" Proctor with a witchy frock and Prada boots. Another sartorial reference came in the form of a luxurious olive double-breasted wool coat from The Row, a company run by Mary-Kate and Ashley Olsen, whom you may or may not (you definitely should) remember from such Wiccan films as 1993's Double, Double Toil and Trouble. They can't prove they saw Goopy Proctor with the Devil, Your Honor.
8/10 Goops
An immeasurable loss
525,600 minutes may be how you measure a year, but how do you measure the half-day of skiing that Gwynnie lost? The half-day of skiing that she'll never get back after that man ran into her like Caitlyn Jenner's Escalade in 2015. And, sure, Sanderson may not be able to enjoy wine tastings anymore, but wine is plentiful; it's literally $2 if you go on a winery tour in the Italian countryside. Time, however, is a precious, limited resource, and that makes it luxury.
12/10 Goops
Words with friends
"Are you good friends with Taylor Swift?" The defense wants the tea. Paltrow was questioned about her friendship with the "Cruel Summer" singer who famously requested $1 in her 2017 countersuit of "DJ" David Mueller. The Goopy part, however, came when Paltrow responded, "No — we're friendly, but I wouldn't say we're friends," resembling Mariah Carey's "I don't know her." Sustained.
47/10 Goops
Hindsight is twenty-twenty
What else did she win in the genetics lottery? Before the court and God, Madame Paltrow said she has twenty-twenty vision (Sanderson, a retired optometrist, is partially blind and has cataracts). Now, I'm not saying she took a first-class flight to Perjuryville, but there are numerous photos of her wearing glasses. Like, multiple pairs in the past two weeks alone.
4/10 Goops
The Notebook
Some of us (not me, though) keep diaries or appointment books in leather-bound Moleskine journals or keep important notes (or forthcoming apologies) in the Notes app on our iPhones. Not Paltrow. She uses a $325 lambskin cross-grain notebook (in lapis — the same color as the diamond that old lady threw into the ocean in Titanic, but then that guy went and got it for Britney Spears in the video for the iconic chart-topping smash hit "Oops! … I Did It Again)." She comes to court prepared. She watched Legally Blonde and would never wear that shade of pink but will, in fact, bring a chic monogrammed notebook to make it look as if she's doing something.
10/10 Goops
The price of freedom
We know Paltrow is a petty person. In fact, it's one of the things we love most about her. Her Goopiest and pettiest moment yet might have been countersuing for the aforementioned $1. If it wasn't obvious by her everything, she can afford it.
10/10 Goops
The well-wisher
Perhaps one of the Goopiest moments to rule all Goops didn't come until the moment after the trial concluded. Gwynnie was allowed to rise and leave the courtroom before everyone else, but before she passed through those doors with the scales of justice tipped in her favor, she leaned over to Mr. Sanderson and appeared to whisper, "I wish you well" — an exchange more dangerous than any ski accident could be, more dangerous than 30 jade stones rammed up where the sun don't shine. Translated from the Book of Goop, it roughly means "I wish I could see you drown at the bottom of a wishing well filled with bone broth." *ALLEGEDLY.*
1,000/10 Goops