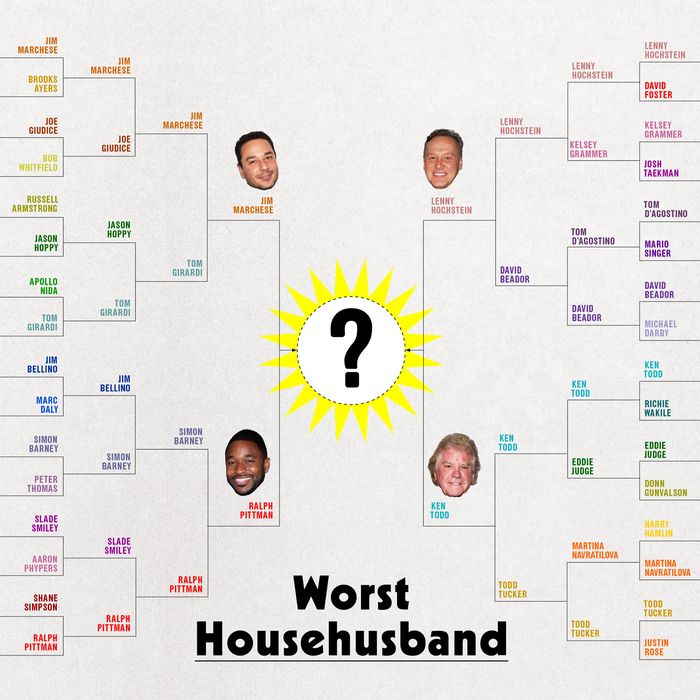 Graphic: by Vulture; Photos Getty Images
We know that plenty of the Real Housewives are horrible, but what about their husbands? They comprise many cheaters, countless jerks, and a few actual criminals, with a handful of nice guys thrown in for good measure. They're each bad in their own way, but here at the Housewives Institute we couldn't help but wonder, if you put them in a head-to-head matchup, who would be the worst?
As president and founder of the Institute, I selected 64 of the worst I could think of — not just husbands, but also boyfriends, partners, and one female tennis legend. All participants must have appeared on-camera at least once. (Sorry, Sweet James!) I separated them into four categories: "Actual Villains" — i.e., those with a history of disregarding the law and/or basic human decency — "Cheaters," "Jerks," and "Good Ones," and seeded them from one to 16 based on how bad I think they are. (I had to stretch the definitions a bit in some cases, particularly because they're all jerks and "good" is highly relative in this context.) I then contacted the crack Vulture Housewives recap team — Shamira Ibrahim, Ile-Ife Okantah, and Tom Smyth — and each of us took a quadrant of the bracket to whittle it down. Our decisions and the logic behind them are below.
Now all we need is you! After reviewing our Final Four, click here to vote for your favorite, er, least favorite. We'll announce the big winner, er, loser at the end of this month, and he will get a full profile of his badness in the April newsletter. Check it out and get to voting! 
(Judge: Ile-Ife Okantah)
• Round 1 Highlights
JIM MARCHESE v. SERGIO PENDÁS:
Jim Marchese, Amber's husband from the cursed season of RHONJ, wins with a landslide. The man is the definition of a dweeb and made an already insufferable season completely unwatchable.
JOE GIUDICE v. PAUL "PK" KEMSLEY
I hate PK, and there's no way around that. He may not be an actual criminal, but his sleaziness should be cause for arrest. However, we can't ignore the infamous "my bitch wife" hot-mic moment, so I'm giving it to the Italian living in exile: Juicy Joe.
JASON HOPPY v. MATT KIRSCHENHEITER
What Matt did to Gina is undeniably evil, but he's not a major player when we think about the series as a whole. Jason, on the other hand, had an impact on several seasons of RHONY by terrorizing the biggest terrorizer on the show.
TOM GIRARDI v. COURT WESTCOTT
Tom obviously takes this one because of the widows and orphans. Clankity-clank!
• Round 2
JIM MARCHESE v. BROOKS AYERS
Part of me wants to go with Brooks and his affirmations, but honestly, if I had to choose who to be stuck with in a room for 24 hours, I would do anything to avoid Jim.
JOE GIUDICE v. BOB WHITFIELD
I've seen the "cunt wife" hot-mic moment so many times, and Teresa literally went to jail because of him.
RUSSELL ARMSTRONG v. JASON HOPPY
What Russell did to Taylor physically is worse than squatting in Bethenny's apartment, but I feel like Jason's presence on the show was bigger, more irritating, and less tragic.
APOLLO NIDA v. TOM GIRARDI
I repeat: widows and orphans! Tom sucks.
• Round 3
JIM MARCHESE v. JOE GIUDICE
Jim's like nails on a chalkboard and one of the few people on earth you can tell is a snitch from just looking at him.
JASON HOPPY v. TOM GIRARDI 
Jason may be a dick, but Tom's actions are so flagrant to me. And the older a white man is, the more I believe they have to hide. Not a perfect science, but … widows and orphans!
• Round 4
TOM GIRARDI v. JIM MARCHESE
Despite the atrocities Tom committed, there was always something kind of endearing about this random old man who would show up to Erika Jayne's performances wearing earplugs. Where Tom went wrong was off-camera. As for Jim? Every moment he was on the show was terrible. Every word he uttered hit my eardrums like a bullet from a gun. Every second we had to endure was precious time lost.
(Judge: Tom Smyth)
• Round 1 Highlights
LENNY HOCHSTEIN v. JOE BENIGNO
If Joe Benigno saw how terrible Lenny Hochstein was, he'd throw him in the pool.
DAVID FOSTER v. MIKE HILL
The end of #CHill can't compete with David Foster trading in his sick wife for Smash's worst Marilyn.
DENNIS MCKINLEY v. JOSH TAEKMAN 
Dennis at least brought hot dogs to the table; Josh Taekman only brought his ugly hats and Ashley Madison log-in.
MICHAEL DARBY v. DUY TRAN
While Duy was completely insufferable, we thankfully didn't have to deal with his sister-wife-seeking antics for long. But Michael Darby had six long seasons to grab ass and cheat on his wife.
• Round 2
LENNY HOCHSTEIN v. DAVID FOSTER
While his forthcoming Betty Boop musical makes him competitive in this matchup, David Foster simply can't hold a candle to how horribly Lenny Hochstein is treating Lisa.
KELSEY GRAMMER v. JOSH TAEKMAN
There's no competition here; just look at Kelsey and Camille's Tonys red carpet from hell. He made her stay in a hotel for that trip, then asked for a divorce via text. So pernicious.
TOM D'AGOSTINO v. MARIO SINGER
While Mario was obnoxious to all the other Housewives, he at least didn't sleep with them.
DAVID BEADOR v. MICHAEL DARBY
This one is a real Sophie's Choice, but ultimately I have to go with Sophie's Dad. And my justification is three of Shannon Beador's birthdays: her 50th, when David had sex with her, then left to have sex with his mistress; her 51st, when he took her to a sports bar; and her 52nd, when he surprised her with a vow renewal. That last one sealed their fate with the classic Housewives curse — and thankfully put an end to Shannon's suffering.
• Round 3
LENNY HOCHSTEIN v. KELSEY GRAMMER
In this big-head contest, Boob God takes the cake. After all, it's tough to come back from your nickname being Boob God. But actually, now that I'm thinking about their similar head sizes, Kelsey could easily play Lenny Hochstein in a made-for-TV movie when his Frasier reboot flops.
TOM D'AGOSTINO v. DAVID BEADOR 
Out of all the terrible things and people David Beador has done, there's something so deeply unsettling about the way he would stand in the kitchen eating chips from his open palm while Shannon was preparing dinner. Dead behind the eyes, hair gelled to the gods, just munching away in an act of psychological warfare.
• Round 4
LENNY HOCHSTEIN v. DAVID BEADOR
David at least pretended to want to fix his marriage, going so far as to eulogize Shannon at a couples retreat in a hotel conference room. Lenny, on the other hand, made zero attempt to salvage his relationship with Lisa, nor did he even let her know that it needed salvaging. Instead, he trashed her on a hot mic, tried to kick her and their kids out of her home, and even stole her personal trainer for his mistress. But you really know someone is evil when a group of Real Housewives, whose literal job is to fight, unite against them the way the Miami women have against Lenny.
(Judge: Shamira Ibrahim)
•Round 1 Highlights
JIM BELLINO v. SCOTTIE PIPPEN
Only one of these two not only brought his now-ex-wife around former paramours, but also sued her castmates for commenting on their distaste for him, and that is the trampoline king of Orange County.
KORDELL STEWART v. PETER THOMAS
Only one of these two would consistently insert themselves into arguments between the women of RHOA and end up being a strain on his now-ex-wife's bank account for a string of failed lounges — Jamaica's very own Peter Thomas.
SHANE SIMPSON v. CHRIS BASSETT
Shane will abandon his family to fail the bar exam for the fourth time in a row, miss all major milestones, and goad his partner about her weight during the rare date night — all while daring to look like an amateur magician.
RALPH PITTMAN v. TERRY DUBROW
If you intentionally choose to not adopt the son you effectively raised because you know you will be drag-racing against your wife to divorce court shortly, there's not much anyone can do to outdo you in the jerk department.
• Round 2 Highlights
JIM BELLINO v. MARC DALY
To Marc's credit, once he was done with the franchise, he avoided press coverage as much as possible. Jim Bellino continues to duke it out with the cast in the press and in the courts.
SIMON BARNEY v. PETER THOMAS
Both of these men are top-tier insufferable, but at various points of Cynthia Bailey's run on RHOA, Peter was the best part of seeing them as a duo onscreen. I have anticipated an IUD insertion more than I have looked forward to Simon Barney's visage gracing my television.
SHANE SIMPSON v. RALPH PITTMAN 
It's a tough call between two master gaslighters, but between Ralph excluding his adoptive son in the custody claim, being a financial drain, and yelling at Drew that she "deserved Lunchables" when a romantic dinner started to go awry, I am going to have to give the edge to the man who was texting his "assistant" about massages.
• Round 3
JIM BELLINO v. SIMON BARNEY
I am sorry, but Simon Barney is a walking gag reflex.
SLADE SMILEY v. RALPH PITTMAN
Ralph Pittman never failed to find an opportunity to humiliate his wife in public and on-camera, and then had the audacity to act like she was crazy for taking issue with his behavior. That alone is worthy of a digital public stoning.
• Round 4
SIMON BARNEY v. RALPH PITTMAN 
Recency bias is definitely influencing this win, but Ralph Pittman has made his two seasons on RHOA memorable in the worst way possible. To now file for divorce and only request custody for his biological children speaks to his character: It's about as empty as his bank accounts.
(Judge: Brian Moylan)
• Round 1 Highlights
KEN TODD v. BOBBY ZARIN
RIP our angel in heaven, Bobby. You were too good for this world.
RICHIE WAKILE v. MAURICIO UMANSKY
This is a weird category because it's essentially selecting the least good guy. Since Mauricio is the best, he has to bow out early.
ROB MINKOFF v. MARTINA NAVRATILOVA
I feel like it would offend Martina's champion's spirit if she didn't win at least one round.
JUSTIN ROSE v. GREGG LEAKES
RIP our angel in heaven, Gregg. You were too good for this world.
• Round 2
KEN TODD v. RICHIE WAKILE
Ken has said some rude and awful things to the women over his tenure. All Richie ever did that was bad is look like a knockoff Jeff Goldblum.
EDDIE JUDGE v. DONN GUNVALSON
In this battle of the OC, the winner has to be the man who introduced the naked-in-the-tub boyfriend reveal.
HARRY HAMLIN v. MARTINA NAVRATILOVA
Two people who were way more famous before getting on the show. A tough call, but Harry cooks and Martina … doesn't.
TODD TUCKER v. JUSTIN ROSE
A man who got a Housewife through his job versus a man who lost his job through a Housewife. Easy call.
• Round 3
KEN TODD v. EDDIE JUDGE
Sure, Ken was almost murdered in his own pool, but he was way more involved with the women's business than Eddie ever was.
MARTINA NAVRATILOVA v. TODD TUCKER
Momma Joyce can't be entirely wrong, can she? Also, one has won Wimbledon and one has, what, grown an impressive beard?
• Round 4
KEN TODD v. TODD TUCKER
The venom of "Good-bye, Kyle!" will never be forgotten at the Institute. I get standing up for your wife, but he often did it by being vile to the other women.
The Final Four
Click here to vote for your pick for The Absolute Worst by March 30.