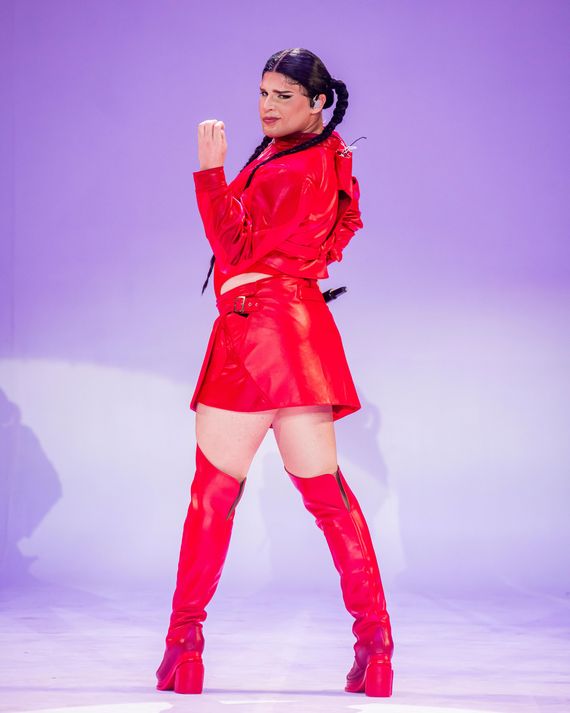 As a child, Ioanis Patsias Morales was scared to dance in front of others. Growing up in Peru, he loved copying choreography from concert footage on VHS and DVDs — but only when he was alone, afraid of letting anyone see him perform a Britney Spears routine and (correctly) guessing he was gay.
On March 3, Morales, better known as the YouTuber iOA (pronounced yo-a), accomplished something that would have shocked his childhood self: He led a faithful re-creation of Rosalía's latest world tour in front of 4,000 fans. "Rosalia didn't tour Peru for Motomami so they threw their own show and sold out a 4,000 people arena???? 😭😭😭," one Twitter user wrote after fan-shot clips of the set immediately went viral.
Billed as the Miji Show, the 90-minute gig, held at Amphitheater Exposition Park in Lima, was a careful copy of the Spanish singer's recent live production. Everything from the lighting cues and choreography to props like water bottles and Givenchy sunglasses were identical to the ones Rosalía uses. Yet no one coming to the venue that night had actually expected a Rosalía tribute; they had no idea what they were paying to see. "I asked my community, my followers, if they wanted to buy a ticket for a secret show," Morales explains. "But I knew the Motomami World Tour showcase was going to blow their minds."
The endeavor represented a stunning evolution for the 34-year-old artist, who is best known to his 785,000 subscribers for his low-budget re-creations of music videos like Karol G and Nicki Minaj's "Tusa." The Miji approach received enough attention in its aftermath that Morales quickly scheduled a second performance for March 24. Even Rosalía herself has given a stamp of approval, commenting, "Dimension paralela desblokeada" — "parallel dimension unlocked" — on footage from the show. "I get this weird pleasure from surprising people with the unexpected," says Morales.
Last September, as a 34th-birthday present to himself, Morales bought a front-row ticket to see Rosalía perform at Radio City Music Hall. Everything about it, especially the minimalist stage setup, blew him away. "We're used to fire, water, explosions … a huge stage with, I don't know, a plane, no?" he says about typical over-the-top pop-star production. "To be able to get people excited and screaming around a white backdrop, it's crazy for me."
Morales was buzzing after the Radio City show but couldn't shake the sadness that his home country wouldn't get a chance to see what he saw; Peru was not on the list of Motomami tour stops. To make up for it, he thought about filming a flash mob in Peru to "Bizcochito," and soon had visions of performing entire sections of Rosalía's show on the street, before local officials told him he would need a venue for all of the lighting and effects he had in mind. "One thing led to another …," Morales explains, and suddenly his idea for a short TikTok began to transform into a full-blown set, one that would introduce the world to iOA-lía.
Morales, who studied economics at the Universidad del Pacífico, was well aware that the work he put into the Miji Show would likely lose money. After booking professional designers and lighting experts, and paying for the copyrights to Rosalía's songs, the bill topped six figures. ("Money comes and goes," he says, "but experiences are forever.")
It didn't just test his wallet, either. Determined to perform exactly like Rosalía, he spent hours analyzing every movement: her dancing; her personal mannerisms; the way she smiles, flips her hair, and walks. Morales also took three months of mobility classes to improve his flexibility and two months of flamenco lessons so he could nail the folkloric ending of "La Combi Versace." "If I'm going to make a tribute replicating the experience, I have to do it to the fullest," he says. In the lead-up to the show, he was dancing six days a week for six hours a day, all while coordinating logistics for roughly 150 people involved in the production. "I lost like 20 pounds in the process," he adds. "I really put my body and my mind to the limit in so many ways."
Morales's eight backup dancers, selected from around 100 hopefuls who responded to a casting call, were expected to push themselves equally as hard. After making it through a live audition, they were required to physically transform themselves into "Motopapis," whether that meant bleaching their eyebrows or covering their body in temporary tattoos. As a fan of both Morales and Rosalía, Peruvian dancer Oleck Chlebowski tells Vulture he was more than happy to follow through on the concept. To look the part of Italian dancer Antonio Spinelli, Chlebowski dyed his hair blue, grew out his beard, and pierced his ears. He also leaned on his own background in acting to portray Spinelli's "very playful, very bold" energy onstage. "I don't want him to think that I'm a stalker; I just want to do my job well," Chlebowski recalls with a laugh.
The dancers were led by Morales's choreographer, Miguel Suarez. The pair met eight years ago in 2015, when Morales began taking Suarez's K-pop dance classes as his "getaway" from the world of corporate finance. Suarez says he was humbled to be trusted to learn the moves and portray the vision of Mecnun Giasar, Rosalía's choreographer. But some of the training was especially difficult, including the singer's famous scooter choreography for "Chicken Teriyaki." "They make it look so easy, but girl … it is not," Chlebowski confirms, adding that he broke his scooter during the first rehearsal. Meanwhile, the human motorcycle stunt in "Motomami" and the synchronization in "Combi Versace" required hours of practice. The long rehearsals were worth the effort, though — their moves were just as energetic and clean as Rosalía's original. "I knew from the first day that this was gonna be on all the eyes of the world," Suarez says. "I have worked on other projects, but I haven't ever felt the responsibility that I felt doing this show."
Despite the demands of the pop star's upcoming schedule, Morales still hopes to meet Rosalía and talk to her about the experience of putting on the Miji show. "That's my dream, to share my experience and to congratulate her for the things that she's getting," he says. Naturally, he also has a suggestion for a potential collab. "I have this crazy idea to do a dance-off of the choreography, face-to-face, the original and the fake," he explains. "That would be amazing for me, like … I can die after that."
Morales isn't sure if another artist will move him to re-create a tour the way that Rosalía and her Motomami Tour did, though he's open to making his own songs for an original show if he finds the inspiration. Then again, his next viral project might not necessarily be musical. In the past, he has given an Uber driver a free car, spent the night vlogging at the Clown Motel in Nevada, and pranked people while dressed as the Michael Jackson–inspired Creepypasta "Ayuwoki."
"I like to blow people's minds," he says. "That's my favorite thing to do."