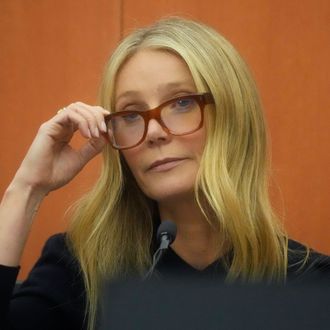 Photo: Rick Bowmer - Pool/Getty Images
If you're anything like the good people at Vulture, you've been following Gwyneth Paltrow's riveting ski trial like you're a Swiftie watching grainy videos of the Eras Tour (which Paltrow is likely not). Paltrow first appeared in court on March 21 to litigate a ski crash that occurred in 2016, in which the partially blind former optometrist Terry Sanderson alleges she crashed into him, while she alleges he crashed into her, both relying on a Utah law that gives the downhill skier the right of way. He's suing her for $300,000 (down from the initial $3 million suit), and she's countersuing for one dollar (again, nothing to do with Swift). But what you may not have noticed is that there is a secret, separate trial going on at the same time where the question is not whether or not Paltrow crashed into someone, or what damages were sustained. No, the question is: Is Gwyneth Paltrow any good at skiing?
Let's take a look at the evidence. In the opening statements, Paltrow's lawyer Steve Owens claims that Paltrow "grew up learning to ski," which makes sense. She is wealthy and grew up wealthy. Each of her kids gets their own ski instructor. She has all the ski gear. Goop even has a guide to Park City on their site. But then we learn that the crash occurred on a green slope, which is famously the easiest-level slope of all, just beating a bunny slope. Owens refers to Paltrow as a "conservative skier" — why not expert and experienced? Maybe this is just a woman who doesn't like to take risks? Owens further says that Paltrow likes to ski "on the right" of the hill, just taking small curves.
Paltrow gave us some insight with a story about her late father, Bruce Paltrow. "[My father] used to do these really sweet one-on-one ski trips with us where he would take us to various destinations," she tells the court during her testimony. "I was pretty devastated by his death, and just being in the ski resort and on a chairlift, it was difficult for me, so I avoided it for a few years until I had my own kids and then I heard his voice in my head, thinking, I should teach them how to ski." While this is a nice story, it still doesn't reveal if she's any good at skiing. Outside of the court room, Vulture checked out Gwyneth's Instagram feed to see if there were any videos of her on the slopes, showing off her form. The research came up fruitless, but we did find this selfie. If the question is "Does Gwyneth Paltrow enjoy ski trips?" then the answer appears to be yes.
So we take to our final piece of evidence: testimony from Eric Christiansen, a ski instructor for Paltrow's son, Moses Martin, for multiple ski trips, including the one where the incident occurred. (He is a witness to the collision.) He described Paltrow as a "strong intermediate skier." But he also described her skiing style as sticking to the right side of the slope, specifically because "uphill skiers who are faster" would be able to see her moving consistently and be able to avoid hitting her.
Vulture Law verdict comes down as such: Gwyneth Paltrow is okay at skiing, but not as good as she should be, given her experience.
This story has been updated.