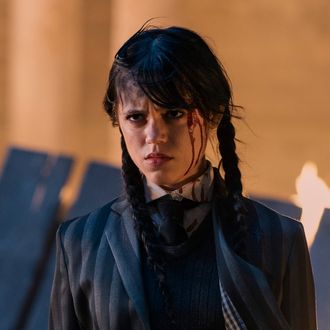 Jenna Ortega will watch the scripts burn.
Photo: Vlad Cioplea/Netflix
As Jenna Ortega continues to dive deeper into the behind-the-scenes of Netflix's Wednesday, it's becoming clear that the production has been more like a Monday. During an appearance on the Armchair Expert podcast, Ortega discusses how she made several changes to the script of Wednesday to preserve the authenticity of her character. As host Dax Shepard praised her performance and the complexity of the character, Ortega revealed how involved she was in creating Wednesday and advocating for changes on set. "Everything that she does, everything that I had to play, did not make sense for her character at all," Ortega said. "Her being in a love triangle made no sense. There was a line about like, this dress that she has to wear for a school dance and she said, 'Oh, my God, I love it. Ugh, I can't believe I said that. I literally hate myself.' And I had to go, 'No, there's no way.'" She mentioned making the specific choice of choreographing her own dance after finding out the writers wrote a flash-mob scene instead. "I don't think I've ever had to put my foot down on a set in the way that I had to on Wednesday because it's so easy to fall into that category, especially with this type of show."
As the production went on, she grew more protective of Wednesday, so much so that she even called her behavior "almost unprofessional" because she was making different choices than what was in the script. "There was times on that set where I even became almost unprofessional, in a sense, where I just started changing lines. The script supervisor thought that I was going with something, and then I would have to sit down with the writers and they would be like, 'Wait, what happened to the scene?'" she explained. "And I would to have to go through and explain why I couldn't do certain things," she said. "I grew very, very protective of her, but you can't lead a story and have no emotional arc because then it's boring and nobody likes you."
Ortega also discusses the stressful timeline of production that consisted of many 12-14 hour days; she finished filming the show in Romania in September before it premiered in November. In between that, she shared that she had over 200 lines of ADR (automated dialogue replacement), while her co-stars only had about ten lines of dialogue to rerecord between September and November. Vulture has reached out to Netflix for comment on Ortega's changes. Wednesday has been renewed for another season with Ortega signed on to executive-produce, so she'll have more say on how to (witch) craft her character.