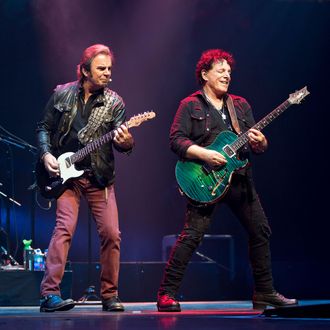 Photo: Brian Ach/Getty Images for Journey
Maybe, just sometimes, not believing in things any longer can be the best idea. Journey have reached an unbelievably dysfunctional point of their lineage as a band, Billboard reports, which stems from a slow burn of issues ranging from the legal to the petty. The main source of strife is allegedly coming from founding member Neal Schon and longtime keyboardist Jonathan Cain, both of whom are still actively touring with the band as of this month. According to Billboard, the duo's mutual animosity began during Donald Trump's presidency, when Cain, who is married to Trump's "spiritual adviser," performed a private set at Mar-a-Lago — a move that Schon declared in a cease-and-desist letter to be "deleterious to the Journey brand as it polarizes the band's fans and outreach." In 2021, Schon went on to sue Cain for "improperly" not allowing him access to the band's American Express credit card; Cain fired back in January 2022, saying Schon had a pathological spending problem and charged $1 million of personal expenses for himself and his wife, a former Real Housewives of D.C. star who crashed a White House state dinner in 2009. Schon v. Cain is now currently pending in a California court.
The duo's Journey infighting crescendoed that same year during an arena tour. Schon allegedly hired off-duty police officers to guard his dressing room during performances and, at one tour stop, had an assistant snoop around Cain's room. Cain caught the assistant and retaliated by hiring off-duty police officers as his own guards. "That's just the level of pettiness and control and conspiracy they came to believe in," a source explained.
In an interview with Vulture last year, Schon briefly discussed a Journey legal issue that related to the ongoing saga of gaining control of the band's official trademark. "We've never owned our own trademark. All these years, many people lied to us. My wife and I finally got to the bottom of it after investigating for years," he said. "We were fought hard by everybody, but we managed to obtain the trademark." A silver lining to the problem, Schon said, was that it allowed him to open up a discourse with former member Steve Perry, who left the band in the mid-'90s. "We're talking and getting to know each other again," he told us, "though not trying to get together musically again, but he's learning who I am now, through a portion of our business that I'm kind of controlling now." But is he doing it … faithfully?