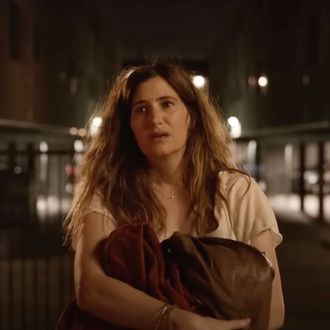 Cheryl Slayed (not a typo).
Photo: Hulu
Attention, little Wild-lings! A new Cheryl Strayed adaptation is coming to the small screen, and this one stars Kathryn Hahn in the role previously made famous by Reese Witherspoon: a fictionalized version of Cheryl Strayed. Tiny Beautiful Things will be a dramatized adaptation of Strayed's book of the same name, which compiled the best of her "Dear Sugar" advice column at online literary magazine the Rumpus. What makes this book ripe for adaptation is the way in which Strayed entwined her personal life experiences throughout her pseudonymous letters of advice. In fact, Tiny Beautiful Things previously had a stage adaptation at the Public, written by and starring Nia Vardalos. (Should it have been called Big Fat Things or My Tiny Beautiful Greek Wedding?)
Showrunner Liz Tigelaar describes the series to Vanity Fair as a "hero's journey" that asks, "What if you told a story about a version of Cheryl that hadn't hiked the Pacific Crest Trail?" This proposition essentially creates a Wild multiverse, predicated on something we'll call Strayeng Theory, wherein Hahn will be the Miles Morales to Reese Witherspoon's Peter Parker. (And Nia Vardalos, crucially, will be Reeve Carney.)
The trailer is definitely Hello Sunshine-core, with captions that say, "Sometimes you have to look back … to remember who you are," and a very inspirashemotional edit of "Leave the Light On" playing over clips of things like a girl on a white horse running free and different generations of mothers and daughters hugging. These intergenerational flashbacks are facilitated by Hahn's advice column to her 22-year-old self, in which she tells her life lessons like, "Stop worrying whether you're fat. Who gives a shit?" Cut to a very skinny actress. The show will explore the answers to the questions "What does it mean to heal? To move on? To let go?" All of the trailer's soul-searching is peppered with plenty of sex-positive jokes about threesomes and anal. Tiny Beautiful Things premieres all episodes on Hulu April 7.
This post has been updated.