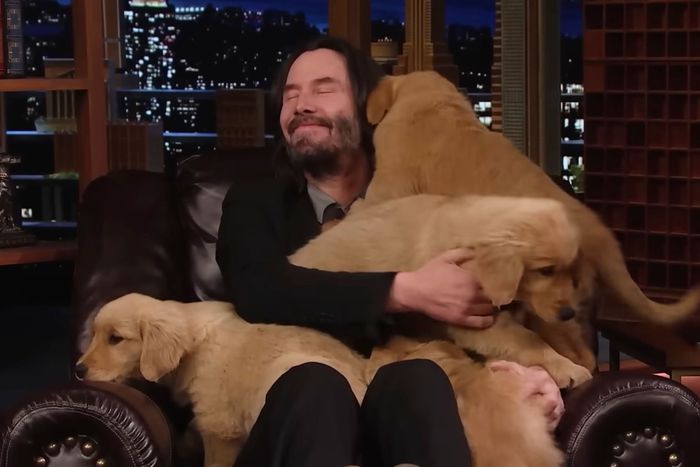 In many ways, the post-Oscars week of late night belonged to Jimmy Kimmel. He'd taken the week before off, since he had to host a whole dang live show on Sunday. But that also gave Kimmel space to recap the awards show from the closest vantage point possible — including the Jenny the Donkey controversy. But Kimmel also scored notice thanks to Nicole Byer. She discussed the fallout from her recent Kimmel appearance on Late Night With Seth Meyers (while sporting absolutely gorgie butterfly clips), which brought a beautiful continuity to late night this week.
Besides the Kimmel of it all, I wanted to highlight two more straightforward sketches on late night this week: Ben Warheit dipped his toe into the nepo-baby conversation on Late Night, and Bob Odenkirk got freaky with Blippi on The Tonight Show. The Blippi blip was especially timely this week because, as Buzzfeed's Katie Notopoulos pointed out, this week is the tenth anniversary of Blippi's first (deeply gross) claim to fame. Other than those lovely sketch moments, the following stochastic famous-guy interactions ruled late night this week.
5. Seth Rogen Spills Oscars Tea on Jimmy Kimmel Live!
Seth Rogen was a perfect, Platonic ideal of talk-show guest on Jimmy Kimmel Live! Kimmel talked about the Oscars; Rogen spilled tea about the Vanity Fair after-party. Kimmel mentioned Rogen's awestruck attitude toward Steven Spielberg; Rogen went deeper into the pathology of that particular friendship. But when Rogen juxtaposed the AVN Awards with the Oscars, that's when this segment vaulted itself into the classic late-night "get recycled in Time Life DVD" space. If you're going to prepare bits for your late-night appearance, always have doubles. That's what the world can learn from this clip.
4. Bad Bunny Plays to the Camera on "Carpool Karaoke"
Despite any attempts to sand the edges off his brand, or to make him into a personality too big to fail, Bad Bunny is a li'l weirdo. He plays to the camera on his "Carpool Karaoke" in a way that Paul McCartney could never … but that John Lennon probably woulda. Does that make sense? Bad Bunny a freak, and there's no number of Kardashians he could date that would take that away. Side note: I hope he switches to AEW, the people's wrestling federation.
3. Ms. Pat Side-Eyes the Late Night Audience
Often when a comedian gets a big enough audience, they have to suffer the indignity of turning their stand-up material into a semi-conversational late-night banter sesh. Ms. Pat seemed to do that with her tight five about her husband's special new dogs as well as her newfound fame and money with the Late Night audience. But every time the audience gave an unexpected reaction — either too much or too little — Ms. Pat responded with a cosmic level of side-eye. Get on her level, random 30 Rock audience! Ronald Reagan killed her dog, and you need to be ready to receive that information!
2. Paris Hilton Teaches the Controversy on WWHL
Do you ever think about how Paris Hilton invented modern paparazzi culture in order to never be kidnapped again? Like, she created a system in which some weird photog asshole always knows where she is, which means her parents can never abscond with her again and force her into a weird school where she'll (allegedly) suffer sexual assault and any number of other horrors? Anyway, I think about it a lot. And this Paris Hilton: Fact or Fiction game on WWHL is suffused with that energy. No story about Paris Hilton is unbelievable, because truly everything has happened to her. The only thing keeping this segment from the No. 1 spot was that it never addressed her reported love of vintage radios. That's the one thing we still need to hear about, Paris.
1. Keanu Is Just Covered in Pups on The Tonight Show
I'm sorry, you want me to explain why Keanu Reeves absolutely covered in golden retriever puppies is the best thing one could see on late night this week? John Wick, defender of doggos, just resplendent with puppers — that's something that needs explaining?! In what world?!? It's gorgeous and appropriate and just so fucking fuzzy. Get on board!