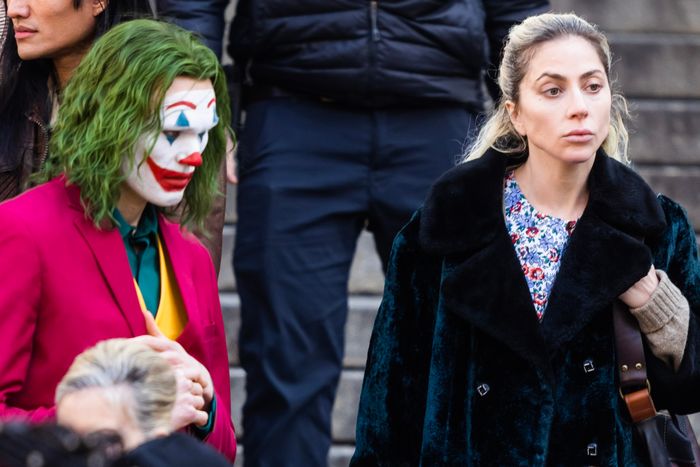 Ruben, a food-delivery worker, was taking a break Sunday when a crowd outside the New York County Supreme Court caught his eye. Protestors lined the steps of the courthouse, jeering and waving homemade signs. Police officers and news vans filled the streets, and onlookers stood behind the crowd-control barriers snapping pictures. "I thought they were arresting Donald Trump," Ruben told Vulture. When he realized the crowds were assembled for the Joker: Folie à Deux movie shoot, not the criminal indictment of a former president, he was underwhelmed. "I'm not a fan of Gaga," he explained. Of all the onlookers Vulture spoke to throughout the day's shoot, Ruben was the only one who preferred witnessing Trump's arrest to a Lady Gaga spotting.
The set looked surreal with Gotham news vans and extras demanding to "lock that Joker up," replacing the very real media presence of just days before and attracting a crowd of close to a hundred spectators at its peak.
Two locals who asked not to be named said they had spotted some protesters during the previous day's shoot but weren't sure if they were Trump voters or extras in the DC Universe. "It's a New York moment: a real protest next to a fake protest for a film. We didn't know which one the cops were here for," one said.
Meanwhile, Gaga fans knew exactly what they were looking for. Two tourists, Shoval and Enzo, connected on Twitter on Saturday night after photos leaked of Gaga as Harley Quinn on set. They made a plan to meet up at 7 a.m. to stake out the Sunday shoot. Enzo described it as a "once in a lifetime" opportunity. And they'd already had their first celebrity sighting of the morning, spotting Joaquin Phoenix getting out of a car and "having a smoke" on the way to the trailer. "It's a fun experience overall, regardless of Gaga or no Gaga," Enzo concluded.
Several Fashion Institute of Technology students were more confident about their Gaga-spotting prospects. One of them, Gigi, had visited the set the day before. By randomly knocking on trailer doors, she managed to make contact with a stylist who told her the singer would be back Sunday. So Gigi returned with her friends Olympia and Cassie in tow. "We were listening to her the whole way here," she said of Gaga.
"I wouldn't say we're avid fans" of Joker, Cassie explained, "but we like Gaga."
Despite the abundance of both real New York City cops and Gotham "officers" on set, one Little Monster said she got a little too close to her target. Emily told Vulture she had snuck onto set Saturday by pretending to be an extra. "I climbed up on that pillar up there," she claimed, pointing to a courthouse column, "and my dumb ass grabbed Lady Gaga by the shoulders." During the next take, Emily said she apologized to the star, who she claimed was "really nice about it."
"My whole goal was to try and get her to sign my boob, and then I was going to get it tattooed if she did it. But I ended up getting way too in the moment." She said that, after being removed from the set, she decided to return to the scene of the crime the next day, disguised in a wig and sunglasses.
Other actual background actors echoed the Gaga praise, saying she came across as both kind and professional while filming. Two extras who had been in Saturday's onscreen crowd, Dagmara and Ari Juliet, agreed that she was a "star." "She was so focused," Dagmara recalled. "When she was walking down the stairs, you felt like she was in the zone. She wasn't paying attention to anyone else."
When shooting resumed Sunday after lunch, onlookers finally got the chance to see Gaga perform. By this point, the crowd had ballooned from a couple of fans to well over 50, corralled across the street from the courthouse. They watched with bated breath as Lady Gaga stomped up the steps. In the scene, a staged protester heckles Harley Quinn, who reacts by pulling her in for an aggressive kiss. The first time Gaga went for the kiss, the audience audibly gasped.
"I wasn't expecting her to kiss a lady onscreen," tourist Shoval told Vulture. "She's fucking iconic! I've never seen something like that in my life."