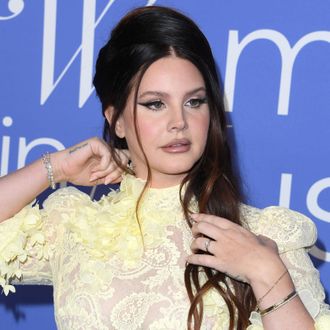 On her fingertips.
Photo: Steve Granitz/FilmMagic/FilmMagic,
Lana Del Rey got a ring to go with her candy necklace. Just days after she released her ninth album, Did you know that there's a tunnel under Ocean Blvd, Billboard reports that Del Rey is engaged to Evan Winiker, a talent manager and musician. Vulture has reached out to representatives for Del Rey and Winiker for confirmation. The news came after Del Rey sported a shimmering diamond on the red carpet of the Billboard Women in Music Awards earlier this month. It's unclear when Del Rey began dating Winiker, a managing partner at Range Media Partners, but the couple were first spotted together last September at the Malibu Chili Cook Off. But even before they began dating, Del Rey was only a few degrees of separation from Winiker, who formerly played bass in Steel Train, an early band fronted by Jack Antonoff, Del Rey's go-to producer. One thing we do know: They did not meet at the Beverly Center.
Ocean Blvd is colored by Del Rey's dating history. She worked on the album with Mike Hermosa, a filmmaker she was dating and began writing songs with. She also alludes to her relationship with Jack Donoghue, of witch-house band Salem. On her previous album, 2021's Blue Banisters, Del Rey collaborated with Clayton Johnson, another musician she was dating (and thought to be engaged to) at the time. And, as if we can ever forget, before all of these men, she dated a cop, Sean "Sticks" Larkin of Live PD. Del Rey brought things full circle when she put up just one Ocean Blvd billboard in Tulsa, Oklahoma, where Larkin lives. But now's not the time for more antics — she'll have a Honeymoon to plan before long.