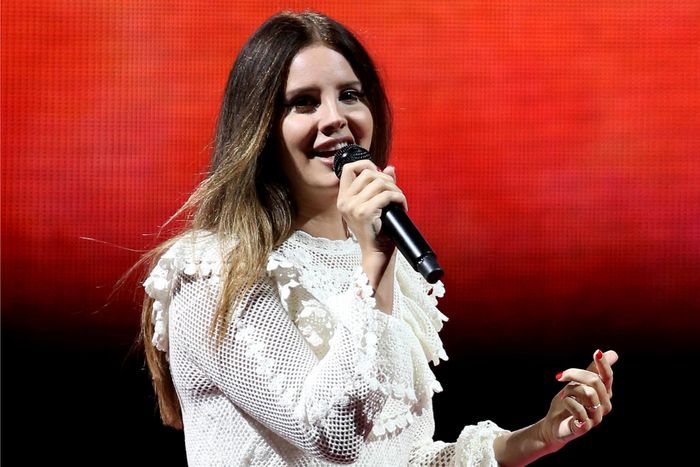 Photo: Kevin Kane/Getty Images
From the opening track, "The Grants," named for Lana Del Rey's family, it was clear that Did You Know That There's a Tunnel Under Ocean Blvd was a personal project. The rest of Del Rey's ninth album is full of reflections on her family, her relationships, and her past, between some more mundane details of her life. It's also personal in another sense — that it's definitively by Lana Del Rey, with some of the most identifiably Lana lyrics of the singer-songwriter's prolific career. That can mean many things, from canny observations about the state of America to silly details about the banalities of Del Rey's life. It's easier to just show you, so here are the ten most-Lana lyrics on Ocean Blvd.
Honorable mention:
I used to think my preaching was mostly about You
And you're not gonna like this, but I'm gonna to tell You the truth:
I've discovered my preaching is mostly about me
("Judah Smith Interlude")
Lana herself doesn't sing these lines — they're recorded from a sermon by her pastor, Judah Smith of Churchome — so they don't really count as Lana lyrics. But what is Lana Del Rey if not a preacher, preaching mostly about herself?
10. I went to Paris (Texas)
("Paris, Texas")
It's not as jaw-dropping or on the nose as some of the lines further down the list, but it's still that quintessential Americana glamour that Del Rey does best. Bonus points for the way she whispers "Texas" like it's printed in the tiniest, lightest font possible.
9. My shirt is inside out, I'm messy with the pen
("Margaret")
Not the vape pen — she sings about that later, on "Taco Truck x VB." And while "Margaret" is actually a pretty touching ode to the love of Del Rey's producer Jack Antonoff and his fiancée, Margaret Qualley, as the rest of list proves, Lana is always down to get messy with the pen.
8. I know they think that it took thousands of people
To put me together again like an experiment
Some big men behind the scenes
Sewing Frankenstein black dreams into my songs
But they're wrong
("Grandfather Please Stand on the Shoulders of My Father While He's Deep Sea Fishing")
As of late, Del Rey has enjoyed using her songs to respond to misconceptions that have dogged her career. Here, she sings about the perception that she was performing as a boardroom-crafted persona rather than being herself. No, she's 100 percent Lana.
7. Let it crash over me
Like the waves in the sea
Call me Aphrodite, as they bow down to me
("Fingertips")
Out of context, something feels inevitable about Del Rey comparing herself to the Goddess of Love. In context, there's a deft Lana-ian twist happening here. This verse comes at the end of a song about death, mental health, and generational trauma that Del Rey said "explains everything." Earlier on, she reveals she once tried to drown herself when she was younger; instead, like Aphrodite, she was (re)born from the sea.
6. Spin it 'til you whip it into white cream, baby
Print it into black and white pages, don't phase me
Before you talk, let me stop what you're saying
I know, I know, I know that you hate me
("Taco Truck x VB")
Here's another bit of correcting the record from Del Rey. It's been nearly four years since her infamous tiff with the revered critic Ann Powers and she still hasn't let the media off the hook. Has Del Rey seen the reviews of Ocean Blvd, though?
5. Your mom called, I told her, you're fucking up big time
("A&W")
The last time Del Rey delivered such a sick burn, it took the form of the entirety of 2019's "Norman Fucking Rockwell," in which she sang to a "goddamn man-child" who probably couldn't show his face in California for months afterward. On "A&W," she's still dealing with man-children, now so bad that she needs to bring Mommy into things. But his time, she skips the poetry criticism for one perfect earworm of a diss.
4. I'm folk, I'm jazz, I'm blue, I'm green
Regrettably, also a white woman
But I have good intentions even if I'm one of the last ones
("Grandfather Please Stand on the Shoulders of My Father While He's Deep Sea Fishing")
Still questioning the culture, that Lana.
3. My boyfriend tested positive for COVID, it don't matter
We've been kissin', so whatever he has, I have, I can't cry
("Peppers")
Another COVID-chronicling banger from the woman who previously gave us "Grenadine, quarantine, I like you a lot."
2. I'm a different kind of woman
If you want some basic bitch, go to the Beverly Center and find her
("Sweet")
On "Black Bathing Suit," Del Rey sang about wanting a boyfriend to "walk home from the mall with," among other things. Clearly not the Beverly Center, though — because if you haven't heard, she's not like other girls.
1. This is the experience of being an American whore
("A&W")
A line that could describe so, so many Lana Del Rey songs before this, but still sounds so perfect coming out of her mouth for the first time.