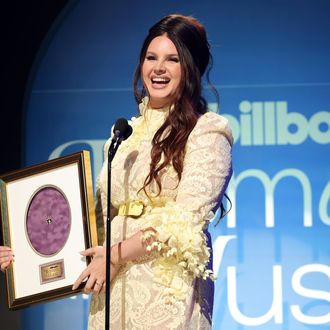 Photo: Christopher Polk/Billboard via Getty Images
Maybe you were a bit surprised to see that Lana Del Rey, the woman whom you last heard singing about "the experience of being an American whore," had a feature from her own pastor on her new album. On Del Rey's new single, "The Grants," it makes a bit more sense. "Do you think about Heaven? Do you think about me?" she sings on the ethereal, gospel-tinged song. "My pastor told me, 'When you leave, all you take is your memories.'" She is presumably referring to Judah Smith, the same pastor featured on Did You Know That There's a Tunnel Under Ocean Blvd, who teaches at the celebrity-favorite Los Angeles congregation Churchome.
Del Rey has some famous help on "The Grants," too. Here, she tapped Pattie Howard, Melodye Perry, and Shikena Jones — three women featured in the 2013 documentary 20 Feet From Stardom — to take the whole song to church. It opens with a recording of the singers trying a take on the chorus, which they give some spirit the way they know best. Try not to tear up once you get to the bridge, in which Del Rey sings about memories of her late grandmother and her niece (hence the title, after her family's last name) over their choral singing.
"The Grants" isn't the only song with a bit of godly touch on the album — Perry and Jones also sing on the title track along with Voncielle Faggett. Ocean Blvd is out on March 24, giving you enough time to ask for forgiveness for doubting Del Rey's church-music era.