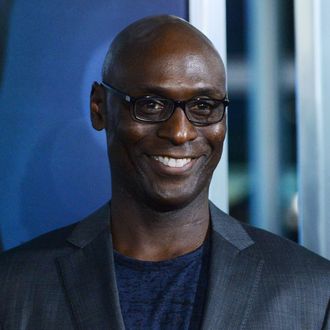 Lance Reddick.
Photo: Jim Ruymen/UPI/Shutterstock
American actor Lance Reddick, best known for is television work on acclaimed television series including The Wire, Fringe, Oz, and Resident Evil and for his role as Charon in the John Wick films, has died at the age of 60. The actor's representatives confirmed that he died of natural causes on the morning of Friday, March 17, in Los Angeles and was found at his home in Studio City.
Born in Baltimore in 1962, Reddick had a background in classical music composition before pursuing acting and earning a Master of Fine Arts degree from the Yale School of Drama. After a slew of guest roles in series like The Nanny and The West Wing, Reddick had his first major recurring role when he joined the fourth season of Oz as Detective Johnny Basil. That year, he also had a recurring role in the first season of Law & Order: SVU, and he would go on to make appearances in the following two seasons. Throughout the 2000s, Reddick continued to do standout guest work in other crime series, including various Law & Order iterations and CSI: Miami, before landing one of his most iconic roles: the principled, steadfast Cedric Daniels on The Wire. He later earned cult status on another series, Fringe, where he played Fringe Division leader Phillip Broyles. Most recently, Reddick played multiple variations on Dr. Albert Wesker, and his various siblings and clones, in Netflix's Resident Evil. In addition to that video-game adaptation, Reddick was a popular video-game voice and motion-capture actor for games including Destiny and Horizon Forbidden West.
In film, Reddick was best known for playing Charon, the mysterious concierge at criminal-underworld hotel The Continental in the John Wick franchise. Alongside Keanu Reeves and Ian McShane, he was one of only three actors to appear in the entire franchise. In 2021, Reddick told Vulture that Charon had an "integral" role in the upcoming John Wick: Chapter Four, which will be released in the United States later this month.
After firmly establishing his career as an actor, Reddick returned to musical composition, releasing a jazz vocal album in 2011 called Contemplations & Remembrances. "When it's time to say good night, and you ask me please to stay, my heart rises to my throat, I can find no words to say, so I have to look away," he sings on a track called "Time to Say Goodbye." Reddick is survived by his wife, Stephanie Reddick, and his two children.