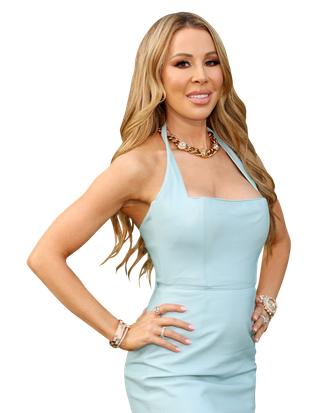 Photo: John Parra/Getty Images
Lisa Hochstein always knew The Real Housewives of Miami would make a return. During the COVID lockdown, she would catch reruns when they aired on Bravo. "I knew we would be back somehow, someway, in some capacity," she told Vulture. And she was right. After an unprecedented near-decade-long hiatus, The Real Housewives of Miami returned to the Bravo universe in 2021. Now in its fifth season, the show is experiencing an "It" girl moment; fans have referred to it as lightning in a bottle, delivering authentic relationships and a fresh energy when other Housewives franchises began to feel overly manipulated and mean-spirited. Amid this strange time for Housewives fans, RHOM snuck onto the scene like a breath of fresh tropical air.
But another aspect that made this season must-watch TV is the explosive deterioration of Hochstein's marriage. The entire ordeal played out on the show, beginning with a shocking hot-mic revelation from her estranged husband, Lenny Hochstein, declaring his intentions to leave. What followed was a highly publicized separation involving a mistress, a fight to stay in her home, and a tumultuous season for the RHOM veteran. In the midst of an eventful three-part reunion — "Andy … I would not say he was pleased," she laughs — Hochstein revisits her painful divorce and looks ahead to what's next.
Have you been watching your story play out week to week?
I like to watch it by myself with a glass of wine and then I'll watch it again with a friend. It was really hard to relive. Seeing things that I didn't know were happening, like the hot-mic moment …
So no one warned you?
No. I was told by the producers that they kind of stumbled upon it. And one of the producers called me and said, "Hey, this one is going to be tough for you to watch."
What went through your head?
It definitely felt like I was getting stabbed in the back. It confirmed what I suspected as time went on. I felt like I was sleeping with an enemy. Sleeping with a stranger for so many years. It was like having your best friend turn on you and stab you in the back.
Fans have really rallied behind you. I see he's had to turn off some of his IG comments. How does that feel?
It feels so amazing to have the support of so many. It makes me feel that everyone can see who this man is and what he's done. How horrible he is. There are so many women that have gone through this and it's never really been caught on reality TV like this.
I think the closest thing to it would be Joe Giudice's hot-mic moment. This was a big thing that changed your relationship forever. 
I couldn't believe that he didn't wait until after filming. I questioned him about that and I forgot exactly what he said but it was something like he couldn't wait any longer.
What have you learned about yourself from the situation?
I'm stronger than I thought. This is a lot to deal with privately and publicly: having your estranged husband and his mistress flaunt their relationship at every opportunity, having to see the press somehow get ahold of all of my divorce proceedings, and then having these two go on record all the time, commenting nonstop.
I was watching some of the old episodes to refresh my memory. We've seen you blossom. It's a beautiful process whether he's with you or not. 
Of course I'm not the first person to get divorced and I'm not going to be the last. It just so happens that I'm sharing this process with many, many people. Not how I thought this season would go down. In such a visceral, viscous way. Such a cold, uncaring, un-empathetic way.
If this was handled differently, it could've been so much easier on both of us. He made horrible choices in how he handled it, and how he went on record so quickly and happily, saying that he had a girlfriend. He basically said, we're getting a divorce, he's going to start dating, and then he had a girlfriend immediately! Or maybe he had her all along? I'll never know the truth.
When you got the call that they were bringing RHOM back, what were your initial thoughts?
I wasn't sure because they threatened that a couple of times, and it never happened. Once or twice there was talk of coming back and I wasn't sure what to believe. But I knew we would be back somehow, someway, in some capacity.
What energy do the new girls bring to the show?
They all bring something to the table. Nicole is refreshing because she's a successful doctor. She's a success story and a great mom. I think she's a wonderful person, we have a special relationship and I adore her. Guerdy is so successful and talented. [Event planning] is not an easy job. I know from planning so many parties how hard that can be. She's such a juggler. She'll get off the plane and she's ready to shoot and she's off again. Kiki is the comic relief, of course; her and Marysol are tied for comic relief. Julia is the first time we've had someone from the LGBTQ community on Housewives. She's such a quirky personality. She's so innocent, she doesn't have a bad bone in her body. I just love her.
Speaking of the original cast, have you guys changed a lot since you've come back?
We've all aged. [Laughs.] We've all had a little tweak, here and there. After ten years or however long, people change who they are. A lot has happened to all of us. Alexia losing her ex-husband, going through a divorce, finding a new man, raising her children. Larsa, going through a divorce, moving to California. Marysol lost her mother and found love again. Then Adriana went through a divorce … everyone is going through divorce! It seems fitting that I'm going through a divorce now. I don't know if it's a curse … but you're not quite a Housewife until you get a divorce.
How do you feel about the reboot's reception?
Well, I hate that my divorce is one of the major reasons people are interested since we've been in the press so much. But we all have interesting stories. The thing with us is that we're real friends. I'm genuinely friends with all of them. I hang out with a lot of them, and others we try to make plans but we're so busy. But they're real friendships and a lot of us have been friends for the last ten years.
Does it feel different being a part of the Bravo universe this time around?
Yeah, it does. We didn't have the influence of social media back then. We had Facebook, barely. Instagram really pushes everything from the show to the Housewives individually. It's gained so much popularity. Also, there's women who are just dying to do it. Sometimes I wonder why!
If you could bring back a cast member who would it be?
Leah Black. She's always been a true friend to me. She helped me in 2013 when we stopped filming and I almost had a divorce. She was there for me and she gave me a lot of advice.
Do you wish you had gotten a divorce then?
No, because then I wouldn't have my kids and I can't imagine life without them.
What about your future are you most excited about?
To get to the other side. And not having these ups and downs and so much negative attention on Lenny and I. It's gotten so out of hand and ugly, but a lot of divorces with children end up becoming civil or amicable or becoming friends. I don't really see us becoming friends because it's gotten so out of hand. But for the kids' sake, I wouldn't want to be enemies with him forever.
I'm excited about finally building and branding my own businesses and not focusing so much on Lenny's. That's all I did. I helped build what I thought were ours. I really just want to focus on myself because building just for him was a mistake.
Are you dating?
Yes, I'm dating. I'm having fun. I'm not going to touch too much on that. I want it to unfold as it unfolds.