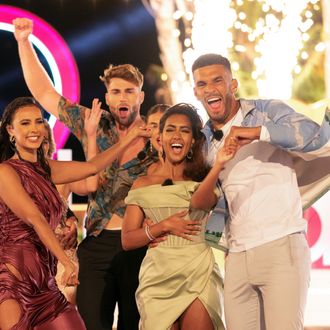 While every season of Love Island U.K. comes with fan critique (though I think we can all agree: season-five supremacy), season nine really landed with a thud. After 57 hour-long episodes, Monday's installment scored the lowest ratings for a Love Island finale in seven years, and fans across Twitter and Reddit think they know why: It's a combination of a stale format running out of steam, producers pushing old narratives, and a particular cast that gave viewers almost no one to root for. Overall, the season felt like more of an obligation than a pastime, even with its monumental win. "I really hope this changes the game when it comes to LI," one redditor wrote. "We can all see the fake shit, the playing up to the cameras, the played out kiss-a-girl-then-grovel. We need realness!!!"
In the finale, winners Kai Fagan and Sanam Harrinanan pulled off a surprise victory with 44 percent of the vote, becoming the first POC couple to win the series. This could be down to their genuinely sweet connection or the ability to stay out of drama, but either way, it flipped the typical Love Island script. (A teacher and a social worker beating out influencers and models? Pretty Little Thing found shaking.) But the win felt against the wishes of producers, who, the past two months, had been transparently positioning — and protecting — couples such as Tom Clare and Samie Elishi, who fit the more traditional Love Island mold (white), and individuals like Olivia Hawkins, a dutiful villain figure. Aside from Will Young, a farmer who was already popular on TikTok for the unabashedly goofy, if slightly ham-fisted, demeanor he became known for in the villa, no standout personalities emerged among the contestants. The girls' unspoken but palpable hate for one another combined with the boys' openly volatile friendships made for a generally unpleasant environment.
The castmates themselves are also too familiar with the Love Island playbook by now. Contestant Ron Hall literally spelled it out in episode 42 when he said that the couples who face tests early on in the season but spend the later weeks drama free tend to come out on top. But it's not just that they know what does well onscreen; they can also anticipate the tests and twists and have come to learn (thanks to season-seven winners Millie Court and Liam Reardon, who reconciled after a flagrant betrayal by Liam) that no manner of straying in Casa Amor ends up being a deal-breaker, removing all the stakes from the supposedly ultimate test. Despite this, producers seem hell-bent on maintaining the show's traditional narratives — even if they go against the wishes of the public.
Because Love Island is controlled in part by its viewers who vote on couples and dates during the course of the season, it's very noticeable when the rules of the game are manipulated. This frustration culminated in episode 45 when the public took the opportunity of a compatibility vote to oust Olivia (based entirely on a desire to eliminate the contestant rather than genuinely pass judgment on the compatibility of her couple). However, producers then gave the power to Olivia and Maxwell Samuda, allowing them to take another couple out with them.
At every turn, it seemed the public's opportunity to have its say was thwarted by some kind of caveat. It wasn't even the public that got to choose this year's finalists but the contestants, who eliminated Will and Jessie Wynter in favor of Shaq Muhammad and Tanya Manhenga — a couple despised by the public for Tanya's straying in Casa Amor — who went on to the final only to receive 2 percent of the vote. Maybe it was their status as a day-one couple, or something everyone in South Africa could see that we couldn't, that kept them safe, but to what end? Their place in the finale ended up wasted.
Still, despite the attempt at disruption, the winners were good! Kai and Sanam's victory broke format in a number of ways, and their popularity among the public should serve as a message to producers. In addition to being the first POC winners, Sanam was also the first Casa Amor Islander (most of whom, be it timing or bad luck, fail to secure a more permanent spot in that increasingly cramped bedroom) to claim victory. The pair never stepped out on the other under the guise of a "test" nor rose to any of the villa drama, even when the source of that drama was screaming directly in their faces. Indeed, much of the pair's screen time took place in the background of the shots of more dramatic and malleable couples rather than ever being front and center themselves.
The show is called Love Island for a reason, but you can still have entertainment while nurturing genuine connection — we all watched enemies-to-lovers Ekin-Su Cülcüloğlu and Davide Sanclimenti in season eight. The show succeeds when it plays to the individual Islanders' personality strengths, not when it stokes their emotional weaknesses through manipulation and fear (see Faye Winter and Teddy Soares in season seven).
Next season, while back in the familiar territory of Espania, the show has the opportunity to throw out its original formula for real. The public has made its wishes known, and through less predictable casting and a more personality-driven playbook, producers can revive the show from its season-nine slump. Love Island might have failed the test this winter, but as we all know, that doesn't mean it can't have a redemption arc of its own.