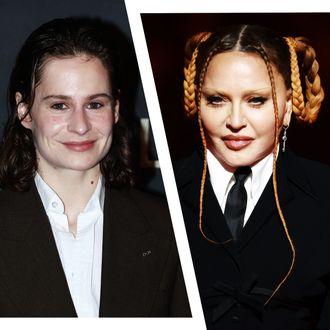 Christine and the Queen.
Photo-Illustration: Vulture. Photos: Getty Images
Who's that girl featured on three upcoming Christine and the Queens songs? None other than the Queen of Pop, Madonna, the latest queen to enter Chris's fold. Christine and the Queens' latest album, Paranoïa, Angels, True Love, is officially out June 9. And "Angel" may be a more fitting title for Queen Madonna, who features on the songs "Angels Crying in My Bed," "I Met an Angel," and "Lick the Light Out" (well, nothing angelic about that one). The collabs come after Madonna and Chris have been circling each other for years — Madonna's 2015 "Living for Love" video and Grammys performance were inspired by Christine and the Queens' "Saint Claude," and Chris has appeared with Madonna live on tour. Madonna is not the only one joining the Queens this time, though, with 070 Shake featured on two songs, "True Love" and "Let Me Touch You Once." Chris kicked off the project solo, debuting the slow-burning single "To Be Honest" on March 8.
The three-disc project follows Chris's 2022 release, Redcar les Adorables Étoiles (Prologue). Chris describes the upcoming project as "the second part of an operatic gesture," inspired by Tony Kushner's epic play Angels in America. "Redcar felt colorful and absurd, like Prior sent to his insane dream-space," he said. "The follow-up Paranoïa, Angels, True Love is a key toward heart-opening transformation, a prayer toward the self — the one that breathes through all the loves it is made of." Opening one's heart? Like … a prayer? Sounds like he called the right person. Find the full track list, below, which — someone call Chris's friend Charli XCX — also includes a song called "Track 10."
1. Overture
2. Tears Can Be So Soft
3. Marvin Descending
4. A Day in the Water
5. Full of Life
6. Angels Crying in My Bed (feat. Madonna)
7. Track 10
8. Overture (feat. Mike Dean)
9. He's Been Shining for Ever, Your Son
10. Flowery Days
11. I Met an Angel (feat. Madonna)
12. True Love (feat. 070 Shake)
13. Let Me Touch You Once (feat. 070 Shake)
14. Aimer, Puis Vivre
15. Shine
16. We Have to Be Friends
17. Lick the Light Out (feat. Madonna)
18. To Be Honest
19. I Feel Like an Angel
20. Big Eye