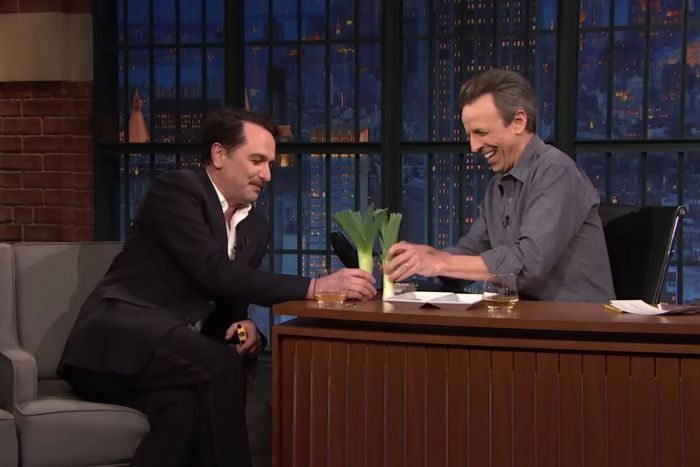 Photo: Late Night with Seth Meyers/YouTube
The week opened with some very late-night-related news: Trump apparently asked Disney to censor Jimmy Kimmel because he was being too mean. Of course Kimmel was the one who most got under his skin. Of all the late-night guys, he's the one most interested in being personally hurtful. He always has (look at his "10 at 10" segment on the ill-fated Jay Leno Show). All the hosts talked about it, but obviously, special attention should be paid to Kimmel's reaction, which was a delight. All the hosts insulted Trump, but in their own specific comedy personas: Stephen Colbert wants to be clever above all else. Jimmy Fallon is more interested in everyone getting along, so when he goes insulting, it's often a bad fit. Seth Meyers has little-stinker energy. And James Corden can hide behind British sangfroid. Kimmel wants to hurt your feelings. In many ways, it's his greatest asset as a political commentator.
The other leitmotif for this week in late night was the cast of Everything Everywhere All at Once. They were every guest, on every show, all after a triumph at the SAG Awards. Stephanie Hsu did The Tonight Show, Michelle Yeoh got the gravitas treatment from Colbert, and both Jamie Lee Curtis and Ke Huy Quan partied with Corden. Curtis, ever the cheerleader, sent Corden off with a hurrah and an action figure of himself. So EEAAO won the earnest portion of late night this week. Who was funniest?
5. John Oliver Welcomes the Rise of the Machines
AI: It's effing everywhere! Kids are letting ChatGPT write their term papers, M3gan is already getting a sequel, and a tweak of the TikTok algorithm can ruin your whole day. I don't care about Pedro Pascal as much as you think I do, tiny demons that live in my phone! Late night has used AI in various ways, like letting a bot write a sketch. That feels bad, especially since late-night writing is how many writers get their start in comedy. Don't take our jobs yet, robots, please. Better for John Oliver to be all sensible and even-handed about the actual state of technology, as well as letting a horse write some of his material.
4. Jimmy Fallon Plays a Pasta Game
Jimmy Fallon borrowed a bit from morning-radio host Elvis Duran and made his co-workers guess which pasta he was thinking of. If they got it right, the whole audience won spon-con Ben & Jerry's. Thank you for introducing me to this game, Jimmy Fallon. I will be playing it at parties until the heat death of the universe. Plus, there's an opportunity to be a real edgelord and push the definition of pasta. Is spaetzle pasta? Is udon? What's the difference between pasta and a plain ol' noodle? There's much to discuss.
3. "Fuck Vulture" —The Daily Show
Vulture's Anne Victoria Clark summed this clip up perfectly, and she's letting me include her remarks here: "The segment is so good bc it's a worked shoot, which is a wrestling term for when performers say things that call out backstage happenings in such a way that the audience cannot determine if they really mean it or not!! I did it, I made it wrestling." The boys get heated; the boys are clearly reading a script. The boys play with kayfabe, to crib another wrestling term. And we at Vulture dot com can turn heel just this once.
2. Nicole Byer Recounts Vacation Horror Stories
Nicole Byer is God's perfect podcaster. She can make any story entertaining, even an underwhelming vacation to the Bahamas. On Jimmy Kimmel Live! Byer recounted the nightmare trip she took with Sasheer Zamata, during which she got stranded on a jet ski just like DJ Khaled, went to a resort full of ugly families who hate each other, and was accosted by a steel drum at Margaritaville. Plus, Kimmel briefly wore her earring and had a cool swashbuckling/Berghain thing going for a second there.
1. Matthew Rhys's Insane Lust for Leeks
Matthew Rhys came prepared for his spot on Late Night With Seth Meyers. And by "prepared," I mean he brought leeks, Welsh-American friendship pins, a stopwatch, and some whiskey. Apparently the Welsh Guard celebrate St. David's Day by eating leeks raw, which sounds unpleasant. Those things are basically penis-shaped onions. For reasons known only to Rhys, he decided it would be fun to challenge Seth Meyers to a leek-eating contest on national television, then yell about his boat. To be fair, he was right: It was incredibly compelling TV. But if more talk-show guests brought their own challenges to late-night shows — ones they're really passionate about — it could really loosen up the late-night game-o-sphere. Something to think about!