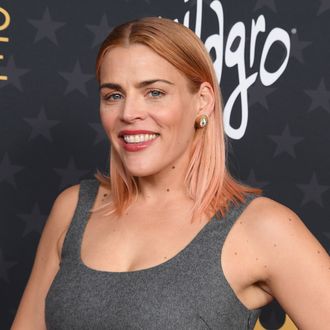 She's a cool mom.
Photo: Steve Granitz/FilmMagic
Busy Phillips got those vocals in check for Girls5eva and she is ready to use them. The actress has been cast as Mrs. George, Regina's mom, in the upcoming Mean Girls musical film adaptation, according to Deadline. Played by Amy Poehler in the original film, then Kerry Butler on Broadway, the part is associated with some of the film's most iconic lines, and, in the musical, sings a version of the song "What's Wrong With Me?" with Gretchen Wieners as both long for Regina George's inaccessible heart. Phillips already works with Mean Girls writer Tina Fey on Girls5eva, a musical comedy series with a third season coming out on Netflix (rather than its original network, Peacock) soon.
Phillips will be joined onscreen by her off-screen boss. Tina Fey will once again play Ms. Norbury in the upcoming Mean Girls movie musical, she confirmed on the February 16 episode of Late Night With Seth Meyers. The mathlete coach also revealed that Tim Meadows, who played Principal Duvall, is also set to reprise his role as the frustrated administrator who did not leave the South Side to police high-school cliques. "I do want to give you credit, you and Tim had parts in the original film that you couldn't age out of," Seth Meyers commented. (Job security is hard to find in this economy.) "Teachers work forever," Fey responded. "I want it to be like when Gilligan from Gilligan's Island would be at a trade show and you'd be like, 'Oh, he looks so old in his little hat.' That's my goal." The SNL alum went on to spill the beans about the movie's production start date — cameras start rolling March 6. "It's gonna be good," she promised.
The movie musical previously announced the rest of the main cast last December. Per The Hollywood Reporter, Reneé Rapp will watch the world burn as Regina George for the second time in her career. She previously played the leader of the Plastics in the Broadway stage adaptation of the hit 2004 movie. After enrolling in Sex Lives of College Girls' Essex College, Rapp will now head back to high school with a new cast of classmates. Mare of Easttown's Angourie Rice will play Cady, who transfers from Africa and gets caught up in Regina's popular clique. Auli'i Cravalho (Moana) and Jaquel Spivey (A Strange Loop) will play Cady's artsy outsider friends Janis and Damien, respectively.
The original Plastics Lindsay Lohan, Rachel McAdams, Amanda Seyfried and Lacey Chabert were all reportedly all interested in returning for the movie musical, according to Page Six, but found the money offered them "disrespectful." Allegedly Rachel McAdams was offered a bigger role than the other three girlies (maybe as her own mother, as originated by Amy Poehler?), but "As of now, the negotiations are stalled," a source said.
Tina Fey first announced this project, which is set to debut on Paramount+, back in 2020, explaining that she just isn't ready to let go of these teens. "They are my Marvel Universe and I love them dearly," she said in a statement at the time. Fey wrote the original Mean Girls movie and the book for the Mean Girls Broadway show, so naturally, she's also writing the script for this feature. She'll also produce alongside SNL's Lorne Michaels. Jeff Richmond, Fey's husband and the creator of the 30 Rock theme, will compose the music, while Nell Benjamin will provide lyrics. No release date has been announced yet. We wish we could offer you a prediction, but come on. It's not like we have ESPN or something.
This post has been updated.