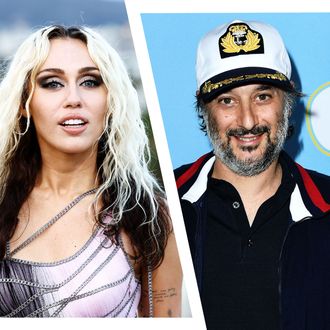 Miley Cyrus and Big Twitchy's creator, Harmony Korine.
Photo-Illustration: Vulture. Photos: Getty Images
There are surprising names all over Miley Cyrus's new album, Endless Summer Vacation. A return to Bangerz producer Mike WiLL Made-It. Features by fellow belters Brandi Carlile and Sia. And, of course, "Handstand," produced by Cyrus's drummer boyfriend, Maxx Morando and co-written by Beach Bum and Spring Breakers filmmaker Harmony Korine. It's not just the collaborators that make that track stand out — it's an eerie electro freak-out that would be more at home on Bangerz or Miley Cyrus & Her Dead Petz than this album's moonlit Malibu pop. But in the song's spoken-word intro (which may be familiar if you saw the album trailer), Cyrus introduces us to the most memorable figure on this album: Big Twitchy.
With a name like that, it's hard not to be instantly captivated. "My friend Big Twitchy rode the boat into the light," Cyrus whispers on the song, narrating a night out by the water. "Surf into the north break / We danced until there was nothing left / Just me and Twitchy / 'Cause that's all we knew." We can glean a bit about this mysterious figure from that story: They seem to like the water and dancing, and to be pretty free-spirited. In other words, it's not hard to see how they're friends with Cyrus. But there's a little more to the story than what Cyrus tells.
If you think Big Twitchy sounds like a character straight out of Spring Breakers, you're on to something, because the name seems to have come from Korine. The director had a 2019 exhibition of paintings at Gagosian called "Young Twitchy." In a statement, he explained that the paintings were re-created from photos that he would take on his phone of scenes around Florida, where he lives. Korine made a hobby of drawing "alien-like friends" over light flares in some of these photos. "These light creatures hang out with the dogs or dance on the abandoned boat dock," he said. There's even a specific painting titled Big Twitchy, of the light monster standing by a pool between some palm trees. (They're an elusive creature, too — Gagosian didn't reply to Vulture's request to publish a picture of one of the paintings.)
Korine told Garage that he's been drawing Twitchy since high school, and their name comes from being "a twitchy little bastard." He went on to describe the creatures to Vice as "guys I was making to keep me company" (while explaining that no, they're not ghosts). From the paintings, Twitchy indeed seems to enjoy the water, but also seems to prefer hanging out during the day. "You can definitely see this idea of mayhem on the docks of Miami," Korine told Vice of the paintings. "It's just kind of a strange party that starts to come alive." It's also apparent from the paintings that Twitchy is pretty harmless and nice. "Sometimes he gets pissed when people creep up on him," Korine told Garage. "But mostly I feel like he's sweet." Definitely sounds like the sort of light creature we'd want to spend a trippy night with.