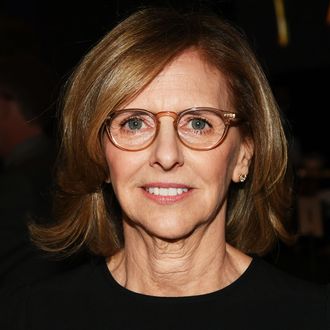 Girlboss.
Photo: Michael Buckner/Penske Media via Getty Images
Nancy Meyers knows what women want, and it's an extra $20 million to make their rom-com. The writer-director of films including The Parent Trap, The Holiday, Something's Gotta Give, and It's Complicated was writer-director-ing a new "semi-autobiographical" rom-com called Paris Paramount for Netflix and tried going for Stranger Things numbers. The streaming service originally green-lit a budget of $130 million, a choice that was followed by Meyers's CAA team asking for $150 million, according to Puck. That … is not what happened, as Netflix's film chief, Scott Stuber, allegedly turned down the higher number. The budgeting discussion escalated on March 14, with The Hollywood Reporter reporting that the two could not come to an agreement on the budget for the film, resulting in Netflix officially pulling the plug. Days after the breakup, Meyers is already searching for a new studio to rebound with. Deadline reported on March 16 that Warner Bros is the front-runner among all the potential suitors so far.
Even $130 million might seem like a high number for the project, considering that Reese Witherspoon and Ashton Kutcher's recent Netflix joint, Your Place or Mine, was reported by Puck to cost "about half that." But, in 2006, Meyers's The Holiday cost $85 million, which, when adjusted for inflation, is equivalent to about $120 million anyway. Plus the Paris Paramount cast was slated to include stars like ScarJo, Owen Wilson, Penelope Cruz, and Michael Fassbender, though none had officially signed on yet. And you know what big stars means. Big … budgets.
Meyers explained in an Instagram post that the movie's title comes from director Ernst Lubitsch's quote about preferring Paris, Paramount to Paris, France. "The movie is about a group of people making a film and the magic and mystery of what we do," she added. The project was previously reported to follow "Hollywood exes" who are forced to work together, and, given the semi-autobiographical nature of the film and the fact that Meyers has said she's written characters based on her ex-husband, Charles Shyer, in the past, it seems like a fair bet that both a Meyers stand-in and a Shyer stand-in would've been present. So we had Scarlett Johansson in a film for Netflix that is a semi-autobiographical portrait of a broken marriage led by a recognizable auteur? They've should've padded the budget for that inevitable Oscar nomination.
This post has been updated.