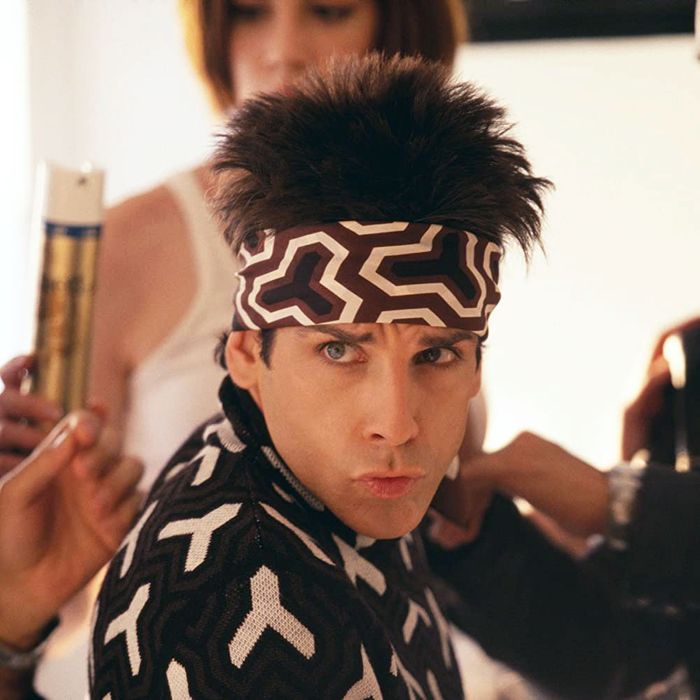 Zoolander.
Photo: Paramount Pictures
This Month's Highlight
Zoolander
If you're in the need for a laugh, there's a couple of strong 2000's comedies that are reliable. Zoolander is one of them. Slightly dated, sure, but Ben Stiller and Owen Wilson together as clueless models is great comedy. (Streaming March 1.)
Full List of What's New on Paramount+ — March 2023
Noteworthy selections in bold.
Available March 1
Baby Shark's Big Show, season 1
Celebrity True Crime Story, season 1
Survivor, season 44
True Lies, season 1
10 Cloverfield Lane
12 Years a Slave
Air Force One
American Hustle
Amistad
An Inconvenient Sequel: Truth to Power
An Inconvenient Truth
An Unfinished Life
Anomalisa
Antwone Fisher
Arrivederci, Baby!
Back Roads
Behind Enemy Lines
Biker Boyz
Bridget Jones's Diary
Bruce Lee, The Legend
Bugsy Malone
Coach Carter
Crimson Tide
Detective Story
Downsizing
El Paso
Existenz
Extraordinary Measures
Ferris Bueller's Day Off
Flight to Tangier
Florence Foster Jenkins
For Colored Girls
Forbidden City Cop
Foxfire
Friday The 13th - Part II
G.I. Blues
G.I. Jane
Galaxy Quest
Game of Death
Gangs of New York
Heartbreakers
Hostage
Hot Rod
I Walk Alone
Imagine That
In Too Deep
Into the Wild
Jackass Number Two
Jailbreakers
Joan of Arc
Kate & Leopold
King Creole
Lady Jane
Last of the Mohicans: Directors Cut
Let It Ride
Life of Pi
Little Fauss and Big Halsy
Love Story
Marie Antoinette
Meet the Navy
My Favorite Spy
Naked Gun
Necessary Roughness
Obsessed
Once Upon A Time In The West
Paid in Full
Popeye
Proof
Red Dawn
Road House
Rounders
Rules of Engagement
Sahara
Salmon Fishing in the Yemen
School Ties
Scream 4
Selma
Seven Psychopaths
Shine a Light
Snake Eyes
Steel Magnolias
Strange Wilderness
Suburbicon
Sunset Boulevard
Sweet Revenge
The Actors
The Adventures Of Shark Boy & Lava Girl In 3-D
The April Fools
The Assassination Bureau
The Babysitter
The Blue Iguana
The Caddy
The Cowboy and the Lady
The Dead Zone
The Gambler
The Hunted
The Last Tycoon
The Longest Yard
The Lovely Bones
The Master
The Naked Gun 2 1/2: The Smell of Fear
The Naked Gun: From the Files of Police Squad!
The Nutty Professor
The Optimists
The Out-of-Towners
The Patsy
The Piano
The Rock
The Singing Detective
The Sixth Sense
The Sterile Cuckoo
The Terminal
The Three Amigos
The To Do List
The Tuxedo
The Usual Suspects
The Yearling
There's Something About Mary
True Grit
Under Capricorn
Varsity Blues
Walking and Talking
Westward Ho
Whiskey Tango Foxtrot
Wishful Thinking
You're Never Too Young
Zoolander
Zoolander 2
Available March 4
Bellator 290: Bader vs. Fedor 2
Available March 6
The Visitor
Available March 8
The Challenge: World Championship
Hey Duggee, season 1
RuPaul's Drag Race, season 14
RuPaul's Drag Race: Untucked, season 13
Available March 9
School Spirits, premiere
Available March 10
This is Christmas
Available March 15
True Life Crime, season 2
VH1's Couples Retreat, season 2
Available March 17
How The Tables Have Turned, season 1
Available March 19
My Little Pony: The Movie
Available March 26
Rabbit Hole, premiere
Judy
Available March 29
Jersey Shore: Family Vacation, season 4
Messyness, seasons 1-2
Teen Mom 2, season 11
The Fresh Prince of Bel-Air, seasons 1-6
Available March 30
The Followers, season 1
Available March 31
Rock Dog 3: Battle the Beat