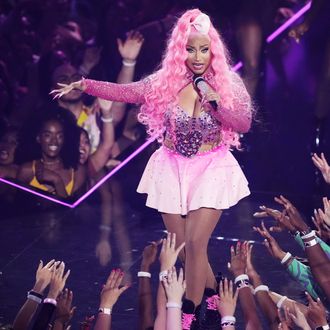 Onika Maraj-Petty.
Photo: Charles Sykes/Invision/AP/Shutterstock
Move over, Chun-Li, Harajuku Barbie, Nicki Lewinski, & Co. There's a new Nicki Minaj alter ego in town. The rapper debuted Red Ruby Da Sleeze in her new track of the same name. Traits include speaking Chinese ("Chinese on my sleeve, these wannabe Chun-Lis / Anyway, nǐ hǎo); defending Minaj's husband, Kenneth Petty, who is a convicted rapist ("Married a shooter case you niggas tried to breathe loud / Boom your face off, then I tell him, 'Cease fire'"); and referencing an actor who became paralyzed after falling off of a horse to seemingly diss Megan Thee Stallion ("But I don't fuck with horses since Christopher Reeves"). The track samples Lumidee's 2003 bop "Never Leave You," which went platinum on the charts and at cookouts across the U.S. Nicki Minaj provided lyrics for the Go Grizzly, Cheeze Beatz, and Tate Kobang–produced beat. "Ghost writers all around the world are scrambling 🫣🤣," Minaj captioned an Instagram post just ahead of the release. "Just watch."
The song arrives shortly before the rapper's return to Queen Radio, her radio show that shares a name with her greatest-hits compilation album. The show first launched in 2018 on Apple Music. The latest iteration moves to Amazon, airing on March 3 at 3 p.m. PT.