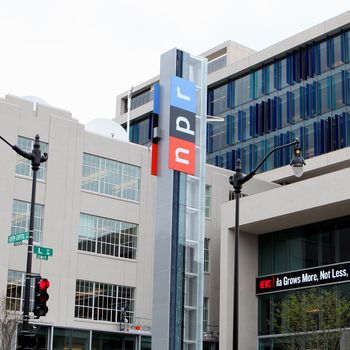 Photo: Raymond Boyd/Getty Images
The turbulent stretch for the audio world continues. National Public Radio, a foundational pillar in American news radio and one of the biggest podcast publishers in the world, moved to lay off 10 percent of its staff, or well over a hundred employees, over the past week, marking the organization's sharpest reduction in workforce since the 2008 economic crisis. Several veteran staffers have also opted to leave; some, like stalwart foreign correspondent Sylvia Poggioli, have stepped into retirement. The organization first announced plans for these layoffs last month, citing a rapidly weakening advertising environment and a steep decline in underwriting (i.e., sponsorship) revenues. In that earlier announcement, NPR CEO John Lansing singled out a huge drop in podcast revenues in particular, which is a striking turn of events, given that the organization was touting record growth in the category as recently as 2021.
To cap things off, the public-radio mothership also announced that it's halting production on four podcasts: Invisibilia, Louder Than a Riot, Rough Translation, and the year-old Wait, Wait, Don't Tell Me … spinoff, Everyone & Their Mom. Many hosts and staffers on those productions were also part of the layoffs. Among those affected are Louder Than a Riot staffers Gabriella Bulgarelli, Soraya Shockley, Sam J. Leeds, and Mano Sundaresan; Invisibilia host Yowei Shaw; and Everyone & Their Mother host Emma Choi.
"Unfortunately, NPR has had to take painful but necessary steps to address a $30m shortfall in revenues from corporate sponsorship," an NPR spokesperson told Vulture. "We've tried as much as possible to retain industry-leading podcast portfolios and focus on key strategic priorities, daily habits, and serving new audiences. We are stopping production of some of our seasonal podcasts after their current season … These projects include some of the best work NPR has ever done. We are exploring ways this work can continue in other forms. We are losing some amazing people."
Worth noting: Regularly publishing shows, like Throughline, are not affected, while Embedded, NPR's investigative podcast that previously followed a seasonal model, will be formally converted into a more regular publishing cadence; to some extent, that production had already being doing this with its recent housing of limited series like White Lies and The Last Cup. All programs that exist both as podcasts and broadcast radio shows, like Code Switch and Planet Money, will continue production.
Speaking to NPR's own media reporter, David Folkenflik, Lansing framed the cuts in stark terms. "We literally are fighting to secure the future of NPR at this very moment by restructuring our cost structure," he said. "It's that important. It's existential." According to Folkenflik's report, the cuts were spread widely across the organization, impacting production teams, digital staffers, and front-of-mic talent alike.
To state the obvious, this is a massive blow to NPR's current operational fabric and culture, not to mention internal morale, given that it's losing many longtime staffers who hold considerable institutional knowledge. But the cuts could also impose debts on the organization's long-term future whenever it does finally dig out from under its current financial strains. A sense of symbolism wasn't lost on many observing that the week's cuts seem to underscore the organization leaning harder into its broadcast-radio roots, as most of the surviving podcasts were already programs additionally repackaged for broadcast distribution.
Furthermore, three of the four retired podcasts represented meaningful new paths for diversification for NPR, whose style and substance has been occasionally criticized over the years as excessively serving the white American upper middle class. Louder Than a Riot, produced through the hallowed NPR Music desk, brought a distinctly Black sound and perspective to the organization's long-form coverage on the music business, even as the team — many of whom were laid off — seemed to lack robust institutional support. News of the show's cessation came a day after the second episode of its sophomore season, which focuses on the legacy of women and misogynoir in the hip-hop world, hit podcast feeds everywhere.
Rough Translations was a rigorous effort to produce audio documentaries that explored stories through a global frame, marking a determined attempt to counterbalance the American-centrism of the organization's news coverage. That show has been around for six years, and its latest season is still scheduled to come out later in the summer.
When Everyone & Their Mom launched last year, press materials emphasized the fact the podcast features the organization's first Gen-Z host, Emma Choi.
The shuttering of Invisibilia is perhaps the most surprising development. Debuting all the way back in 2015, Invisibilia was NPR's first major podcast launch in the post-Serial era, with those early episodes reportedly garnering 33 million downloads within its first three months. It's hard to overstate just how big of a deal the show's success was during that period, symbolizing the possibilities of what NPR could be during the opening innings of what's now known as the podcast boom. Invisibilia, too, eventually became a meaningful example for how NPR could expand its sound, after current hosts Yohei Shaw and Kia Miakka Natisse took over and reinvented the program in 2021.
A lot has changed since 2015. The media and podcast world rapidly changed around NPR, and for several years, it seemed like the public-radio institution was similarly changing in response in terms of how it thinks about operations, diversity, how it sounds, who it serves. But moments of deep crises tend to bring out fundamental identities, both in people and in institutions. NPR losing so many of its people is already such a horrible thing. What's additionally distressing about this moment is what it portends for the possibilities of NPR's future — and what it reveals, perhaps, about how NPR has always thought of itself.