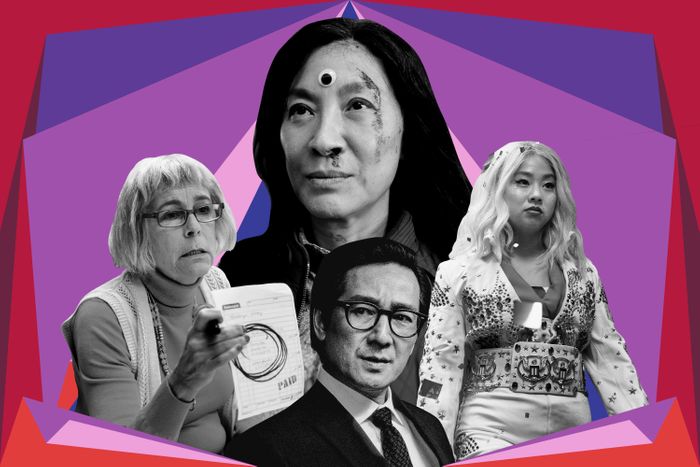 How many Oscars will
Everything Everywhere All at Once
win?
Photo-Illustration: Vulture
On Sunday night, two Oscar narratives will come into conflict.
The first says that Everything Everywhere All at Once is likely to win — and win big. The A24 hit has scored at almost every industry precursor, going four for four at the Directors Guild, Producers Guild, Screen Actors Guild, and Writers Guild Awards. You can count on one hand the number of films that have pulled that off: Argo, Slumdog Millionaire, No Country for Old Men, and American Beauty. All of them more or less swept on Oscar night.
The other narrative says that, front-runner schmontrunner, Oscar voters love to share the wealth. In the post-2009 era of the preferential ballot, Best Picture winners tend to top out around four wins. (The Hurt Locker holds the record with six.) If a film can get into the Best Picture lineup, the new Academy likes to find a way to give it at least one trophy.
One one hand, we have unstoppable hot-dog fingers. In the other, we have an immovable rock with googly eyes. Which narrative will emerge triumphant on Sunday? Here are my final predictions in all 23 Oscar categories.
Best Picture
All Quiet on the Western Front
Avatar: The Way of Water
The Banshees of Inisherin
Elvis
Everything Everywhere All at Once
The Fabelmans
Tár
Top Gun: Maverick
Triangle of Sadness
Women Talking
You have to go back almost a decade to Birdman to find a Best Picture front-runner coming into Oscar night with as much momentum as Everything Everywhere All at Once. The universe-jumping comedy has scored with almost every major guild — directors, producers, actors, writers, editors, costume designers, and production designers. EEAAO didn't fit the traditional mold of an Oscar front-runner when it was released almost a year ago, but its success at the precursors has put to rest any qualms that a film this strange and this silly might not be the Academy's cup of tea. The Daniels' movie is simply resonating with the industry in a way no other contender this year has come close to.
As a result, none of the other nominees have been able to put up much of a fight. The Fabelmans never followed up its big wins at the Golden Globes. If Top Gun: Maverick couldn't steal a trophy at the PGAs, which skew more mainstream than the Oscars, it's not likely to here. Banshees of Inisherin had its best possible haul at the BAFTAs, but even there it lost Picture and Director. That was the night All Quiet on the Western Front handed EEAAO its only loss at an industry ceremony, but the German war epic got shut out of most of the other precursors. And before you go thinking that could be because it's a foreign film, recall that Parasite got in at most of them in 2020. As did CODA, our previous example of a streaming film that broke out late in the season.
There's not much suspense here. Everything Everywhere is winning at the end of the night, and probably at the beginning and middle, too.
Best Director
Todd Field, Tár
Daniel Kwan and Daniel Scheinert, Everything Everywhere All at Once
Martin McDonagh, The Banshees of Inisherin
Ruben Östlund, Triangle of Sadness
Stephen Spielberg, The Fabelmans
Steven Spielberg is suffering from a severe case of Tom Hanks's Disease, otherwise known as you've-won-enough-as-it-is. Both men took home multiple Oscars in the '90s and now apparently never will again. Thus the boomer originally thought to be the front-runner in this race has been usurped by those wacky millennials the Daniels, who took top honors at the Directors Guild of America Awards. If they win here, as seems likely, it would be the third time in four years that Picture and Director have overlapped, a reversion to tradition after the 2010s saw the Academy often split its top two prizes. That'd be fitting for Everything Everywhere, which has both the emotional appeal of a Best Picture winner and the whiz-bang technical feats that tend to take Director.
Best Actor
Austin Butler, Elvis
Colin Farrell, The Banshees of Inisherin
Brendan Fraser, The Whale
Paul Mescal, Aftersun
Bill Nighy, Living
Fraser came into this race with an irresistible comeback narrative and a role that piled him with prosthetics until he was nigh unrecognizable. So why hasn't he dominated the season like everyone expected? Probably because, for many voters, The Whale was all too resistible. (That the film couldn't crack a wafer-thin Adapted Screenplay category is telling.) He's split the precursor prizes with Austin Butler, and I'd give the advantage to the younger man, who is not only repping a film the Academy liked more, but also pulled off his own transformation into a real-life musical legend — perhaps the only thing Oscar voters enjoy as much as 100-pound prosthetics.
Best Actress
Cate Blanchett, Tár
Ana de Armas, Blonde
Andrea Riseborough, To Leslie
Michelle Williams, The Fabelmans
Michelle Yeoh, Everything Everywhere All at Once
In one of the most dramatic races of the season, neither Blanchett nor Yeoh has been able to land a knockout punch. The former conjures one of the most indelible characters of the decade; the latter is the indispensable engine of the Best Picture front-runner. Since Tár has strong support within the Academy's art-house wing and might not win anywhere else, this category could be a place where voters' spread-the-wealth impulse reigns. Nevertheless, I'm inclined to go with Yeoh, who has made no secret of what winning her first career Oscar would mean to her. (Blanchett already has two, a fact Yeoh alluded to in a last-minute Instagram post that possibly broke the same rules the To Leslie campaign did, though which I suspect came too late in the voting period to have any effect.).
Best Supporting Actor
Brendan Gleeson, The Banshees of Inisherin
Brian Tyree Henry, Causeway
Judd Hirsch, The Fabelmans
Barry Keoghan, The Banshees of Inisherin
Ke Huy Quan, Everything Everywhere All at Once
This is the least suspenseful acting race of the night. Ke Huy Quan is the big, gushing heart of EEAAO, and his journey away from acting and then back again has helped him win nearly every precursor so far.
Best Supporting Actress
Angela Bassett, Black Panther: Wakanda Forever
Hong Chau, The Whale
Kerry Condon, The Banshees of Inisherin
Jamie Lee Curtis, Everything Everywhere All at Once
Stephanie Hsu, Everything Everywhere All at Once
You can argue why almost any of these women are going to win — in fact, I did so last week. Bassett won the Globe, Condon the BAFTA, and Curtis SAG. In a race that seems likely to be decided by the finest of margins, I can't help thinking that Curtis will be hampered by at least a few EEAAO superfans throwing support to Hsu's shape-shifting performance instead. In that case, my gut tells me that the desire to reward Banshees somewhere will tilt it to Condon.
Best Adapted Screenplay
Edward Berger, Lesley Paterson, and Ian Stokell, All Quiet on the Western Front
Kazuo Ishiguro, Living
Rian Johnson, Glass Onion
Ehren Kruger, Christopher McQuarrie, and Eric Warren Singer, Top Gun: Maverick
Sarah Polley, Women Talking
This race comes down to Women Talking versus All Quiet on the Western Front (whose original title, funnily enough, was Men Dying). They've yet to go head-to-head this season, as Women Talking wasn't nominated at BAFTA and All Quiet was ineligible at WGA. It's a toss-up, but I'm going with Women Talking, a dialogue-driven chamber piece that feels like a quintessential "screenplay movie" in a way the more visually stunning All Quiet doesn't.
Best Original Screenplay
Todd Field, Tár
Tony Kushner and Stephen Spielberg, The Fabelmans
Daniel Kwan and Daniel Scheinert, Everything Everywhere All at Once
Martin McDonagh, The Banshees of Inisherin
Ruben Östlund, Triangle of Sadness
The route to Best Picture runs through Director or Screenplay, but sometimes it hits both. That's what happened with all the films to perform as well at the precursors as Everything Everywhere All at Once did, and it's almost certain to happen again this year. But if the Academy likes Everything Everywhere a little less than expected, this would be a prime place to ensure a film like Tár or Banshees doesn't go home empty-handed.
Best International Feature
All Quiet on the Western Front, Germany
Argentina, 1985, Argentina
Close, Belgium
EO, Poland
The Quiet Girl, Ireland
To quote a man who has probably never seen a foreign-language film in his life, they're not sending their best. This is a slight down year for the International Feature category, as the foreign-language committee snubbed feats like South Korea's Decision to Leave in favor of a few films that, to me at least, feel pretty mediocre. But it's a moot point, anyway. With apologies to Lukas Dhont, this one's not close — All Quiet on the Western Front, which was beloved by the craft branches, will storm to victory.
Best Documentary Feature
All That Breathes
All the Beauty and the Bloodshed
Fire of Love
A House Made of Splinters
Navalny
Three possible winners here, with nary an Octopus Teacher in the bunch. Fire of Love, about the only married volcanologists, won the DGA. Navalny, a portrait of a Russian dissident politician, won the PGA and the BAFTA. All the Beauty and the Bloodshed, which follows Nan Goldin's battle against an opioid empire, won the Golden Lion at Venice over Banshees of Inisherin and Tár. I'm picking Navalny, which plays like a spy thriller and gives the Academy the closest chance they'll get to cast a vote against Vladimir Putin.
Best Animated Feature
Guillermo del Toro's Pinocchio
Marcel the Shell with Shoes On
Puss in Boots: The Last Wish
The Sea Beast
Turning Red
Another race that feels sewn up. Pinocchio has won every major precursor and probably came close to getting Song and Score noms as well. Considering how the presence of Guillermo del Toro's name in the title undoubtedly boosted this film's Oscar bona fides, should this campaign cut a check to Robert Zemeckis?
Best Film Editing
The Banshees of Inisherin
Elvis
Everything Everywhere All at Once
Tár
Top Gun: Maverick
On nomination morning, this category is considered a noteworthy Best Picture bellwether, since films almost never win that trophy without an Editing nod. But the victor hasn't overlapped with Best Picture since Argo. (Weirdly, this winner is much more likely to overlap with Best Sound's.) I predict they'll be back in alignment this year, since Everything Everywhere All at Once's verse-jumping format puts the editing at the forefront.
Best Original Song
"Alive," Tell It Like a Woman
"Hold My Hand," Top Gun: Maverick
"Lift Me Up," Black Panther: Wakanda Forever
"Naatu Naatu," RRR
"This Is a Life," Everything Everywhere All at Once
One of this season's biggest "what ifs" is how well RRR might have performed had India made the Tollywood blockbuster its official selection. Still, an Original Song trophy is a nice consolation prize, and I'm liking the chances for "Naatu Naatu," a joyous musical number that, per one fan, made them "feel like [they] could walk through a brick wall." The song won both the Golden Globe and the BAFTA, and it has the advantage of going up against a bunch of mid-tempo end-credits numbers.
Best Original Score
All Quiet on the Western Front
Babylon
The Banshees of Inisherin
Everything Everywhere All at Once
The Fabelmans
If your movie is about music, you've usually got a leg up in this category. That's why I'm choosing to believe that Babylon — a film I continue to root for without actually liking — can pull this off, despite its lack of a Best Picture nomination. Another good omen? A track from Justin Hurwitz's score soundtracks the latest Oscars ad. Still, watch out for All Quiet, which won the BAFTA, or Everything Everywhere, which could get this as part of a sweep.
Best Cinematography
All Quiet on the Western Front
Bardo
Elvis
Empire of Light
Tár
With seven craft nominations, you've got to figure All Quiet on the Western Front will win at least one of them. This is its best shot (pun intended), since whatever else you want to say about the film, it certainly makes war look like a very attractive hell.
Best Costume Design
Babylon
Black Panther: Wakanda Forever
Elvis
Everything Everywhere All at Once
Mrs. Harris Goes to Paris
If Oscar voters are looking for another trophy to hand to their favorite film of the year, this could be a win for Everything Everywhere, whose gonzo humor really comes through in its costumes. But this far down the ballot, voters may already feel they've awarded it enough, which should give the edge to BAFTA and Costume Designers Guild winner Elvis, a film that, in the immortal words of Tom and Lorenzo, "turns Presley into a giant pink vibrator."
Best Makeup & Hairstyling
All Quiet on the Western Front
The Batman
Black Panther: Wakanda Forever
Elvis
The Whale
This is the Best Actor undercard: You have to figure whichever transformation pulls off the victory there will also earn gold for the makeup technicians who made it possible. Thus, my choice of Austin Butler compels me to go with Elvis here. As for Tom Hanks's Colonel Tom Parker … well, there's a reason this is the Suicide Squad Memorial Oscar.
Best Production Design
All Quiet on the Western Front
Avatar: The Way of Water
Babylon
Elvis
The Fabelmans
With Once Upon a Time in Hollywood and Mank, two of the last three Production Design winners have been dreamlike evocations of a bygone age of Hollywood. Babylon beat All Quiet at the BAFTAs and the Art Directors Guild Awards, and that precedent has me confident it'll go all the way.
Best Sound
All Quiet on the Western Front
Avatar: The Way of Water
The Batman
Elvis
Top Gun: Maverick
A real Sophie's Choice of a Sound race this year, as the Academy will be forced to pick between two war films and a music biopic. Of those, Top Gun: Maverick has the precursor track record, having won guild prizes for its mixing and its editing. Planes go zoom!
Best Visual Effects
All Quiet on the Western Front
Avatar: The Way of Water
The Batman
Black Panther: Wakanda Forever
Top Gun: Maverick
The original Avatar won this trophy, and James Cameron made the Na'vi even hotter in the new one. It's Way of Water.
Best Live-Action Short
An Irish Goodbye
Ivalu
Le Pupille
Night Ride
The Red Suitcase
I'm abysmal at predicting the shorts — in part, I suspect, because I never really enjoy watching them. But I'm confident I'll do better this time, because of the 15 nominated shorts, there were only a couple I found hokey, pat, or tasteless. Anyway, the live-action short category has a ringer this year in Alice Rohrwacher, director of Le Pupile. While most shorts are directed by newcomers, Rohrwacher is an established director whose last feature, Happy As Lazarro, won Best Screenplay at Cannes. At the risk of besmirching the quality of the Live-Action Short field, it is striking how different it feels to see a proper filmmaker behind the camera of one of them. (Having Alfonso Cuarón onboard as a producer also helps, as the shorts races often hinge on behind-the-scenes industry stuff.) But look out for An Irish Goodbye, the only English-language nominee, which is just cloying enough to win.
Best Animated Short
The Boy, the Mole, the Fox, and the Horse
The Flying Sailor
Ice Merchants
My Year of Dicks
An Ostrich Told Me the World Was Fake and I Think I Believe It
We have another ringer here in The Boy, the Mole, the Fox, and the Horse, which unfortunately is not a Peter Greenaway movie but instead an adaptation of a popular children's book with a bunch of famous actors in the voice cast, and was produced by J.J. Abrams besides. A lot of critics absolutely hated it, but I thought it was fine.
Best Documentary Short
The Elephant Whisperers
Haulout
How Do You Measure a Year?
The Martha Mitchell Effect
Stranger at the Gate
Two years ago, I offered a foolproof method for nailing the shorts categories: "When in doubt, go for the one with the most emotionally manipulative take on a pressing social issue, and if it features a garish twist, even better." By that metric, I should predict Stranger at the Gate, which includes both a surprise ending and a few creative decisions that left a bad taste in my mouth. (Plus, it was executive-produced by Malala.) But for some reason I can't bring myself to do it, so I'll go instead with The Elephant Whisperers, which is very accessible and incredibly cute.