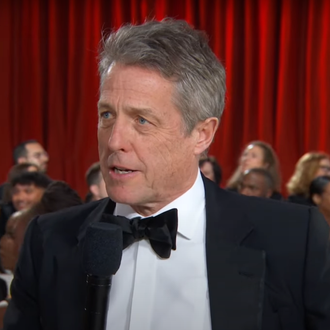 He's not here for it.
Photo: ABC/YouTube
And the award for giving nothing on the red Champagne carpet goes to … Hugh Grant! Grant could not be arsed to answer the questions coming from ABC red-carpet correspondent Ashley Graham, including old standbys such as "Who are you wearing?" and "Who are you excited to see?" Grant was excited to see no one and said he "almost" had fun shooting Glass Onion: A Knives Out Mystery. Grant told Graham the Oscars were a "vanity fair," meaning a frivolous event celebrating nothing. And when she didn't clock that insult, things only went downhill.
The charm offensive was much more on display inside the award show. Grant was at the 2023 Academy Awards to present Best Production Design with his Four Weddings and a Funeral co-star Andie MacDowell. "We're actually here to do two things. The first is to raise awareness about the vital importance of using a good moisturizer. Andie's been wearing one every day for the last 29 years," Grant said onstage. "I've never used one in my life." He said MacDowell looked "still stunning," while he was "basically a scrotum." Then they presented an award to All Quiet on the Western Front. Hope those guys have a ball at the Vanity Fair party.