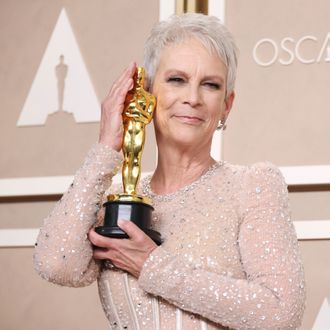 Halloween came early.
Photo: Dania Maxwell/Los Angeles Times via Getty Images
Jamie Lee Curtis and Ke Huy Quan probably had the best time out of anyone at the Oscars, barring maybe the ghost of Elvis, who was finally released from Austin Butler's body. The Everything Everywhere All at Once co-stars won their Supporting Actor awards at the top of the show, so the two reliably high-energy awards-season presences were able to go full silly Billy for the rest of the night.
Backstage, Curtis worked the room like a stand-up comic, or at least a particularly confident wedding emcee, riffing about the "virtual press room" and telling the in-person reporters, "By the way, the virtual people don't get shit. They don't get food, they don't get water, they're at home, their kids are screaming." The press laughs, so she goes all in. "Their husband's cheating on them … They're so bummed out. They wanna be here with you people so bad."
But then a Hungarian reporter in the virtual press room got on the line and said, "I have good news for you. I have food." "I thought it was just sort of like a tweet," Curtis responded, walking back her roast of the virtual press corps a bit. "I didn't realize they were people on — Guys. Don't cancel me. Please do not cancel me because I assumed that your husband is cheating on you. I literally thought when they said "digital," or "virtual," I thought it was like a tweet question." The (in-person) press at this point are cracking up, so she dials up her performance a bit. "Seriously. Do not ruin this moment for me," she hams. "I cannot handle it if you cancel me now. Cancel me tomorrow! But not tonight. Give me a break. I'm so sorry if I was insulting. Please tell me something from Hungary." Once JLC gets the sillies out of her system, the reporter gets the last laugh: "I don't have a husband, thank you."
Hungarian reporter, you are all of us!