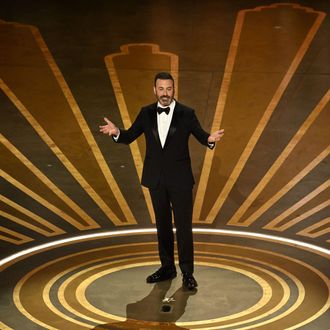 Mr. Kimmel.
Photo: Patrick T. Fallon/AFP via Getty Images
The 95th annual Academy Awards opened with some real Oscars business as usual: a montage about the magic of moviemaking, complete with behind the scenes footage of foley effects on All Quiet on the Western Front, and what appears to be a clip of Jamie Lee Curtis on the set of Everything Everywhere All at Once doing Zip Zap Zop. But then, they edited host Jimmy Kimmel into a Top Gun: Maverick scene and he showed up onstage with a parachute dragging behind him, cracking, "My Banshees are caught in my Inisherin right now." Jimmy. Lady Gaga actually skydived into her Super Bowl performance. This parachute gag is stolen valor.
Kimmel opened with a celebration of the live moviegoing experience, particularly how we come to this place for magic. "I'm happy to see that Nicole Kidman has finally been released from that abandoned AMC," he said as the camera cut to Kidman and Keith Urban politely enduring his set. "Thank you for encouraging people who are already at the movie theater to go to the movie theater." He then shouted out first-time acting nominees and called Steven Spielberg and Seth Rogen the "Joe and Hunter Biden of Hollywood." That would have been the edgiest joke, had the crowd not all gone ooooooooooooh at the mere mention of Babylon losing money. But the question remained: When will he bring up the Slap? The answer was: in approximately 30 more seconds. "There are five Irish actors nominated tonight, which means the odds of a fight happening onstage are way up." He also warned against anyone getting onstage to "get jiggy with it," because they'd have to go through such brawlers as Adonis Creed (cut to Michael B. Jordan), Michelle Yeoh (striking a cool action pose), and superheroes like Spider-Man and Fabel-man. Cut to Steven Spielberg being adorable. How many more Slap references will happen over the course of the night? We're taking bets.