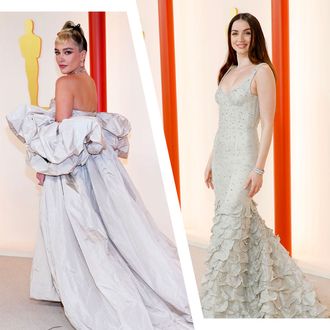 Look, it needs to be said. The Oscars should never have dyed the carpet to match the drapes (or step and repeat, whatever). This "Champagne" carpet is not giving 95 years of Hollywood magic. It's not even giving 15 years of solid event hosting at a local Ramada. This is the first time the red carpet hasn't been red since 1961. "We chose this beautiful sienna, saffron color that evokes the sunset, because this is the sunset before the golden hour," Lisa Love, one member of the creative team behind this year's ceremony, told the Associated Press. But anyone who's seen a smoggy L.A. sunset knows that motherfucker is a garish orange, even hot pink sometimes. The color chosen by the Academy was more in the "sad beige toys for sad beige children" color family. And it stains! Variety is reporting that the carpet is getting fixed on the fly: "dirtied patches of the carpet had to be swiftly recut and replaced behind the scenes so nary a nominee would notice the spots." But a reporter from USA Today did notice, claiming the carpet was going more towards a dirty martini than champagne with every step.
What's more, it appears many of the celebs walking the greige carpet didn't get the memo. The photos of (probably) stunning gowns getting completely lost on the Oscars carpet evokes nothing more than the scene in 2000's Charlie's Angels when Cameron Diaz sneaks by a security camera by wearing all white and blending into the walls. Where'd they go?
These great gowns, beautiful gowns, popped once the stars got inside the Dolby Theater. Would you believe it's very red in there? And that everyone looked cuter when surrounded by that color? We look forward to the Academy taking the note next year.