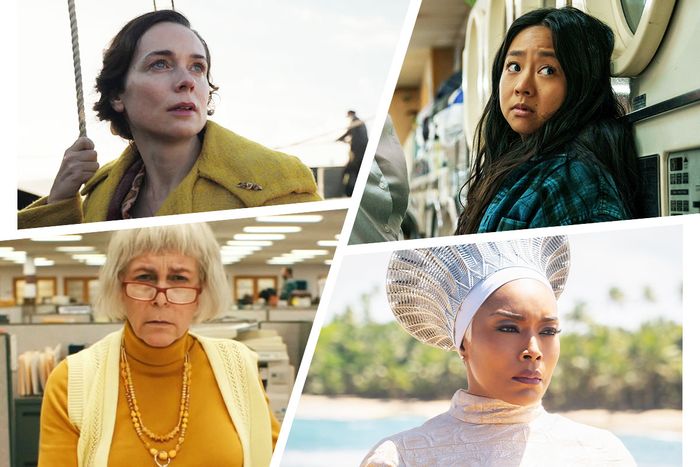 Clockwise from top-left: Kerry Condon, Stephanie Hsu, Angela Bassett, and Jamie Lee Curtis.
Photo: Walt Disney Studios, A24, Marvel
While the Oscars' Best Picture race appears all sewn up — barring some unprecedented surprise, Everything Everywhere All at Once will be the night's big winner — most of the season's acting categories remain thrillingly unpredictable. Sure, Ke Huy Quan is the overwhelming favorite to win Supporting Actor, but in the lead races we've got a pair of genuine toss-ups in Cate Blanchett versus Michelle Yeoh and Austin Butler versus Brendan Fraser.
Then there's Supporting Actress, where I think four of the nominees have compelling arguments for the win. (The fifth, Hong Chau of The Whale, I would call "just happy to be there" had she not revealed her nomination made her "feel nothing.") When The Fabelmans' Michelle Williams decided to run in lead, she threw this race into chaos. Three different women have won major precursors, and the fourth could be the night's most interesting sleeper pick. With Oscar voting underway, which of them will wind up with a trophy? Read on for a breakdown of the contenders in the year's most up-in-the-air Oscar race.
Angela Bassett, Black Panther: Wakanda Forever
The role: Queen Ramonda, a monarch working to keep her kingdom and her family intact after the death of her son.
The season so far: Wins at the Golden Globes and Critics Choice Awards, plus one instant-classic meme.
In her favor: Back-to-back trophies in January gave Bassett a jolt of front-runner buzz, though that noise quieted down after she failed to win either of the industry precursors. Still, well-regarded veterans can often capitalize on decades of goodwill once their name appears on the Oscar ballot. I'm reminded of another regal figure: Regina King, who didn't even get nominated at SAG or BAFTA for If Beale Street Could Talk but went on to win the Oscar anyway. Like Wakanda Forever, Beale Street missed out on a Best Picture nomination, suggesting the superhero sequel's snub there need not be the end of Bassett's hopes.
Working against her: To date, only two superhero-movie performances have ever won acting Oscars, and both were for playing the Joker. Queen Ramonda is a less iconic figure in a less iconic film, and while the role affords Bassett a couple of clip-worthy scenes, this bid ultimately reflects less what's on screen, and more the town's regard for the actress herself. Will that be enough for Angela Bassett to do the thing?
Jamie Lee Curtis, Everything Everywhere All at Once
The role: Deirdre Beaubeirdre, an award-winning IRS agent who takes on a variety of guises through different timelines in the multiverse.
The season so far: A win at SAG.
In her favor: Curtis has been one of the hardest-working women in showbiz over the past 11 months, stumping for EEAAO anywhere and everywhere. Her efforts have already paid off with her first career nomination and a surprise victory at SAG, where the raucous reception she received hinted she could benefit from voters going hog wild for Everything Everywhere. While Curtis is giving a comic performance that doesn't call for much emotional heavy lifting, it does come with its own awards-friendly transformation: Despite being the biggest name in the cast, she de-glams herself to melt into the movie's ensemble, a display of movie-star modesty that could appeal to the Academy. She also embarked on my favorite campaign tactic of the season, appointing herself the tribune of the nepo babies in what I can only assume is a targeted move to curry favor with Hollywood's many proud parents.
Working against her: This is even more of a career-achievement nod than Bassett's, and with a performance this slight, voters may consider the nomination itself the reward. Furthermore, though Curtis was able to win SAG despite being nominated against co-star Stephanie Hsu, both women seem likely to suffer from votes inevitably being split between them.
Kerry Condon, The Banshees of Inisherin
The role: Siobhán, sister to Colin Farrell's Pádraic, who dreams of escaping the soul-killing smallness of the island they call home.
The season so far: A win at BAFTA.
In her favor: Banshees earned nine nominations, so the Academy clearly admired Martin McDonagh's black comedy. However, there aren't many easy ways to hand it a trophy. By my estimation, the film is running third or fourth in most of its categories. If voters want to award EEAAO a Picture-Director-Screenplay sweep, then Supporting Actress becomes the likeliest place to give Banshees its due. And Condon has natural standard-bearer appeal: As the level-headed go-between trying to cool a destructive feud, she's the closest thing the film has to an audience surrogate.
Working against her: Condon is in a weird place, career-wise, for Oscar. She's not a fresh new face or a venerable veteran, but neither does she have the prestige track record of peers like Michelle Williams. She's been good craic on the campaign trail — her speeches at the New York Film Critics Circle Awards were the night's best — but on a narrative level, she lags behind the other nominees. That didn't hurt her at BAFTA, but I've heard scuttlebutt that, among Oscar voters, Banshees is more respected than beloved. And this wouldn't be the first time an Irishman went home empty-handed at the Oscars.
Stephanie Hsu, Everything Everywhere All at Once
The roles: Joy, a frustrated millennial, and her alternate-universe self, Jobu Tapaki, a nihilistic supervillain with infinite power.
The season so far: A handful of supporting-actress and breakthrough-performance awards from critics groups.
In her favor: Hsu didn't get much love from the major precursors, likely because this is her first big role. But consider this: Everything Everywhere seems poised to win a buttload of trophies on Sunday, and Hsu is in many ways the heart of the film. More than any other, it's her performance that encapsulates the Daniels' blend of cartoonish whimsy and straight-ahead emotion. As we saw with Frances McDormand and Nomadland, an actor from a Best Picture winner can sometimes bypass the precursors and go straight to the Oscar stage. A vote for Curtis is a vote for Curtis, but a vote for Hsu is a vote for EEAAO. Even with the vote-splitting concerns, she's an intriguing dark horse.
Working against her: Hsu isn't just competing against Jamie Lee Curtis; she's also in a way competing against Ke Huy Quan, the Daniels, and Michelle Yeoh, all of whom stand a good chance of winning their own categories. In the era of the preferential ballot, Best Picture winners tend not to pull in the massive hauls they used to, usually topping out around four trophies. With EEAAO more than taken care of elsewhere, voters may feel secure in using this spot to give someone else some shine. For this reason, Hsu remains a major long-shot … but come on, wouldn't you like to see it happen?