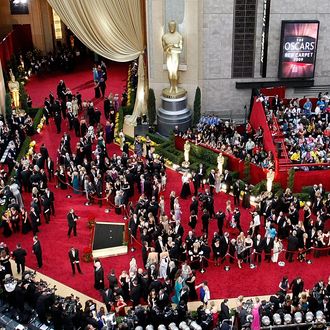 Photo: Ethan Miller/Getty Images
On March 8, the Academy of Motion Picture Arts and Sciences gathered the press of Los Angeles for a very important announcement pertaining to this year's Academy Awards ceremony: The star-studded preshow space is being reimagined and taken in a new creative direction … by your coastal grandmother. Oscars host Jimmy Kimmel announced that, in a change to over 60 years of history, the show's red carpet will be torn out. In its place, the organization (literally) rolled out a brand-new "Champagne" carpet. And Champagne, it turns out, looks a whole lot like beige.
And it's not even a particularly nice beige either. It looks like the Academy bought it from a Facebook Marketplace listing for "BRAND NEW Safavieh (small cat pee stain in corner)." Creative consultant Lisa Love told the Associated Press why she made the change: "We chose this beautiful sienna, saffron color that evokes the sunset, because this is the sunset before the golden hour." That's a lot of words for beige. It sounds like something George Santos would say if he were a door-to-door rug salesman. This isn't even beige but pale beige. Love invoking warm, rich tones like "sienna" and "saffron" to describe this carpet means she's either (a) lying or (b) the sort of person who at one point in her life has uttered the sentence "This ranch is too spicy."
Apparently, the reason she and co-consultant Raúl Àvila went with the rent-a-carpet fabric sample probably called "Ecru Ennui" is that, this year, the carpet will be enclosed so as to make the photos look more like an evening event despite arrivals happening at 3 p.m. They said they wanted to use a lighter shade to balance the darker space. I suspect it's actually because the Party Down team landed the Oscars gig and put in the wrong carpet order by accident. "I think the decision to go with a Champagne carpet over a red carpet shows how confident we are that no blood will be shed," Kimmel said. "This is the kind of thing you only see in Hollywood … and every model home in America."
If they really wanted to go for a pop of Champagne, wouldn't they have chosen something more iridescent, more golden, and less "standard-issue tote bag"? The Oscars are supposed to be a night for unabashed, cheesy ostentation! Replacing the red carpet with this blank template is the visual equivalent of the Oscars ceremony undercutting itself with self-deprecating jokes. Must everything be so dull and dreary? Is there no place in this world for glamour anymore? How many sparkly golden calfs must be smashed at the altar of minimalism before good, upstanding people come to their senses? Wherefore pomp and circumstance? If the Oscars, of all events, are going to be Halloweentown 2: Kalabar's Revenge-d, what hope is there for the rest of us?