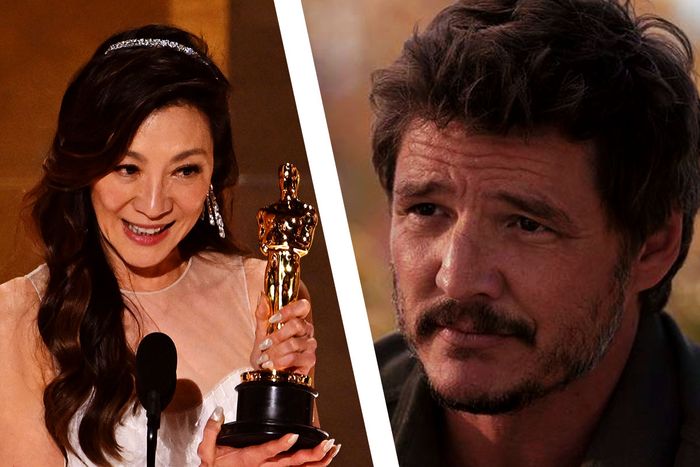 Two of the winners last night.
Photo: Illustration: Vulture. Photos: Getty Images and HBO
The season finale of HBO's The Last of Us and ABC's telecast of the 95th annual Academy Awards went head to head Sunday night — and both networks had reason to be happy about their ratings performances. With Jimmy Kimmel back as host, the Oscars drew its biggest audience of the pandemic era, per Nielsen. Meanwhile, HBO said that TLOU scored its best same-day numbers ever this week and that the show's cumulative audience is now poised to surpass that of House of the Dragon.
On the awards-show front, the 2023 Oscars averaged 18.7 million same-day linear viewers, marking the second consecutive year of growth for the oft-criticized kudos. Ratings were up 12 percent from the 2022 Slap-tastrophe (which notched 16.7 million same-day viewers) and, more impressively, nearly doubled the show's pandemic-low performance in 2021, when barely 10 million people tuned in for the socially distant affair. While Oscar skeptics can correctly note that the 2023 show still ranks as the third-least-watched telecast in Oscar history, such analysis leaves out the crucial fact that virtually everything in linear TV that's more than a few years old, save for live sports, is setting new Nielsen lows regularly now. Cord-cutting and the shift to streaming were sped up by COVID aftershocks, and ratings for most shows are down upwards of 50 percent compared with pre-pandemic levels. Case in point: NBC's The Voice kicked off its 2019 spring season with just under 11 million viewers; last week, the show's newest cycle opened with a bit more than 6 million same-day viewers. Anyone expecting the Oscars to get back to the days of 30 million–plus viewers has not studied a Nielsen chart lately.
Further proof of how audiences simply watch TV differently now can be seen in the numbers for The Last of Us. HBO estimates Sunday's season-one finale drew 8.2 million same-day viewers, up about 100,000 from last week's penultimate installment and a gain of 75 percent from the show's same-day premiere audience (4.7 million). HBO's estimate combines actual Nielsen data from the several same-day telecasts of TLOU on HBO's cable channel along with streaming of the show Sunday night. But it's worth noting that less than 25 percent of HBO's same-day estimate — about 1.5 million to 2 million viewers — is based on linear viewing as tallied by Nielsen; the vast majority comes via HBO Max streaming the night episodes drop.
What's more, even the same-day estimate released by HBO doesn't capture the full audience for TLOU. Unlike a live event such as the Oscars, most people who watch the finale of The Last of Us won't stream it the day it premieres. Indeed, HBO says the first six episodes of the show have each generated an average audience of 30.4 million viewers, including streaming. And the very first episode, which averaged 4.7 million viewers when it premiered on January 15, has now been seen by nearly 40 million viewers, HBO says. Assuming the cumulative numbers for the show's last three episodes hold up (and there's no reason to suspect they won't), TLOU should end its first season with a bigger reported audience than last year's House of the Dragon. The Game of Thrones spinoff was seen by an estimated 29 million viewers during its ten-week run.