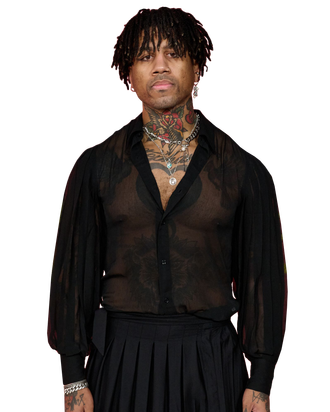 Photo: Rob Latour/Shutterstock
For a while there, every reality-dating series produced at least one micro-influencer with some balayage or an F-boy fade who wasn't afraid to start drama or stir the pot or admit they're "not here for the right reasons." Netflix, in a silly, goofy mood probably, decided to put them all in the same house for Perfect Match, where contestants compete to find their most compatible match and control who goes on dates with newcomers. But for Dominic Gabriel, whose season of The Mole hadn't aired when he moved in with participants from The Circle, Love Is Blind, and Too Hot to Handle, the conniving reality-TV archetype didn't quite fit his laid-back, up-for-anything attitude. The Mole was a game based on gathering intel, building relationships, and betraying others. What Gabriel didn't realize is Perfect Match was all that with a shiny dating-show overlay. Not Love Island, not even Friend Island, this is Co-star Island.
Amid the seasoned professionals of Netflix's reality multiverse, Gabriel subverted the rules of the game by committing to one partner at a time — first the indomitable Francesca Farago, then Australian girl-next-door Georgia Hassarati. "For me, it's all about being vulnerable, but everything is so heightened, because cameras are on you 24/7," Gabriel told Vulture. "You're immediately spending that time with somebody with no distractions. In 48 hours, that's like a month's worth of dates." It's enough for anyone to get caught ugly crying at least once. But by the end of this experiment for commitment-phobes, the most-compatible-couple prize went to Gabriel and Hassarati, who spent much of the season cuddled on the couch and ducking dates with other people. Since then, there's been another recoupling, with Hassarati's social media indicating she's back with her (and Farago's) ex, Harry Jowsey of Too Hot to Handle fame. Season two is casting itself.
Perfect Match is a complete 180 from The Mole. How much time did you have between the two shows to reset your headspace?
I finished filming The Mole at the end of August. I got the call for Perfect Match beginning of September, then we started filming in February. So five months? I'm not good at math or geography, as you can tell from the show.
So you knew you were going to be on Perfect Match pretty soon after.
I was surprised, because I didn't last too long in The Mole, but I guess Netflix really liked me and I had somewhat of an impact. I thought, why not? I wasn't really dating before The Mole or afterward. I got out of a really long relationship, so I was also going to therapy. I was like, Oh, this is good, going into a dating show emotionally available. Bad idea. Bad idea to go into a show after going to therapy and getting in touch with your emotions.
Were you open to the idea that you would find somebody who would be your perfect match on this show? 
I'm very much a relationship guy. And I'm so hyperfocused on my own personal goals and hobbies that it's hard for me to find a connection unless I'm around somebody all the time. I thought this was a good opportunity — a place where I have to give my all and get to know somebody.
Were there any cast members you were previously aware of?
Going into the show, I didn't really watch reality TV. I'd seen Francesca and Georgia while scrolling through social media because they're so popular, but I didn't watch their shows. I thought, no one will have seen my show because it's not out yet, so it would be weird to watch everybody else's show, then go in there knowing everybody but they don't know me.
What was it like being an outsider, not only to those who knew one another but also appeared on shows together? 
When Francesca left me for Damien and I was like, Why me? Of course this would happen to me, it wasn't so much that I didn't feel worthy of Francesca. I didn't feel worthy of being there. I had impostor syndrome the entire time. I had impostor syndrome on The Mole. I'm just some kid who was dead broke before going into the villa. I had no money because I had to quit my job for The Mole. Didn't win that. Literally, my best friend sent me money just to pay my bills in the hotel room. Seeing these famous people who knew each other, I felt like, Damn, who am I? I don't deserve to be in this villa. It was tough.
What was it about Francesca that made you push through that and open up?
The episodes are an hour long, so they don't showcase every single conversation. You're spending 24/7 with somebody. People say, "Oh, you pursued Francesca." But the first day, I was not pursuing anybody. I was like, I don't know what's going on. Francesca asked to match with me, so we matched, and then that night, we had a lot of conversations. I learned she's into philosophy, we're talking about books. I was like, She's got a lot of substance. We're talking about our parents, our family life, exes. She's pansexual and a really open, evolved person. A lot of people would say the connection wasn't there, but it was.
What was it like building relationships here versus on The Mole, where you're aware that everyone might have different motives?
In hindsight, watching the show, I think it was just me who was unaware that it was kind of the same. I didn't know Francesca was plotting and wanted me out of the house and was trying to put me on dates. I didn't know what was going on. You saw me, I was having Nerf-gun fights.
Pouring wine …
Pouring wine and having Oreos. Watching it back, there was a lot of plotting and scheming and sabotaging that I just wasn't aware of. And I wasn't good at that, just like I wasn't on The Mole.
Once you were out of the drama, what was it like between you and Georgia?
At first, it felt very natural. When she matched with me, I gave her my word: I'm going to commit to us. I want to get to know you better. I didn't want her to think Francesca was ever going to be a problem. I'm a Cancer sun, moon, and Venus, so I just shed my tears, cry it all out, and then I move on. Clean slate.
Francesca is very subdued. Georgia is somebody who wants to have fun all the time. She's gonna get up and pull you out to dance, this ball of light and energy. She helped me get over my social anxiety.
Did you think you guys were going to win?
Oh no. We thought we lost it. First of all, because I was in the house so long, I felt we made a lot of enemies because I went on dates and turned people down for Georgia, and Georgia turned people down for me. I kind of took Georgia from Chase. The odds were stacked against us already. Then, when Joey was like, "We're engaged!" We looked at each other like, "Yeah, we're not winning this."
What has it been like since? Are you guys still connected? 
Um, it's complicated.
How are your relationships with the other people in the house?
Ines and I are still really close. I consider her my little sister. She's one of my best friends. Me and Zay are really close — he's like my brother. Shayne also; that trauma-bond we had in the house is like no other. We had each other's back.
I'm friends with everybody. I don't hold grudges. I washed my hands and I moved on.
Have you and Will been able to resolve your tension?
The Mole is a show where you have to betray and backstab to win, and same thing when we shook hands on Perfect Match, and he, inevitably, put me on a date when I asked him not to. We've only spoken on-camera, and every time it's been like, Hey, we're gonna do this. And then he does something else. But it's not bad blood. If I see you, it's handshakes.
If Dom stood for dominance then, what does Dom stand for right now?
You want deep? I guess Dom stands for being open. Dom stands for peace. Dom stands for happiness. Dom stands for leading with love.
As an anime lover, what are your thoughts on Netflix's live-action adaptations? 
I'm a man of culture, so I appreciate mangas more than anything. Every Sunday I'm on Shonen Jump and I read my mangas. I'm all about the books and the panels and the artwork. I do appreciate the live actions, but I grew up on animation. I grew up on those cut scenes, seeing those panels come to life and the line work. I'm a classic guy.