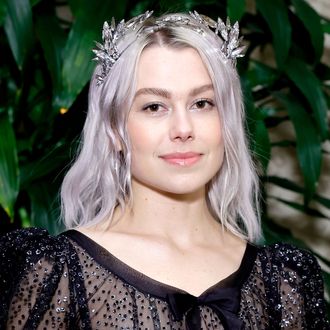 Swarm
said it was a true story.
Photo: Stefanie Keenan/Getty Images
Days after announcing her father had died in January, Phoebe Bridgers was at LAX with Bo Burnham, heading to the funeral. The pictures set off speculation and a social-media storm over their relationship and her split from longtime boyfriend Paul Mescal — and Bridgers says online stans "fucking bullied" her over the pictures. Speaking to the website Them alongside her boygenius bandmates, Bridgers got honest about the increased attention since her second album, Punisher. "I, at one of the lowest points of my life, saw people who claim to love me fucking dehumanize me and shame me and fucking bully me on the way to my dad's wake," she said, adding that many of the accounts tweeting at her had her face as a profile picture.
Bridgers had two responses to the stans. First, she called out broader issues with stan culture and social media, saying, "If you're a kid and the internet somehow taught you that that's an okay thing to do, then of course I hate capitalism and everything that led you to believe that it's okay to do that." But she went on to say something more pointed to people who attack her online: "I fucking hate you, and I hope you grow the fuck up."
Bridgers is getting ready to release boygenius's first full-length, The Record, with Julien Baker and Lucy Dacus on March 30. She credited her bandmates with supporting her as she deals with online harassment. "My two best friends are helping me with the boundary of I don't have to sit here and be fucking grateful that that happened and that that's a part of my job," she said. "It doesn't have to be, and it wasn't five years ago, so I appreciate being able to look at two other people and be like, this is dehumanizing abuse, horrible shit."