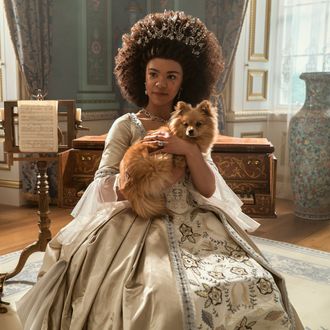 The queen and her familiar.
Photo: Liam Daniel/Netflix
The first two seasons of the Bridgerton-verse gave us Queen Charlotte the matchmaker, pulling the strings on the fake-dating-to-lovers and enemies-to-lovers romps. The tables turn in Queen Charlotte: A Bridgerton Story, a prequel that takes us back in time to her own courtship with King George. In this edition of the show, set in an alternate universe where 19th-century Britain embraced multiculturalism and married outside their race, our lead begrudgingly finds herself in an arranged marriage to the most powerful man in the land, only to develop feelings for him after a chance encounter in the palace's garden labyrinth. Produced by Netflix and Shonda Rhimes's Shondaland, the woman who gave us Meredith Grey, Olivia Pope, and Annalise Keating has taken the reins as showrunner, executive producer, and writer. Tom Verica — Sam Keating in How to Get Away With Murder — directs. Did Queen Charlotte's courtship days have their own gossip girl Lady Whistledown? Here's everything we know.
What's the trailer hitting for?
"Why me?" Charlotte asks in A Bridgerton Story's first trailer before meeting her suitor. "Charlotte, there are worse fates than marrying the king of England," her traveling companion deflects. The king's mother answers her query — "It is time we were united as a society," she says. "You will make lots of babies. As many babies as possible for my son." Resigned, she walks through the endless hallways of the ornate palace alone and eats breakfast at an empty table, with only her footman to give her some tea about her new husband (i.e., is he deformed?). Her first sight of King George is in the gardens after he catches her trying to climb a wisteria tree and make a break for it. You can guess the rest.
What's the plot?
By the looks of the trailer, the prequel follows the classic arranged-marriage-to-lovers trope. "Centered on Queen Charlotte's rise to prominence and power, this Bridgerton-verse prequel tells the story of how the young Queen's marriage to King George sparked both a great love story and a societal shift, creating the world of the Ton inherited by the characters in Bridgerton," Netflix said in a press release.
Who plays who?
India Amarteifio (Line of Duty) plays young Queen Charlotte, while Corey Mylchreest (The Sandman) is the young King George. Golda Rosheuvel (Queen Charlotte), Adjoa Andoh (Lady Agatha Danbury) and Ruth Gemmell (Lady Violet Bridgerton) reprise their roles from earlier entries in the series. Michelle Fairley, Arsema Thomas, Sam Clemmett, Freddie Dennis, Richard Cunningham, Tunji Kasim, Rob Maloney, Cyril Nri, and Hugh Sachs also star.
When does it come out?
Queen Charlotte: A Bridgerton Story gallops onto Netflix on May 4.