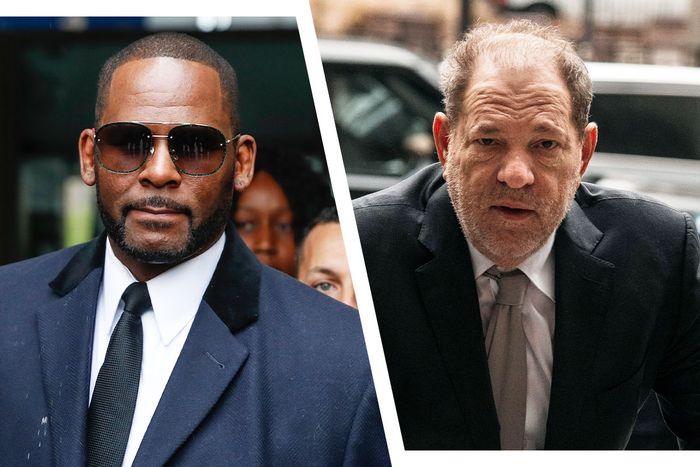 On February 23, convicted sex criminals Harvey Weinstein and R. Kelly, both currently in jail, were sentenced in their second respective sex-crimes trials in as many years. Weinstein was sentenced to 16 years in prison after being found guilty of rape in his Los Angeles trial last December. In Chicago, Kelly, real name Robert Sylvester Kelly, was sentenced to 20 years in lockup following a September 2022 trial where, after years of allegations, he was found guilty of child-pornography counts. Their decades-long sentences mark the end of an arduous journey of cross-country criminal proceedings, numerous survivors, and dozens of accusers. The fallen film producer was previously found guilty on February 24, 2020, of rape in his New York City trial, and was sentenced on March 11 of that year to 23 years' imprisonment. The disgraced R&B singer was convicted on September 27, 2021, in his Brooklyn federal court racketeering and sex-crimes trial and was sentenced on June 29, 2022, to 30 years in prison. The trials of the two men who used their power and influence to target primarily young women and, for R. Kelly, minor teens, will forever be linked to the against these men during the Me Too movement, which inspired survivors to speak out and share — which was itself prompted by revelations of sexual-misconduct allegations against Weinstein. While both men have been twice convicted of sex crimes, legal proceedings against them have yet to end. Ahead of the next developments in their appeals, here are your biggest questions about Weinstein and Kelly's criminal proceedings answered.
How many years will Harvey Weinstein and R. Kelly be in jail?
The jail time is racking up. Weinstein, 70, is serving what effectively amounts to a life sentence. The judge in his Los Angeles case said that Weinstein's near-two-decade sentence would run consecutively with his New York sentence, totaling 39 years behind bars. Kelly has a chance that he won't spend the rest of his life in prison. His Chicago sentence will run concurrently with his Brooklyn sentence, so he would only wind up serving one more year on top of the sentence from his New York case.
Have R. Kelly and Weinstein already appealed their convictions?
Weinstein is currently appealing his New York City conviction. After a lower-state appeals panel rejected his bid for appeal, the New York State Court of Appeals agreed to hear his case. Weinstein has said he will also appeal his California conviction, according to the New York Times. Kelly's attorney, Jennifer Bonjean, told Vulture that he would be appealing both his Chicago conviction, as well as his Brooklyn conviction.
The chances of securing a new trial, let alone overturning a conviction, are very slim at the state and federal levels. While both men have described themselves as victims of the Me Too movement and their sentencings a result of a desire to punish them for society's overall neglect to address sexual violence against women, they have to argue on legal grounds, not purported unfairness. Official data shows that less than 9 percent of federal appeals resulted in reversals of lower-court outcomes.
Aren't there other cases against Weinstein and Kelly that are ongoing?
Weinstein remains in legal hot water on several fronts. A model at the center of his L.A. trial sued him in early February, citing sexual battery and intentional infliction of emotional distress, according to the Los Angeles Times. In June 2022, prosecutors in England authorized indecent-assault charges against Weinstein. While the state-level charges against Kelly in Chicago were dismissed, it's unclear what will happen with his pending Minnesota sex-abuse case. "We will defend that case too if need be," Bonjean said.
What have the men said about their latest sentencing?
For years, Weinstein and Kelly have maintained the proceedings against them were more about societal anger over women's treatment than anything they personally did. "My general comment is that these blood-thirsty #metoo prosecutions of high-profile men have done nothing more than allow prosecutors to pat themselves on the back in press conferences and make a lot of people rich," Bonjean told Vulture in an email. "These symbolic prosecutions have done nothing to improve the lives of women in society. Misogyny is alive and well."
Weinstein's rep, Juda Engelmayer, described the proceedings as "alarming and awful for our society": "The media coverage has been driven by a seemingly popular appeal, which I believe has led to biased legal and judicial processes by people more concerned about their political and professional lives, or their own extreme ideologies, than truly being arbiters of justice. Harvey Weinstein was the symbol and truth or facts didn't matter … That's what this societal shift has caused: Just get him at any cost, no matter how — laws and due process be damned. That's a scary and slippery slope for us all." In a statement sent through Engelmayer, Weinstein said, "It is incredible to be convicted for a crime I wasn't even present for. I am innocent. I never raped or assaulted anyone. This person perjured herself at least three times and then sued for money when she said on the stand that she would 'never.' I was never with her. Her entire claim thing was a setup for a money grab."
What about the survivors?
Survivors and accusers have heralded the sentences, while acknowledging there is still more to be done, especially amid ongoing conversations around Me Too and its longevity. In previous statements and in the final installation of the three-part documentary series Surviving R. Kelly, Kelly's survivors have spoken out about the yearslong wait to see Kelly face consequences for his actions and abuse. Last week, Saving Grace actress Caitlin Dulany, who first spoke out about an alleged 1996 assault following the New York Times' investigation of Weinstein, shared an emotional statement in light of Weinstein's sentence. "While there will always be a deep sadness and a heaviness in my heart because of the sexual assault I suffered at the hands of Harvey Weinstein more than 27 years ago, today I feel a sense of vindication. Knowing that Weinstein was sentenced to 16 years in prison for the crimes he committed against me and others ensures that some measure of justice was served today." Dulany continued, "I stand with my fellow survivors who bravely came forward to tell the world about their experiences with Weinstein and then to relive those stories year after year, trial after trial to be a collective voice for all survivors, especially the voiceless. While any amount of time in prison could never make up for the trauma Weinstein caused each of his victims to suffer — a trauma we carry and will continue to carry with us every day of our lives — I have a sense of peace knowing that he will likely spend the remainder of his life in prison."
This post has been updated to reflect the status of R. Kelly's ongoing appeals.