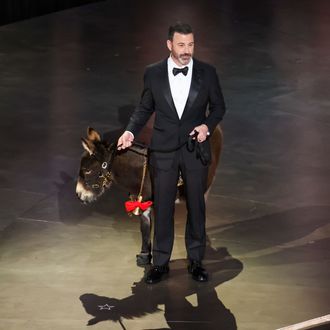 We've been tricked, we've been backstabbed, and we've been, quite possibly, bamboozled.
Photo: Myung J. Chun/Los Angeles Times via Getty Images
Following a scene-stealing turn in the Oscar-nominated black comedy The Banshees of Inisherin, Jenny the Donkey retired from public life at the behest of director Martin McDonagh — and that hasn't been interrupted for an important event such as the Academy Awards. At the 2023 Oscars, host Jimmy Kimmel brought out — allegedly — the poster child of Sad-Donkey Autumn, but it turns out the whole thing was a damn sham. Open your eyes, sheeple: The donkey was a freaking fraud!
"This is Jenny. She's one of the stars of The Banshees of Inisherin," the late-night host said as he introduced a donkey to the crowd, including co-star Colin Farrell. "Not only is Jenny an actor, but she is a certified emotional-support donkey. Or at least that's what we told the airline to get her on the plane from Ireland." But in a shocking twist, a source tells Vulture that it wasn't the real Jenny attending the Oscars alongside Kimmel: It was "just a random donkey." (We reached out to the Academy for comment.)
Real Jenny fans know she is living off her Banshees bag in a donkey's paradise. "Martin fell so in love with her that he never wanted her to work again," her former trainer, Rita Moloney of Fircroft Animal Actors, told Vulture in October. "He asked if she could just do this movie and then retire. Now she's just a happy donkey running with other miniature donkeys. I only saw her about three weeks ago down in County Carlow, and she's looking fine, fit, and healthy. She's just living the dream." Jenny doesn't need this.
This developing story has been updated throughout.