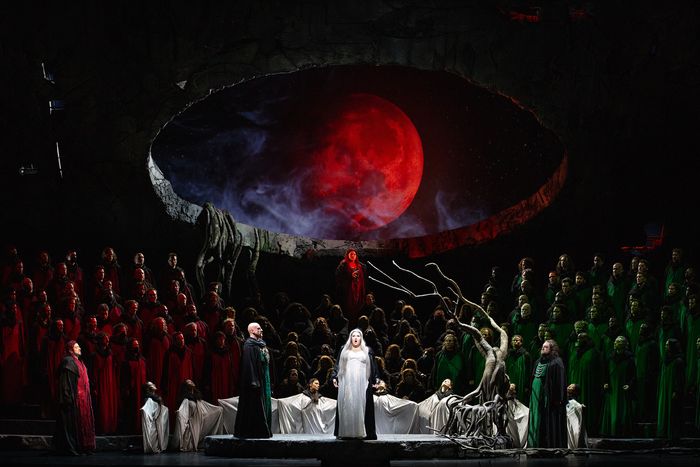 Photo: Marty Sohl/Metropolitan Opera
In Wagner's Lohengrin, the nameless superhero who shows up in a boat towed by a big white swan doesn't reveal his identity until the end, at which point the swan whisks him away again. (The audience is not shocked to learn the man's name is Lohengrin.) Piotr Beczala, who sings the role in the Metropolitan Opera's new production, likewise waits until the final act to unsheathe the full range of his tenor heroics. Until then, he is a mild-mannered, sweet-voiced, conflict-avoiding Clark Kent in black pants and a white dress shirt who saunters through one of the most challenging roles in opera with boyish earnestness and ease. Then, nearly five hours in, as the final curtain is heralded by choirs of hot, loud brass, Beczala reveals just how much lung power and lambswool warmth he has left, how comfortably he can glide through Wagner's extra-long phrases and high-lying terrain, and how well he understands the appeal of the softhearted tough guy who wishes he could keep singing all night but really needs to get back to the Holy Grail and anyway his new wife, Elsa, is really a piece of work. Cue the digital swan.
A story of mysterious arrivals and sudden departures, Lohengrin is back at the Met for the first time in 17 years with a new production by François Girard. Audiences familiar with his previous Wagner offerings here may meet the new one with both hope (thanks to Parsifal) and anxiety (The Flying Dutchman). The current show starts out spectacularly with a huge, meticulously cratered moon making many glowing transits across the sky. Then, as the overture winds down, the moon explodes and the staging goes permanently glum. Most of the action takes place in front of a tilted wall with a big round void in it and the heavens beyond, as if Gordon Matta-Clark had chainsawed a wormhole from the duchy of Brabant straight through to hyperspace. Then you notice the wall is entwined with roots, so perhaps Girard has reset the opera among a race of singing voles and we're looking up through the mouth of a burrow.
To complement the cave theme and the light show out beyond, Tim Yip has costumed the masses in long brown Obi-Wan robes that regularly get yanked open to reveal a choice of primary-color linings depending on the hue of the plot. King Heinrich green dominates the first act, bad-guy red the second, and virginal swan white the third; the conductor, Yannick Nézet-Séguin, changes his shirt twice to match. All this traffic-light signaling gets tiresome pretty quickly, after which chorus members keep opening their cassocks several hundred more times.
Still, if Girard had done nothing but provide the occasion to gather the Met's new cast, rouse its chorus, hone its orchestra, and channel Nézet-Séguin's energies, that would have been enough. This is an opera about private passions and great social tremors; in each of the three acts, dazzled and reverent crowds keep the voltage high. The Met's chorus, directed by Donald Palumbo, outdoes its usual excellence, singing with such luminous force that it practically creates its own weather system. The orchestra too plays with nuance, naturalness, and flexibility that are completely foreign to the production's visual style but that let Nézet-Séguin slow the score's breath without leaching energy or losing focus.
Closing your eyes during a long, stately opera is risky — you may forget to open them again until the standing ovation starts — but when the staging interferes, it's a way to savor the full spectrum of Wagner's musical iridescence. There's more action onstage than the eyes perceive thanks to a vibrant cast. Look too hard, and you may think Tamara Wilson as Elsa spends a lot of time standing around in her white nightie; don't look at all and you can concentrate on her tensile soprano flicking from simpering simplicities to sudden rage-filled wisdom. Opera is full of love duets between virtual strangers, but Wilson and Beczala make this one electric and tender enough to be believed. Christine Goerke delivers an abundance of witchy grimaces and uncanny singing as the nasty sorceress Ortrud. And the big noise on the evening I attended surrounded Thomas Hall, who stepped in for Evgeny Nikitin as Telramund to make a blistering Met debut. The character is a dumb villain and clumsy schemer, easily manipulated and summarily defeated in a duel. With his big oak-aged baritone, Hall gave Telramund nobility and depth, all of which helps keep you riveted during the epic marital spat with Ortrud. The couple represents the Druidic pagan past up against the forces of a mystical Christianity, and even with Beczala as the angelic white knight, there were times I found myself rooting for the new guy with the deep voice and Satan-red hair.