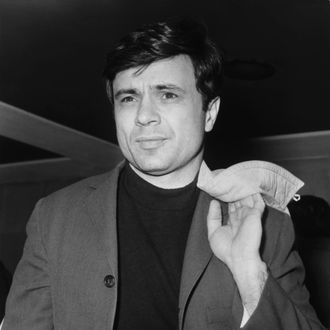 Photo: J. Wilds/Keystone/Hulton Archive/Getty Images
Robert Blake, who was known for his performance in the show Baretta and who was acquitted in his wife's murder after a highly-publicized trial, has died at age 89. Per the Associated Press, Blake's niece, Noreen Austin, confirmed in a statement that the actor died on Thursday of heart disease while surrounded by family in Los Angeles. Gerry Schwartzbach, who represented Blake during his trial, reacted to the news of his former client's death in a statement to CNN. "He and I spent parts of virtually every day together over the year I lived in LA working on his case. We had a strong bond," the attorney said. "I am saddened by his passing, but glad that he is no longer suffering."
Blake, born Michael James Gubitosi in 1933, grew up performing with his siblings in his parents' vaudeville troupe. He was one of the child actors who appeared in the Our Gang short film series, initially joining the Little Rascals as Mickey and later changing his name to Bobby Blake. He went on to star in a number of classic movies, including 1948's Treasure of the Sierra Madre, 1967's In Cold Blood, and 1997's Lost Highway. For his television role as undercover New York detective Tony Baretta on ABC's Baretta, he won an Emmy Award for Outstanding Lead Actor in a Drama Series in 1975.
But his decades-long acting career came to a halt after his second wife, Bonny Lee Bakley, was shot dead in 2001 in the parking lot of a restaurant where the pair had just dined. Blake has maintained his innocence and claimed that the shooting happened when he left her in the car to retrieve a gun he had left in the restaurant. After a criminal trial full of messy revelations about their marriage, he was acquitted of a murder charge in 2005. However, he was found liable for her wrongful death in a civil trial later that year. The $30 million he was ordered to pay Bakley's family bankrupted him. In 2011, he published a memoir, titled Tales of a Rascal: What I Did for Love. While promoting the book, he butted heads with Piers Morgan for bringing up Bakley's death.
Per CNN, Blake's family said in a statement that he lived out his later years quietly in the Los Angeles area. They have requested that donations be made to City of Hope in lieu of flowers. Blake is survived by Noah Blake and Delinah Blake — his children with first wife, Sondra Kerr — as well as Rose, his daughter with Bakley.