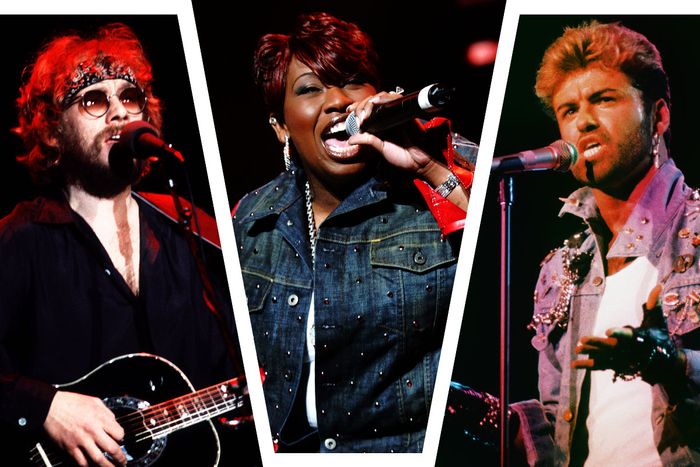 "There's something to be said for slow and steady wins the race, and also there's something to be said for giving people their flowers while they're still around."
Photo-Illustration: Vulture. Photos: Getty Images
It's the dawn of a new era for the Rock and Roll Hall of Fame, whether you like it or not. Starting this year, the Hall implemented a fresh strategy for its induction classes, allowing anyone "whose music connects us all" and "who celebrates the sound of youth culture" to be eligible for the ballot when they hit the 25-year threshold. That's a hearty bite of word salad, so in simpler terms it means rhythm and blues, rap, country, gospel, and, of course, rock and roll are all going to be more evenly represented moving forward, as well as pop-music artists who had a firm command of the radio. Gone are the geezer days; it's time for Gen X to begin its reign.
"This is the latest push in a movement that the people at the Hall have been trying to get in gear for a while with bringing in younger voters," one voter told us. "I think this year's slate is pretty strong overall. The representation of pop is interesting. When the Rock Hall started, classic rock was still this very important genre that was very codified. There's a lot of craft and a lot of hard work in pop, and I feel this is a sign of that." A second voter added, "The Rock Hall is essentially covering all music now. It's not relegated to classic rock in the traditional sense. But that's the core of it and I still think it's the most important part because of the legacy."
The 2023 official induction class is set to be announced in May, and in anticipation, we've convened two new anonymous voters to learn their candid opinions about the ballot, which consists of 14 genre-spanning acts. Voter 1 has been an active voter for 11 years, while Voter 2 stands at around "six or seven years." While they both have different voting ideologies and allegiances, they're in agreement that the ballot itself is an inspired one.
Kate Bush
Voter 1: I've voted for her every time she's been in the mix. Not only are her records great, but her influence on so many artists that followed is tremendous. I came of musical age in the late '80s and early '90s, so I got to see artists like Tori Amos and Cyndi Lauper take after Kate in their careers. She's fascinating and goes her own path, but at the same time, she makes these records that are appealing to so many people once they hear them. She married that post-punk exploratory ideal to these grand compositions in a way that inspired a lot of people to turn the idea of pop on its head — but also use the tools that have been laid down before and make it beautiful. I'm trying to avoid the word "alternative." There's something separate from the mainstream in using beautiful music to make your point and drive it home.
Voter 2: I've got to admit that I'm not too familiar with her music, so I don't know if I would vote for her. I want to make sure I know the catalogue.
Sheryl Crow
Voter 1: I'm not voting for Sheryl Crow. She's somebody who lived the singer-songwriter ideal in the '90s. She definitely was a pioneer in straddling that line between alt and adult contemporary in an interesting way. Her music is fine. She's what you might call a "good hand," I guess. Her music is reliable and you could put it on playlists, but I don't find it innovative or groundbreaking enough. There were other bands who were working on that line, too, like Hootie and the Blowfish and Third Eye Blind.
Voter 2: I don't think so. She definitely had her run in the '90s and she has stuff more recently, but not like she did in the '90s. I don't know if the impact is there. When we speak about other acts, like A Tribe Called Quest, you can draw a line to all the artists that were influenced. I don't know if that's the same case for Sheryl Crow.
Missy Elliott
Voter 1: She's on my ballot. She's somebody who broke a lot of ground with the beats, with her rapping, and with the videos she made. She's somebody who got caught up in the major-label churn in the mid-2000s, when labels were freaking out about record sales declining and trying to fail-safe any release that came out. I feel like that might have dimmed her status a little bit. In the last couple of years, especially with the way that younger artists are collaborating with her, it's obvious that she's somebody who pioneered certain things in hip-hop. She broke a lot of ground in the way that people viewed women in hip-hop. Similar to Kate Bush, it still sounds really fresh. I think she's somebody whose time is now, and because she's a producer in addition to being a rapper, it helped her nomination status.
Voter 2: I never really loved her music. Her hit songs, yes, but her albums, no. I always thought the female rapper who should get her due is MC Lyte or Queen Latifah. In the '80s they were pioneering and made great tracks. I feel like everyone gives the props to Missy because she had platinum records. I don't like that it's always pointed to Missy, because I don't think her records were that great. It's a no from me.
Iron Maiden
Voter 1: I'm not voting for them, but they're a groundbreaking band that brought the new wave of British heavy metal into the rest of the world — and they have a gimmick. Their thing with Eddie and their iconography, and the fact that Maiden is similar shorthand as Metallica or Slayer. They're definitely in the "big four" of being reliable icons for what a metalhead is. Metal still isn't taken seriously by a lot of people, whether it's because of its fan base or the fact that it's a lot of super-nerdy musician types geeking out over various mythologies of evil in tandem. I think for somebody from metal to be in, we should nominate Slayer for the Hall of Fame. They had a great career. They headlined stadiums around the world and arenas, and they left a mark. Maybe there should be a metal wing at the Hall or something. It's one of those genres where the lack of respect is so inherent to its existence at this point. It's music for people who don't feel like they belong.
Voter 2: I'm thinking about voting for them. I don't know if their music is the best, but the fans love Iron Maiden. Just look at the influence of their entire brand — Eddie the Head, those album covers, and their iconography. It used to scare me when I was a kid. You're still seeing that influence today. A lot of modern metal is derived from the Iron Maiden design and brand.
Joy Division/New Order
Voter 1: ​I won't be voting for them because this is part of my strategic vote — I think they're going to get a lot of votes. Their legacy is something that a lot of people in the music industry value to their heart. The Joy Division and New Order diptych is very influential and not just in New Wave, but also in synth-pop as a whole. New Order was birthed out of that crucible. Songs like "Blue Monday" had this kind of touchstone effect. I think that putting them together is going to make them more of a lock to get in.
Voter 2: I was around for all that in the '80s — they had big hits and were really important to post-punk and New Wave. You still hear these songs today in everything. They end up on movie soundtracks and commercials. I'll probably be voting for them. There's so many big hit records. You've got "Blue Monday" and "Love Will Tear Us Apart." What I want to point to again is, how many groups were influenced by their sound? The answer is a lot. Even a group like Depeche Mode owes them.
Cyndi Lauper
Voter 1: Cyndi is great. She's So Unusual was such a fantastic debut statement. I'm not voting for her because I think she has the fan vote pretty locked up. She's somebody who brought that whole sensibility of "downtown New York" to pop in this Technicolor way. The way that she also went to Broadway is interesting, in that it's becoming a coronation for a lot of pop stars, whether it's through jukebox musicals or musicals that they write on their own. So I think she's very worthy. There are other artists on this ballot that I think need my help a little more, like Missy and Soundgarden.
Voter 2: She had her time. She really was her own thing. She's the antithesis to Madonna, in a way, at least during that era when they both came out. It was the same fan base, but her whole style was a little more wild than Madonna's — more brazen sexuality and stuff. I think that Cyndi's time was just during that period and I don't see that influence traveling into today's pop artists. I would point more toward Madonna, because that to me is the archetype for a lot of what you see in today's pop music. I don't see it in Cyndi, and I'm surprised she got a nomination.
George Michael
Voter 1: George Michael is one of two members of this ballot who I have represented on my wall. He was an amazing songwriter and student of pop music. He began showing that to the world with Wham!, who were a lot more musically complex than people tend to give them credit for. When Faith came out, he was serious and burned down his old image. He took the craft of pop music and soul music incredibly seriously. You could hear that in every composition he wrote. He was somebody in the '80s who was also known for making songs that would cross over to Black radio from pop radio. He was such a great interpreter of songs. I feel like I'm trying to justify this, but I think he's so talented and didn't get a lot of the appreciation he deserved, especially after the whole bathroom thing, which he brilliantly turned on his head and made fun of himself with. It's a shame that an induction has to happen after he passed away.
Voter 2: That's a tough one. I was a big fan of Wham! and George Michael back when I was a kid. I'm currently on the "maybe" response for him. I haven't decided yet. I feel like you see the influence in Sam Smith and Ed Sheeran a little bit. But, obviously, I think we have a bias toward artists who aren't around anymore and have sentimental memories for.
Willie Nelson
Voter 1: I think he should be inducted. I'm not voting for him, but his influence on pop music on a wider level is solid and widespread. He's somebody who's been so consistent for so long that I think people don't give him the props they maybe should. There's something to be said for slow and steady wins the race, and also there's something to be said for giving people their flowers while they're still around.
Voter 2: Let's go back to the point of origin. When you talk about the origins of rock and roll, you point to Little Richard and Chuck Berry, who are the purest form of the genre. Then you travel into Elvis Presley, who is the more commercialized form. And then you go from Elvis, who was on Sun Records, into his labelmate, Johnny Cash. At what point does something stop "becoming" and these genres just bleed into each other? It's not a far stretch to say Willie Nelson or Dolly Parton should be inducted. He's probably one of the most qualified people on this list. If we're going to tear the walls down a little bit, then you have to induct Willie, right? He'll be on my ballot.
Rage Against the Machine
Voter 1: They're pretty good. The combination of Tom Morello's guitar pyrotechnics fuses well with hard rock and rap. They were one of the better examples of that strain of alt rock in the '90s. But they were around for such a short time. That's the one thing giving me pause, and that's why I think the Joy Division/New Order combination is probably going to work because that sustains their run as a band far beyond. Maybe if it was combined with Tom Morello's solo stuff, they might be more in the conversation. But they definitely had an impact. I could see them getting in maybe in a couple of years, as more younger people come in who are influenced by them.
Voter 2: Whether Tom Morello is on the nominating committee or not, I would nominate them. You're still seeing the impact of that band. They're legendary. You also have to think about the idea of "protest" in general. When Rage came out, the idea of taking to the streets and protesting something wasn't as common as it is today. They helped normalize it in their music. You even hear their music at these types of protests today. They're a band that combined the idea of rock-rap, these two genres, the best. I hate to even say rock-rap because I don't want to put them in the same category as Limp Bizkit. If you look at this shortlist, they're one of two acts, next to Soundgarden, that can actually blend two genres.
Soundgarden
Voter 1: Soundgarden was crucial in that link between metal and alternative back when this was rumbling around, more so I would even say than Nirvana. Even though Nirvana had the cataclysmic debut on television that everybody freaked out about, Soundgarden was laying the groundwork for that crossover in a really effective way. Over the years they went from this noisy, chaotic, and yelping band into something more mannered and nuanced, but still with those experimental twists. Chris Cornell's voice was just crazy, and they're all such good players on a technical level. They were really important as far as giving alt rock this hard-rock base, but yet not succumbing to the worst excesses of hard rock. They have my vote and I've voted for them in the past.
Voter 2: When you look at the traditional blueprint for the type of band that should be inducted, I would point to Soundgarden. I tend to lean more toward acts with a classic-rock influence — I mean, Soundgarden isn't really a classic-rock band, but they grew up on classic rock. If you're going to tear down walls, it's fine to do that, but we also need to honor the tradition of rock. When you think back to '90s alternative rock, that's what we should be pointing to right now. We're in the 30-years-ago time period. They were the biggest bands next to Pearl Jam and Nirvana. Superunknown was phenomenal when it came out. "Black Hole Sun" and "Spoonman" are big hits. And then, of course, the legacy of Chris Cornell. It's not only a yes from me, but I think they're a shoe-in for induction.
The Spinners
Voter 1: They were a great vocal group for the Motown sound. But I feel like they didn't have a huge impact on other peers of theirs. They're on the bubble for me. They're going to just fall short. They definitely had some jams. "I'll Be Around" and "Working My Way Back to You" are great songs. But again, they're almost too ephemeral.
Voter 2: I like the Spinners, but I don't know if they're the right fit here. I appreciate the music, but it's like we break the mold for some things and not others. I'd love to hear the counterargument, but I don't think the overall influence versus popularity adds up. For me, it's too far back. I can't name the lineage of groups that were influenced by them.
A Tribe Called Quest
Voter 1: I'm going to vote for A Tribe Called Quest because I feel their legacy is important, and the death of Phife Dawg a couple years ago brought that home. The way that they brought jazz into hip-hop and smoothed out in their own way — they deserve recognition for that.
Voter 2: When you think about A Tribe Called Quest, you have the Native Tongues family, which is: Queen Latifah, De La Soul, Jungle Brothers, and others. Then you had all these artists, even going into the R&B category, where that sound is derived from A Tribe Called Quest. In theory, a lot of the neo-soul stuff was Tribe-esque beats with R&B singers on it. They're an absolute yes for me, because you're still seeing the ripples of something that started way back there. I look at the Rock Hall traditionally as what it is. It's great that they're including hip-hop artists, but also I think that you have to include the best of the best. If you're going to say, Yeah, this hip-hop artist is so influential and impactful that they transcended their own genre and are now being honored, that's the greatest honor. The artists that have been nominated have largely fit that bill. Not all of them, but most of them have.
The White Stripes
Voter 1: I remember when they were first starting out and had such a great look and sound — they were the total package. Then they built on that minimalist red-and-white palette to those creative music videos and grander sounds. They might get in when Jack White is eligible as a solo artist, and you could probably do a double nomination like with Joy Division/New Order. They were such a comet for a brief period. I still think a lot of their songs are fantastic and their albums are great. I also feel like the creative endeavors that Jack White has done, not just as a musician, but as a record-label owner and a vinyl guy, should get him in on his own.
Voter 2: For me it's a hell yeah. I don't know if they'll make it their first year if the true-blue rock voters are outnumbered by the people who favor other genres. They were carrying rock on their backs when they came out in the early 2000s. You had the more polished bands like the Strokes and Killers in the indie scene, but the White Stripes were a little more pared down. You had big crossover songs that transcended the rock stations. If you go to any ball game in America or a soccer game in Brazil, you're going to hear "Seven Nation Army." They check all the boxes for me.
Warren Zevon
Voter 1: I don't have a lot of thoughts on him, I'm afraid. Thirteen out of 14 acts ain't bad for a voter. We can't be experts on everyone. I have friends who are in the cult of Zevon. When I saw him on the ballot, he was somebody who I instinctively thought, He doesn't need my help. I think he has a good chance of getting in because he has a special place in a lot of people's hearts. As it stands, he wouldn't get my vote, but I foresee a lot of people voting for him. When you're a cult favorite, you have the cult and they'll go every day and vote to put in their votes for you. I have a feeling David Letterman will induct him if he gets in.
Voter 2: Everybody loves "Werewolves of London." He's someone who deserves it because he's been overlooked for so long, but some of the other acts I feel had a larger impact and fit the bill a little better. You know how LL Cool J got inducted with the Musical Excellence Award? He didn't get voted in, but he still got it. I think that could happen with Warren Zevon. He's outnumbered by acts with more popularity. If I had one more vote, I'd probably give it to him.