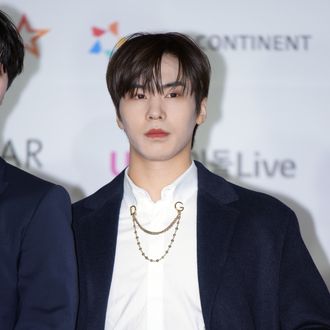 Photo: The Chosunilbo JNS/Imazins via Getty Images/ImaZins via Getty Images
Rocky, who's a member of the K-pop group ASTRO, announced he is leaving his exclusive contract with the agency Fantagio and leaving the group after seven years. According to Soompi, he decided to end his contract with Fantagio and his participation after a "deep discussion" with the agency. This comes two months after four of his bandmates, JinJin, Cha Eun Woo, Moonbin, and Sanha, all renewed their contracts. The final fifth member MJ has not renewed his contract as he currently serving his mandatory military service. Several other K-Pop powerhouses are also taking a break from music to fulfill their duty; BTS's Jin and J-Hope have begun their enrollment. While Rocky hasn't posted a statement on his future plans regarding music, he may continue with his acting career as he has previously starred in several K-Dramas.
The full statement from Fantagio is below:
Hello.

This is Fantagio.




First, we would like to sincerely thank all the fans who give ASTRO their love and support.




After a deep discussion with Rocky, who has been with us as a member of ASTRO for the past seven years, it has been decided that he will be ending both his exclusive contract with our agency and his activities as a member of ASTRO.




We thank Rocky for doing his utmost for a long time as a member of ASTRO, and we will be sincerely rooting for Rocky in the future.

We also thank the many fans who have supported and watched over Rocky, and we ask that you continue to give Rocky your unchanging interest and support as he makes a fresh start.




ASTRO will continue on as a five-member group in the future, and together with Fantagio, the members will be focusing on unit and solo activities for the time being. We plan to actively give them our unsparing support so that [the members] can be active in a wide variety of areas.




We ask that you continue to give the ASTRO members lots of interest and support.




Thank you.