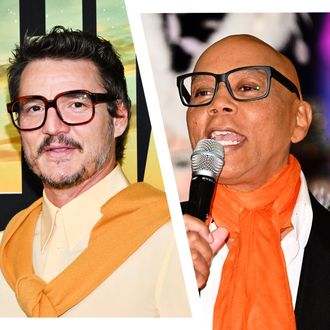 Pedro Pascal and RuPaul Charles.
Photo-Illustration: Vulture. Photos: Getty Images
According to the Human Rights Campaign, there have been over 340 bills in state legislatures across the country attacking LGBTQIA+ rights in America this year. Most recently, Tennessee banned drag performances in public spaces, and a speaker at CPAC called for the "eradication" of transgenderism. In this climate, celebrities have been voicing their support for drag, trans rights, and gender-affirming health care. Madonna has added a stop on her upcoming Celebration Tour, which features Bob the Drag Queen as the opener, in Nashville on December 22. Part of the proceeds will go to trans-rights activist organizations. "The oppression of the LGBTQ+ is not only unacceptable and inhumane; it's creating an unsafe environment; it makes America a dangerous place for our most vulnerable citizens, especially trans women of color," Madonna said in a press release regarding the issue. "Also, these so-called laws to protect our children are unfounded and pathetic. Anyone with half a brain knows not to fuck with a drag queen. Bob and I will see you from the stage in Nashville where we will celebrate the beauty that is the queer community."
RuPaul called out the attack on drag people as a misdirection tactic on March 8. "We know bullies are incompetent at solving real issues," he said. "They look for easy targets so that they can give the impression of being effective." RuPaul also called drag queens "the Marines of the queer movement." RuPaul is far from the only Drag Race performer speaking out at this time. BenDeLaCreme went on MSNBC's Last Word on March 6 to address the drag ban. Below, all the celebrities supporting the queer troops including Drag Race alums such as Trinity the Tuck and the Vivienne, the B-52's, Maren Morris, Pedro Pascal, Elliot Page, Hayley Kiyoko, and Kim Petras.