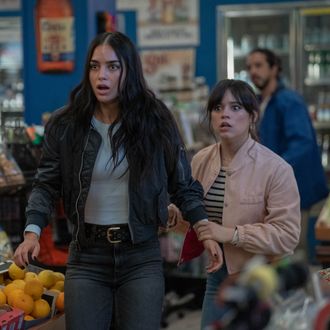 Live footage of Melissa Barrera and Jenna Ortega seeing the records the film is breaking.
Photo: Philippe Bossé/Paramount
Turns out running a wax museum can help rack in the big bucks. After answering the call to play the game of "What Scream movie can make the most during opening weekend," Scream 6 is on its way to win. After earning $5.7 million in previews, the horror film starring Jenna Ortega and Hayden Panettiere is estimated to bring in $43.5 million this weekend overall, according to Deadline. The last film to score numbers this high was Scream 3 in 2000, which earned $30 mil. over twenty years ago. It comes as no surprise; fans are ecstatic to see the return of Panettiere return as Kirby and newer fans might be headed to theaters to see the latest scream queen Ortega return as Tara. It's also possible that Demi Lovato lured fans in after showing them how real cinema is done. Either way, the box office is answering the all-important question: do you like highest-grossing movies?