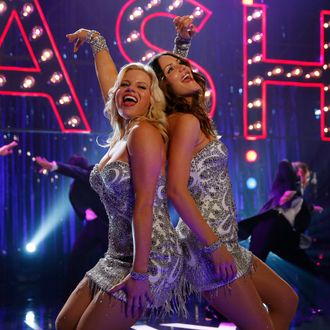 Photo: Will Hart/NBCUniversal via Getty Images
It's been over a decade since Smash first made its way onto a post-Glee television landscape, which means the time is nigh to bring out your ugliest scarves and hide your peanuts from any enterprising assistants. Smash is back, baby! As a musical! That's right, Bombshell, the musical that Smash is about making, is not being adapted; Smash, the show with one of the best pilots ever (followed by one of the worst "everything else" ever), itself is being turned into a musical intended for the 2024–25 Broadway season. "Smash is near and dear to my heart, and it was always my hope that a musical inspired by the show would eventually come to the stage," said Ellis fan Steven Spielberg, who produced the original NBC show and is also a producer on the upcoming adaptation.
The show will be directed by Susan Stroman, with a book by Rick Elice and Bob Martin and a score by the original Smash-ites Marc Shaiman and Scott Wittman. Shaiman and Wittman also notably wrote the score for the Some Like It Hot adaptation currently playing on the Great White Way, which includes the number "Let's Be Bad," which originated on Smash. So, given that the press release says that "many of [the original Smash songs] will be used in the musical," there's a pretty high chance that there will be two "Let's Be Bad"s on Broadway at the same time. What other shows could we slot it into? Could Scar sing it in The Lion King? How about Bonnie Milligan in Kimberly Akimbo? Maybe let Jessica Chastain sing it as she spins around in her chair in A Doll's House.