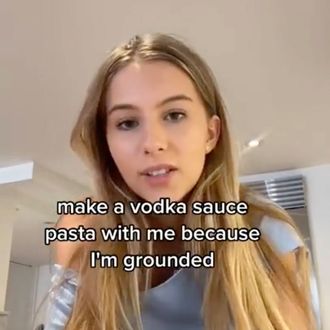 Photo: Romy Mars via TikTok
By now we've all seen the TikTok of Romy Mars, daughter of Sofia Coppola and Phoenix's Thomas Mars, beginning the process of making pasta with vodka sauce. And by "beginning," we mean "learning the difference between onions, garlic, and shallots." Mars was breaking her parents' biggest rule (no public social media) because she was already grounded. "Make a vodka sauce pasta with me because I'm grounded," she says in the now-deleted TikTok, "because I tried to charter a helicopter from New York to Maryland on my dad's credit card, because I wanted to have dinner with my camp friend." Just an insane string of words right there. But what the terminally online might not know is that vodka sauce was not a random choice by Mars. It's a sauce that already has deep roots in celebrity culture, and nepo-baby culture, for that matter.
Vodka sauce is having 15 minutes of fame (or rather, a second 15 minutes) thanks in part to Gigi Hadid. Hadid, daughter of former Real Housewife of Beverly Hills Yolanda Hadid and sister of deviled-egg enthusiast Bella Hadid, first made her variation of spicy vodka sauce on Instagram back in 2020. She omitted the vodka, since she was pregnant at the time. People trying the "Gigi Hadid pasta" ran rampant on FoodTok. And it had a recent resurgence, with a weird self-awareness tinge. Multiple videos are captioned something along the lines of "POV it's 2023 and you're still making the Gigi Hadid pasta," with one even calling the dish "Quarantine nostalgia."
But the pasta itself has even deeper celeb-foodie roots. Hadid's spicy vodka sauce may have its origins at notorious red-sauce joint Carbone, a restaurant known for its spicy rigatoni alla vodka. The Hadid sisters are regular patrons, as are the Kardashians. And Carbone was notoriously the site of one of Ye and Julia Fox's dates during that whole … thing. "At the restaurant, Ye directed an entire photo shoot for me while people dined!" Fox wrote in Interview at the time. "The whole restaurant loved it and cheered us on while it was happening." Fox and Ye actually dined at two of Carbone's locations, Miami and New York, during their brief fling. Carbone does not, however, have a Maryland location. So who knows where Romy and her camp friend were going to eat, had that helicopter charter worked out.