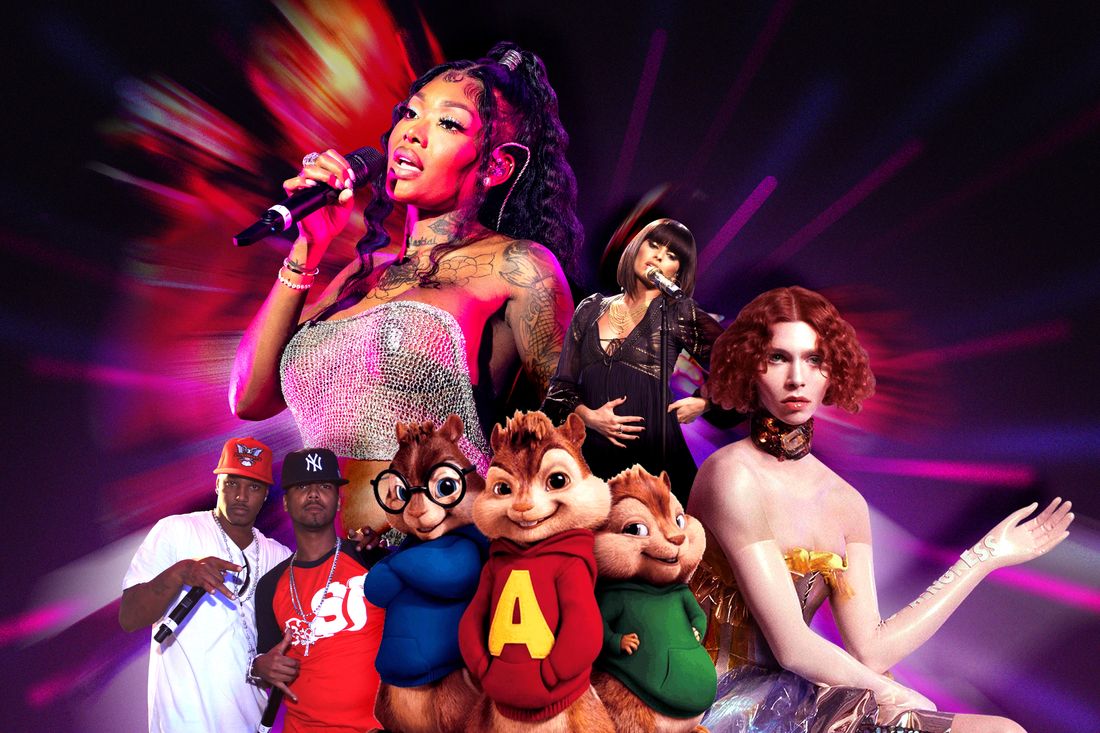 Photo-Illustration: Vulture; Photos: 20th Century Fox, Charlotte Wales, Getty
If you've opened TikTok recently, you've likely scrolled past a video soundtracked by a fresh take on Miguel's 2010 single "Sure Thing" — the defining moodiness of the original replaced by a jaunty bounce, and Miguel's voice, once sultry, turned infantile. Simply put, the initial recording has been drastically sped up.
For months, high-BPM (that's beats per minute) versions like this have dominated social media, with everyone from Lana Del Rey to Yeat getting the quick-tempo treatment. A pop hit like Bruno Mars' "24k Magic" might shine at its normal pace, but accelerated, it becomes glittery and Chipmunkian — more fit for Mario Kart than radio play. But, most of these sped-up versions, save for a few, feel the same: The songs are often pitched up ever so slightly, sometimes resulting in the shift from a minor key to a major. The technique is as easy as turning a record player knob from 33 to 45 RPMs (that's revolutions per minute).
While some might not see the appeal in a pitch-shifted two-decade-old Michael Bublé song, listeners seem to genuinely enjoy how sped-up songs make them feel. It's energetic, it's lighter, it makes songs more enjoyable. For others it's akin to how people play podcasts on 1.5 speed: you can get around to more music in a shorter amount of time. And these remixes have been doing numbers, motivating artists and labels to put out official versions to cash in on the boom.
As with anything new, this trend has also managed to raise some concerns: if it continues, does the idea of the professional remix DJ fade out? Do the subgenres of ghetto house and juke, which were spawned by Black artists in Chicago speeding up house records, become commodified without us even realizing it? Maybe TikTok will collapse in a few months anyway. Who knows! Instead of balking at their existence, though, it's worth understanding where this "new" sound comes from, and how there might be more to it than just shorter attention spans.
For even more on sped-up remixes, you can check out this recent episode of Switched on Pop.
"Witch Doctor," David Seville (1958)
Before "Axel F" and Gummibär, there was Alvin & The Chipmunks. Or, more appropriately, Ross Bagdasarian, who recorded under the stage name David Seville. While "Witch Doctor" is not the first example of sped-up audio — people in the early days of recorded music tried it on phonographs — it is one of the most influential. The novelty track was made by manually recording vocals at half speed, then speeding up the tape so the voice of the titular witch sang at a higher pitch. Seville re-recorded and released it under the Chipmunks moniker, helping launch the trio's "career" — which makes him either the greatest man to ever live or the devil incarnate, depending on how you feel about this.
"Baby Come On," RP Boo (1997)
Updating old songs at faster tempos may be new to TikTok, but club DJs have been doing it for years. RP Boo's "Baby Come On" — which uses a somewhat pitched sample from Ol' Dirty Bastard's 1995 classic — is often regarded as the founding track of footwork, a fast-paced dance-based genre that emerged after Chicago DJs played ghetto house tracks at around 160 BPM — about 30 BPM quicker than usual. Other approaches have emerged this way (bubbling, anyone?) but the difference is, footwork bangs.
 "The Logical Song," Scooter (2001)
Who could have guessed a German techno cover of Supertramp's biggest hit would inspire one of the most influential scenes of the 21st century? "The Logical Song" (Scooter's Version) is forgettable as far as turn-of-the-century Eurotrash goes, but Scooter's sped-up productions did motivate two Norwegian teenagers to create nightcore. Today, the moniker is synonymous with pitch-shifted vocals and dubstep-y productions, in both originals and remixes of hits. That aesthetic edge is what sets nightcore apart from modern sped-up remixes, but a direct line can be traced between the two. (In fact, several songs with popular sped-up takes have nightcore versions.)
"Oh Boy," Cam'ron, Juelz Santana (2002)
Decades before he lost the plot, Ye and hip-hop producers like Just Blaze, the Alchemist, and Swizz Beatz pioneered what is now known as "chipmunk soul," a style of speeding up old vocal samples. Their technique, which eventually incorporated more than just soul music, was inspired by the production work of RZA and would soon become the defining sound of early 2000s rap releases.
"HARD," SOPHIE (2014)
For years, nightcore thrived underground. Then, in the early 2010s, visionary producer SOPHIE and the A.G. Cook-helmed PC Music took it out into the sunlight. "HARD" is an early example: a microcosm of pop perfection, with pitched and tempo-boosted vocals on top of a sonic palette of alien textures akin to rubber and metal. All of SOPHIE's music was indicative of her futuristic instincts, creating sounds that were never heard before and never duplicated since — so much so that a lot of the sound of modern pop is indebted to her and PC Music, even motivating something as diluted as Sam Smith's "Unholy (feat. Kim Petras) – Sped Up." It's almost reductive to even label Sophie's work as "sped-up music."
"Tek It - Sped Up" Cafuné (2019)
Indie-pop duo Cafuné's "Tek It" is one of the lone sped-up takes where the updated version, released two years after the original, is more popular on Spotify (the O.G. currently has seven million fewer streams than the official "Tek It – Sped Up"). The differences between the two are subtle. When the tempo is shifted, the drums seem to hit harder, the riffs sound stronger, and the last minute acquires an autotuned nightcore edge. And it's the remix that ultimately got Cafuné signed to Elektra Records in 2022.
"Break it off," PinkPantheress (2021)
A tinfoil hat theory: Could the influx of sped-up songs be traced back to the burgeoning career of PinkPantheress and her distinctly-2020s brand of U.K. garage? The U.K. rave scene is full of frenetic electronic subgenres founded on breakbeats and unpredictable samples. In the same vein: "Break It Off" samples Adam F's "Circles," a drum and bass classic, and Pantheress's pillowy voice on top of an already frenzied drum break fires up the same synapses as the sped-up version of RAYE's "Escapism," activating a deep-set ferality.
"Say It Right - Sped Up Remix," Nelly Furtado (2022)
"say it right nelly furtado sped up" on TikTok has over 30 million views, while the official remix on Spotify has over 30 million streams. That's not as much as, say, this random Oliver Tree remix, but its popularity has led Furtado to emerge as the queen of sped-up audio; two of her other collaborations with Timbaland ("Give It To Me" and "Promiscuous") have received the same treatment (albeit through different sources) and spread across the clock app like wildfire.
"Karma – Sped Up," Summer Walker (2022)
In 2018, the singer-songwriter dropped her debut mixtape Last Day of Summer. A few of its singles managed to chart, but by 2022, the Summer song revived to a viral degree on TikTok wasn't any of the project's previous singles, but the album cut "Karma." In response, Walker's team went big, re-releasing the full mixtape entirely sped up. It's not the best to come out of the trend but it is the silliest: every single song got the upgrade, making already-exaggerated skit interludes like "Talk Yo Shit" squeaky and laughable. It's also the most transparent ploy by a label to cash in on the craze (so far). But it seemed to work: "Karma" was finally RIAA certified Gold in August.
"Bad Habit – Sped Up" Steve Lacy (2022)
Steve Lacy, whose previously-lowkey career has been forever upended by the TikTok-ification of music, spoke bluntly about the behind-the-scenes dynamics of releasing official sped-up remixes in an interview with The Guardian. "The label asked me if I wanted to put out a sped-up version of 'Bad Habit' for 69 cents. I was, like: 'Ew, that sounds fucking gross.' But OK, sure – I'm No. 2 and I want to be No. 1, so go ahead." "Bad Habit," of course, did hit No. 1 back in October.
"Bloody Mary," Lady Gaga (2022)
Gaga's gothic fan-favorite deep cut from 2011's Born This Way has been steadily holding court on the charts since early January: thank the rabid fanbase of Wednesday star Jenna Ortega. The song's rise has a slightly complicated origin; not a single version of it, sped-up or otherwise, was used in the Netflix show. However, a fanmade sped-up remix, used to soundtrack clips of Ortega's dancing in the show (which was really to The Cramps' "Goo Goo Muck"), has accumulated 4.4 million TikToks and propelled "Bloody Mary" to a comfortable position in the middle of the Hot 100.
"Kill Bill - Sped Up Version," SZA (2023)
SZA's "Kill Bill" has been massive on both streaming and radio, a credit to its woozy instrumental and deeply sardonic lyrics about murdering your ex. Fun! Last month, the singer took a note from the book of Lacy and re-released the song as a single, coupled with a "Kill Bill – Sped Up Version." By pitching up the original a few tones, the sarcastic juxtaposition is enhanced; hearing SZA sing "I just killed my ex / not the best idea" in an even-more chipper voice lives up to a quote she gave Glamour in December: "This is my villain era." In this case, it's a Disney one.
"ceilings (Sped-Up Version)," Lizzy McAlpine (2023)
If you want to know what Phoebe Bridgers would sound like if she were nine years old, look no further than the sped-up take on Lizzy McAlpine's "ceilings." The singer-songwriter, who got big through Instagram and (you guessed it) TikTok, is an ideal candidate for this kind of remix, with an already built-in fan base on these platforms. The new "ceilings" has mirrored the trajectory of past remixed versions, becoming so popular that they boost the original (hers from 2022) to the Hot 100. Typically, these versions are successful because they're danceable; a faster BPM equals more urgency, more passion, more energy. But by pitching up a song that's already slow and emotional, "ceilings - sped up" invokes a quiet, childlike desperation, with lyrics that still manages to strike a chord no matter the speed.
"Boy's a liar Pt. 2," PinkPantheress, Ice Spice (2023)
Of course the year's first true breakout hit features the patron saint of Zoomer brevity and Twitter's own Princess Diana. But this redux of PinkPantheress's 2022 track is more than just a necessary cross-pond linkup. In all of its jittery, ringtone-esque 2000s glory, "Pt. 2" serves as a bridge between the hack-iness of sped-up trend hopping and genuine artistic needle-pushing. Using the remixed production as the track's new spine, it becomes a more-jingly earworm, while the vocals (and Ice Spice's verse) stick to a normal pace. This makes the song seem quicker than it is, and may set a precedent for future chart-toppers to come. And who better to usher in a new time-shifted era than the queen of the 18-minute album?
Steve Lacy's "Bad Habit – Sped Up" has 44.6 million Spotify streams, Raye's "Escapism. – Sped Up" has 109 million and even Ellie Goulding's "Lights," a song from over a decade ago, has managed to rack up 55 million streams on its sped-up version.