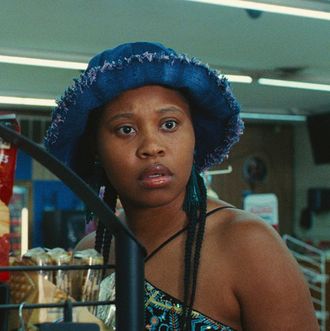 @BeyLegion, is that you?
Photo: Prime Video/Courtesy of Prime Video
Stan culture is coming out of twitter.com and into Donald Glover's Swarm. The Amazon Prime Video series — the title of which probably derives from Beyoncé's fandom, the Bey Hive — stars Dominique Fishback as an obsessed, Houston-based fan named Dre who goes to increasingly violent lengths for her fave R&B singer. As Glover's first project in his Amazon Studios deal, the show takes on the most extreme case of obsessed fans and took inspiration from facts and rumors surrounding Twitter fans and their online presence. Fandoms: This one will probably not do much to help your already — erm — complicated image. Two new teasers debuted on March 13, and they are giving crazed and eerie and off-kilter. Both teasers are set to a song called "Sticky" that is by Ni'Jah, a.k.a. the pop star from the program. Read on to learn about the stans behind Swarm.
What is the show about?
Swarm follows Dre, a stan of the mega pop star Ni'Jah, on a cross-country journey that turns violent and disturbing. "We just thought it'd be fun to make a post-truth Piano Teacher mixed with The King of Comedy," Glover told Vanity Fair in an interview. The Atlanta creator's word salad might mean his new show takes the psychosexual relationship from Michael Haneke's thriller and combines it with the crime-satire aspect of Martin Scorsese's misunderstood film about a wannabe comedian who kidnaps his idol. The series was also inspired by Houston urban legends like Marissa Jackson, a fake Beyoncé fan who allegedly died by suicide when she heard that Jay-Z allegedly cheated on Beyoncé.
The first teaser trailer suggests Glover got his references right. The walls of her bedroom are a shrine of her Beyoncé-esque idol as Fishback spirals in her obsession. There's a buzzing in her ear as she pathologically scrolls through her stan Twitter — from the looks of the bedazzled horse and rider, her fave just released Renaissance — and repeatedly asks, "Whats your favorite artist?" daring someone to give the wrong answer. What appears to be a home invasion escalates to violence — enough to mop up a pool of blood. Janine Nabers, the show's co-creator and showrunner, said the series is an anti-hero story — think Don Draper or Tony Soprano — "through the lens of a Black, modern-day woman."
Who's stanning?
Chlöe Bailey plays Dre's sister Marissa and lucky Damson Idris is Marissa's boyfriend Khalid, though Bailey's character has outgrown her standom. Rickey Thompson, Paris Jackson, Rory Culkin, Kiersey Clemons, and Byron Bowers have been announced in unnamed roles.
Now, who's behind the fandom?
Besides Nabers, Malia Obama joined the writers' room along with a lot of the team from Atlanta. Other writers include Black Is King director Ibra Ake, She-Hulk writer Kara Brown, and Glover's brother, Stephen. Plus, one more person has a hand in the pot: Childish Gambino. On March 17, a full Ni'Jah EP called the Swarm EP came out, with six original tracks. Ni'Jah's role on the EP is sung by Kirby and the EP features Gambino (whom, okay, you might also know as Donald Glover). So if you hear a buzzing in the distance, it's probably the sound of real-life Ni'Jah stans getting ready to wreak some havoc.
Has Beyoncé seen it?
During their SXSW premiere, Nabers was asked if a "pop star who shall not be named" watched the series. "Of course," she replied. However, Variety reported the next day that a rep from Nabers said she misspoke and they do not have a record of who has seen the series. Vulture reached out to Amazon Studios for comment on whether or not Bey has watched.
When does it come out?
All seven episodes are set to premiere on March 17 on Prime Video. In the words of stan Twitter: we will be watching.
This post has been updated throughout.